This post is about what job seekers say and some of the unique confessions they make. Plus how NOT to be a job seeker saying the wrong things.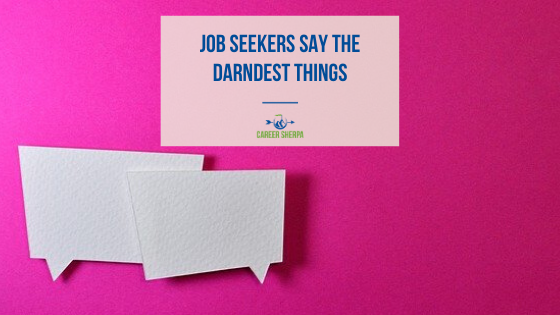 "In my daily interaction with hundreds of job seekers a week I hear some pretty amazing things."
When I wrote this in 2009, I didn't expect to recycle it in 2020. But here we are.
The Emotional Toll Of Being Unemployed Right Now
Emotionally, job search puts you in a vulnerable place.
This is the wrong time to lack confidence (as I'm sure you know), but in many cases, feeling unsure of yourself or your capabilities just comes with the territory of being without a job.
It is normal.
But without confidence in your skills and abilities, it's going to be challenging to present yourself as the best candidate for a job.
The more rejection and indifference you face during your job search, the easier it is to lose confidence in yourself.
And then you begin to doubt yourself – both your ability to do the job AND your ability to job search effectively.
It's a vicious cycle.
What Job Seekers Say
These statements, excuses, or questions were presented to me as a workshop facilitator and job search coach, but my fear is/was that if the job seeker says this to me, it's coming out when they talk to recruiters and hiring managers too.
Here are some of the things I've heard job seeker say that either made me want to scream or cry. You see, sometimes we make excuses for reasons we are feeling stuck or discouraged, but these are not reasons to stop trying.
"I don't know anyone"
"I've worked in the same job for over 30 years"
"I've applied to that company three times already, I guess they don't want to hire me"
"I'm not sure what I want to do, but if someone would just give me a chance, I know I could do the job"
"I've been taking care of my _________ (fill in the blank with mom, dad, kids) for the past X years and don't have any experience to talk about"
"People are too busy to want to talk to me"
"I don't know Microsoft Word (or any basic technology)"
"I don't have a computer at home, so I can't check email"
"I lost my job, my wife left me and now I am filing for bankruptcy"
"I don't have any interests outside of work"
"I'm really not better than any other machinist, we all do it the same"
"I plan on retiring in X years, so what do I tell the employer"
"I am retired"
My point in sharing these is to help you understand that there are many different types of challenges job seekers face in difficult times.
Maybe you will recognize some of these and I hope it gives you comfort to know you aren't the only one feeling this way.
Fix It
Your first priority has to be to take care of yourself physically and emotionally. And so that your emotions don't ooze out when you talk. The greatest hope you have of hiding your lack of confidence or emotional vulnerabilities is to fix it.
Read Take Care Of Yourself During Job Search
Don't Hold Yourself Back
These statements are examples of the limiting beliefs that interfere with job seekers' being able to take the necessary actions – networking, delivering their pitch, interviewing confidently.  (In short, the things a job seeker says.)
Read about Limiting Beliefs
Set Goals
To help get your job search moving in the right direction, it's important to have a plan of action.
Do you know what activities will you be working on Monday through Friday to help you secure a new job?
Read 6 Questions You Absolutely Must Ask Yourself During Job Search

Hannah Morgan speaks and writes about job search and career strategies. She founded CareerSherpa.net to educate professionals on how to maneuver through today's job search process. Hannah was nominated as a LinkedIn Top Voice in Job Search and Careers and is a regular contributor to US News & World Report. She has been quoted by media outlets, including Forbes, USA Today, Money Magazine, Huffington Post, as well as many other publications. She is also author of The Infographic Resume and co-author of Social Networking for Business Success.