Here is an easy way to get valuable job search advice from job seeker advocates on Twitter. I've created a list of over 50 Twitter accounts for you to follow.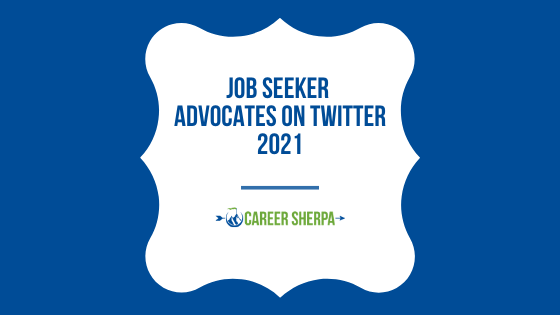 Before LinkedIn let you "follow" people, Twitter was the platform to use for following smart job search experts.
If you are looking for less chitchat and more great job search content, following the right people (and adding them to your Twitter list) is the answer.
But who are the best people to follow? That's why you're here! I've got you covered.
I've always believed that following and engaging with people smarter and more experienced has served me well. It's a win-win-win.
To help everyone have access to the same great job search advice and tips, it's only right that I share the job seeker advocates I have come to trust and rely on.
These aren't in any order. They've been categorized to help you understand the perspective you are getting when you follow and read their tweets.
Here are the categories:
Job Search & Resume/LinkedIn Writers
Recruiters
Job Search Sites & Tools
Over 50 Job Search
Honorable Mention
Let me also say, that the people on this list are active on Twitter. There are many great experts and job seeker advocates that aren't listed here but are active on LinkedIn. (That list will be coming soon).
Just click on this button and you can easily follow the list of the 2021 Job Seeker Advocates on Twitter.
JOB SEARCH & RESUME/LINKEDIN WRITERS
Alison Doyle
@AlisonDoyle
Job Search Expert @thebalance. Founder @careertoolbelt. LinkedIn: https://linkedin.com/in/alisondoyle. Career and job search advice. Dogs. Tweets
Susan P. Joyce
@JobHuntOrg
Job-Hunt.org a Forbes Top 100 Website for Your Career, your guide to a shorter & smarter job search in 2021!
Phyllis Mufson
@phyllismufson
Career Coach – Catalyst for personal & career transformation. Looking to help w/ #JobSearch #CareerChange #SmallBiz
J.T. O'Donnell
@jtodonnell
Founder & CEO at WorkItDaily.com
Robin Ryan
@RobinRyanCareer
"America's Top Career Expert" – LA Times | Resume Writer | LinkedIn Writer | Job Interview Coach | Speaker | #1 Bestselling Author | Forbes columnist
Suzanne Lucas
@RealEvilHRLady
An American in Switzerland, which means I'm late and I overshare. HR Writing, Speaking, Workshops, and Webinars. Snark at no extra charge. EvilHRLady@gmail.com
Dr. Dawn on Careers
@DrDawnGraham
Switchers are the #FutureOfWork – are you READY? | Career Coach | Author | TEDx Speaker | Psychologist | Forbes.com | #LinkedInLearning | Host @SiriusXM 132 |
Amanda Augustine
@JobSearchAmanda
career expert & resume writer, speaker, CPCC & CPRW, spokesperson at @TopResume, @TopCVServices & @Top_Interview, #newmom, dog mom, eternal student
Lisa Rangel
@LisaRangel
Executive resume writer loved by recruiters | 4-Step M.E.T.A.Job Landing System Creator | LinkedIn Expert | 13-yr Recruiter | Cornell – Go Big Red!
Marie Zimenoff
@workwithpurpose
Changing lives one #career success story at a time. Train & convene career pros worldwide as CEO of @CareerTL & Resume Writing Academy. Sports nut & runner.
Jessica H Hernandez
@GreatResume
Executive Resume Writer | LinkedIn Top Voice 2020 | Certified Personal Brand Strategist | CEO | Forbes Coaches | greatresumesfast.com
Dorothy Dalton 💥
@DorothyDalton
International Talent Connector & Strategist. Executive Search & Career Transition Coach. Gender Balance Believer. CEO @3PlusInt. Loves words! Life learner.
Sarah Johnston the Briefcase Coach
@SarahDJohnston
LinkedIn Top Voice 2019. I am a strategic job search coach. I help high achievers position for smart opportunities & navigate the hidden job market. #resume
Mac Prichard
@Mac_Prichard
Social change strategist and connector, owner of @TeamPrichard, publisher of @Macs_List, host of the Find Your Dream Job #CareerPodcast.
Mark Anthony Dyson
@MarkADyson
Career Advice Writer ✍ @Payscale @Glassdoor @jobhuntorg @thebalance careers | Blog 🏅 | Podcast 🎙: apple.co/1IzQtXjpOs | Forbes, Business Insider, NPR, Inc. |ΦΒΣ
Virginia Franco
@VAFrancoResumes
Exec Resume Writer + Career Storyteller. 3X Certified. No Worksheets/Prep. 90 Minutes of Your Time. PODCAST: tinyurl.com/yczv86xw
Adrienne Tom, Executive Resume Writer
@Adrienne_Tom
31X Award-Winning Executive #Resume Writer ▶ I write resumes & LinkedIn profiles that get executives noticed. LinkedIn Top Voice 2020
Donna Svei, Executive Resume Writer
@DonnaSvei
I write Director, VP, C-level & Board resumes and LinkedIn profiles.
Erin Kennedy
@ErinKennedyCPRW
6X Cert Executive Resume Writer, Forbes Top 100 Career Site, Executive Resume Writer, Branding Strategist, Career Consultant, Coffee Lover, Happy to meet you!
Wendi Weiner | The Writing Guru®
@TheWritingGuru
I write about personal branding, career advice, job search strategy, LinkedIn, & how I used my law degree to get out of law: @cnbc @thrive @huffpost
Biron Clark
@BironClark
careersidekick.com
Founder #Jobsearch and #career advice
Jenny Foss
@jobjenny
Overwhelmed by your job search or career pivot plans? It's not you. This is so hard for almost everyone (execs included). Need help? C'mon over to JobJenny.com.
Work Coach Cafe
@WorkCoachCafe
Blog to help people become more successful in their jobs and job search, on the Forbes Top 100 Websites for Your Career list.
Meg Guiseppi
@MegGuiseppi
Personal Branding, LinkedIn & Executive Job Search Strategist | CareerBrandVideos™ | Multicertified, 20+ yrs exp. | Differentiate to Land a Great-Fit New Gig!™
Jacob Share
@jacobshare
Job Search Expert, Professional Blogger, Creative Thinker, Community Builder with a sense of humor. I like to help people.
Laura Smith-Proulx
@ResumeExpert
Executive #Resume Writer: award-winning, globally recognized, multi-certified, published. #LinkedIn coach, author, branding advocate. 20+ yrs winning top jobs!
Rosa E. Vargas
@resumeservice
Certified Master Resume Writer and Career Coach | careersteering.com Authentic Resume Branding | Member @Forbescoaches Call: 321-704-7209
Brie Weiler Reynolds
@briewreynolds
i help people find flexible & remote work. career coach | digital career services | career dev manager @FlexJobs | compulsive organizer | will work for puns
Susan Peppercorn
@susanpeppercorn
Career & Executive Coach | Best-selling Author of "Ditch Your Inner Critic At Work" | IPPA/ICF Certified | Featured in NY Times, HBR, Fast Company & more.
Shelley Piedmont
@ShelleyPiedmont
I help you find a job you love. Who doesn't want that? I provide career coaching, resume writing, LinkedIn profile optimization & interviewing skills training.
Maureen McCann (she/her)
@mypromotion
Canadian career strategist teaches executives to navigate leadership positions with ease. #Executive #resume writer. Fierce advocate of #career development #YOW
Kamara Toffolo 🇨🇦 🇯🇵 LinkedIn Top Voice 2020
@kamaratoffolo
Job Searching shouldn't be this hard. That's what she said. #LinkedInTopVoice 2020 #ResumeWriter bringing BS-free job search advice FREE COVER LETTER GUIDED 👇
Ana Lokotkova, Career Advisor
@cvlabs_yyc
I help hustlers tell their career stories & get hired | Resume Writer | LinkedIn Personal Branding | Interview Coach | Speaker | cvlabs.ca
Emily Lawson, PHR, SHRM-CP, CTCC
@HRLogicSolutio1
Former Corporate HRBP turned Certified Career Transitions Partner for Senior Leaders
Lezlie Garr, Resume Writer
@ResumeLezlie
Career Change Advocate Flexed 💪 | Certified Career Transition Coach & Resume Writer | LinkedIn, Job Search & Interview Strategist | Dog Lover & Digital Nomad 🏳‍🌈
Kerri Twigg
@KerriTwigg
Author of "The Career Stories Method" | I help people use their stories to find their awesome & land ideal work | She/Her
Chrissy Scivicque
@EatYourCareer
Creator of EatYourCareer.com, contributor to @USNews. Helping people discover professional nourishment. Is your career leaving you hungry?
JOB SEARCH SITES & TOOLS
The Muse
@TheMuse
Helping people succeed at their careers, and find meaningful jobs at the best companies. Raising hands
Jobscan
@JobscanCo
Jobscan is transforming the way jobseekers find new career opportunities by empowering them with the best tools.
Glassdoor
@Glassdoor
One of the world's largest job and recruiting sites on a mission to help people everywhere find a job and company they love.
Ladders
@LaddersHQ
Ladders is the leading source for professional career news & advice.
JibberJobber
@JibberJobber
JibberJobber, The job search CRM, helps you to manage all your data on your job search and alleviates a lot of the confusion and feelings of overwhelmed.
Careerbright
@Careerbright
Illuminate Your Career | Inspiring readers on #Career #Innovation #Leadership #workculture #CareerSuccess #Jobsearch #Entrepreneurship
CareerOneStop
@Career1Stop
CareerOneStop.org is your source for career exploration, training & jobs. The website is sponsored by the U.S. Department of Labor.
RECRUITERS
Adam Karpiak
@Adam_Karpiak
Recruiter w/ opinions. Sentences w/o Oxford commas confuse me. Slide into my DMs w/ career questions. Need some help with your resume? bit.ly/3qCVV5u
Amy Miller
@AlaRecruiter
Big tech recruiter. I also rant a bit on the internet and call it blogging. Thoughts all mine – follow at your own risk. I clap back.
ed han
@ed_han
Talent Acquisition Geek | JobSeeker Ally | Wordsmith | Job-Hunt.org Contributor
Views expressed are my own
Ask The Headhunter
@nickcorcodilos
Host of Ask The Headhunter, where we rip the covers off America's broken employment system and help you get a job
Katrina Kibben 🏳‍🌈
@KatrinaKibben
Read what I post here with a sarcasm filter, ok? ° Speaker ° Trainer ° Writer ° CEO @ThreeEarsMedia °
50+ JOB SEARCH & CAREERS
Kerry Hannon
@KerryHannon
Speaker, Expert–Entrepreneurship, Work & Money– Author–Great Pajama Jobs, Never Too Old To Get Rich, Great Jobs for Everyone 50+, Alum @DukeU
John Tarnoff
@johntarnoff
Reinvention Career Transition Coach for Professionals Over 50, Speaker, University Educator, Best-Selling Author, Father, Chocolate Lover 😎
Marc Miller
@CareerPivot
Career Designer helping Baby Boomers. Author – Repurpose Your Career – A Practical Guide for the 2nd Half of Life amzn.to/2sMitmN
ADDITIONAL TWITTER ACCOUNTS
DaisyWright-CertifiedCareerCoach
@CareerTips2Go
Chief Encouragement Officer ★ Certified Career Coach ★ Forbes Coach ★ Certified Resume Strategist ★ Founder, The Let's GROW Project for Women (since 2016)
CareerMetis.com
@CareerMetis
Award-winning online publication focusing on advice for job seekers and career professionals.|| Award-winning Career Podcast (apple.co/2pz3cZ9)
Bob McIntosh
@bob_mcintosh_1
Author of Job Interview Success for Introverts~career strategist~morning walker~decent soccer coach~blogging maniac ~LinkedIn influencer~Please no DMs
Jack Kelly
@wecruitr_io
CEO & Founder of WeCruitr.com, a startup social media networking platform to help people find new jobs during these tough times. Senior Contributor @Forbes
Caroline Ceniza-Levine
@CCenizaLevine
Career coach, speaker, media personality on the job market, founder – DreamCareerClub.com
And here is another list of over 1200 Job Search Twitter accounts to help with your job search.
Need Help With Twitter For Your Job Search?
These articles will help
How to Use Twitter For Job Search
How To Find Smart People to Follow On Twitter


Hannah Morgan speaks and writes about job search and career strategies. She founded CareerSherpa.net to educate professionals on how to maneuver through today's job search process. Hannah was nominated as a LinkedIn Top Voice in Job Search and Careers and is a regular contributor to US News & World Report. She has been quoted by media outlets, including Forbes, USA Today, Money Magazine, Huffington Post, as well as many other publications. She is also author of The Infographic Resume and co-author of Social Networking for Business Success.