If job search is like a game of chess, have you planned your strategy? It's your move. You are in control!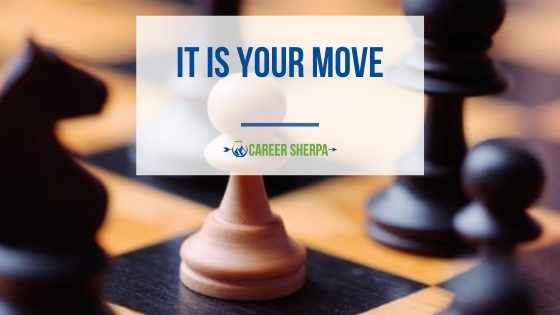 I am told, that in the game of chess, the very best players do not make their first move until they have planned their last.
And if you watched The Queen's Gambit, then you can begin to understand how truly strategic the game is and all the hours of practice it takes to be successful.
A job search requires the same pre-planning logic and an insane amount of practice. So before you start looking, what's your last move?
If you find your job search is stalled or not going as well as you would like, it may be time to call "time out" and conduct some strategic planning. (I am pretty sure you can't call "time out" in chess, but do it anyway).
I've listened to job seekers talk about how their searches are "frustrating," "depressing," or "lasting too long." But continuing to make the same moves over and over again isn't going to get you different results. Could it be your job search needs a strategic plan to guide your moves?
Most job seekers leap into job search by adding their last job to their resume and posting it on a job board and waiting for something to happen.
The more savvy job seekers understand that networking is an important component and engage with friends and family.
But neither of these actions will work successfully unless there is a plan, goal or vision set up in advance.
It's Your Move
How do you develop a plan, goal or vision? Start with your Marketing Plan. It is a simple document. It contains 5 sections:
Objective: This is a listing of 5 or more job titles you are searching for. Honestly, where else do you have this written down?
Summary or Bio: Highlight your specific strengths, talents and experiences, but only those that you really enjoy doing and will be relevant to the roles you are pursuing.
USP or Value Proposition: Tell someone what problems you solve, who benefits from your work, and how you do your work differently.
Competencies: A list of work related processes or procedures required of the jobs you want (this is optional)
Demographics: Your preferred demographics (where you want to work). The type of industry, company size and geographic location.
Target Companies: A listing of target companies that fit those preferred demographics. (These do not need to be companies who are hiring, merely those that might employ those who do what you do). Learn more about how to identify target companies.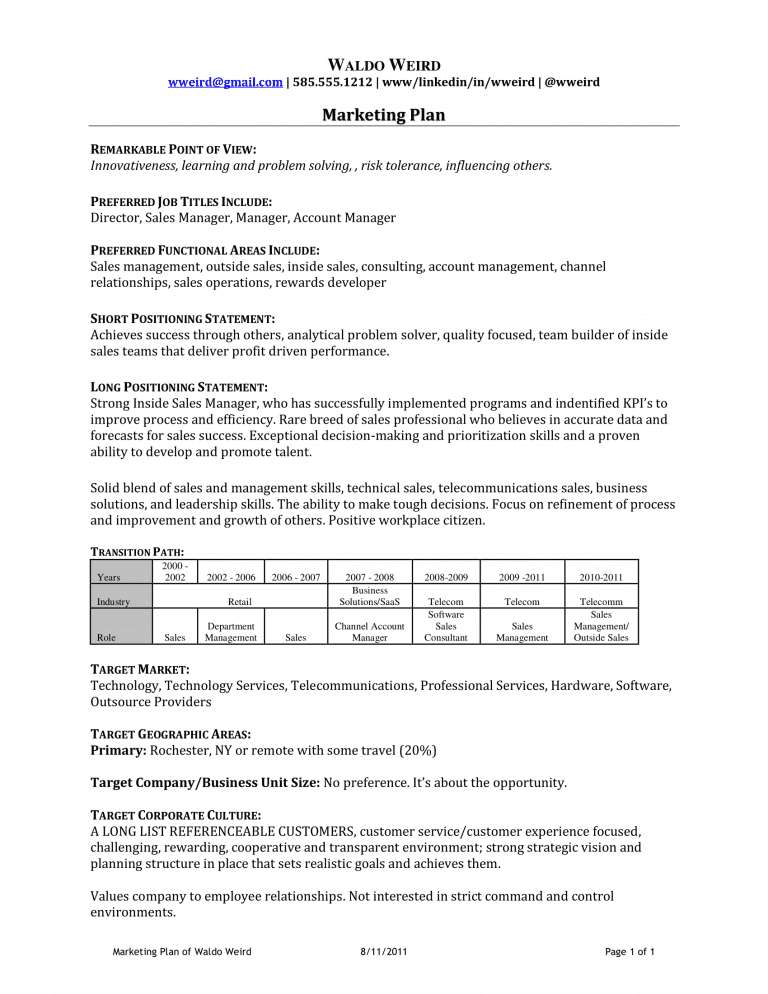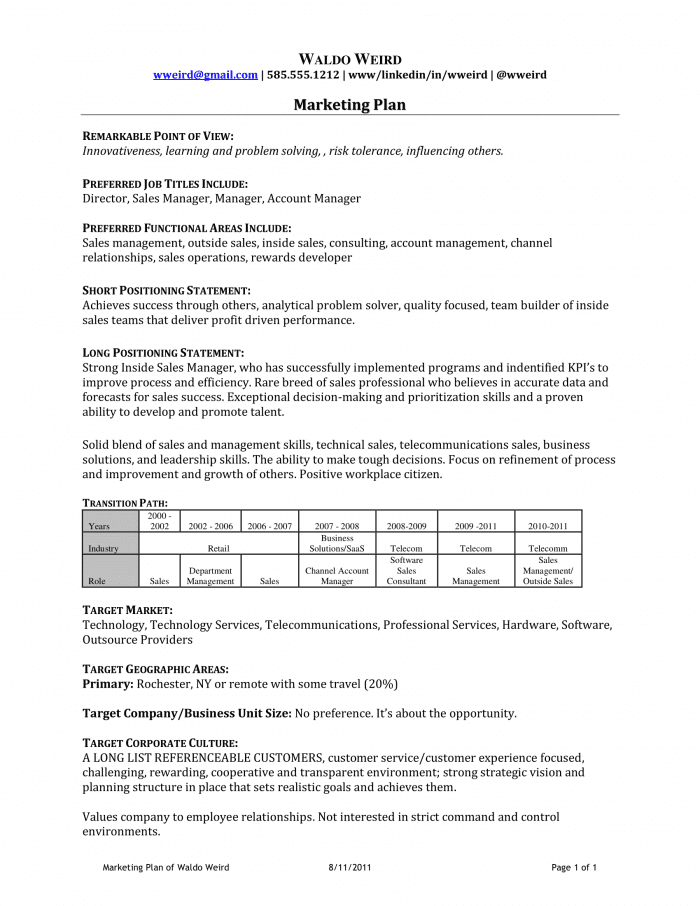 For step by step instructions on how to build a personal marketing plan, read this: Creating Your Personal Marketing Plan
Make Your Move Today
The act of creating your Personal Marketing Plan should force you to think about your strategy. It will provide you with options and insight beyond what you immediately thought of.
It is also an incredibly helpful document to use when you network.
Toss aside that tired resume. It really doesn't tell someone what you want to do next. It talks about what you did in the past. The personal marketing plan is a future-oriented document.
Use your Personal Marketing Plan to guide your conversations.
I have written and spoken about personal marketing plans a lot. I truly believe it is the single best document to have in your job search toolbox box. Here are some other posts that show examples and logic:

Hannah Morgan speaks and writes about job search and career strategies. She founded CareerSherpa.net to educate professionals on how to maneuver through today's job search process. Hannah was nominated as a LinkedIn Top Voice in Job Search and Careers and is a regular contributor to US News & World Report. She has been quoted by media outlets, including Forbes, USA Today, Money Magazine, Huffington Post, as well as many other publications. She is also author of The Infographic Resume and co-author of Social Networking for Business Success.