Are you allowing your job to define you?
What happens when there's change (downsizing, layoff, mergers)? When you align your value with your job, it impacts your self-worth!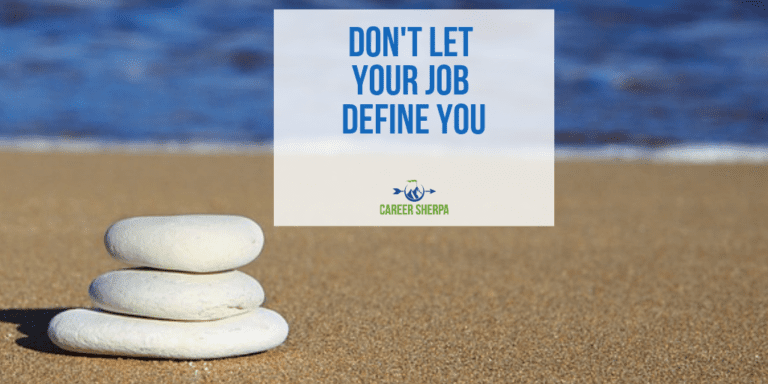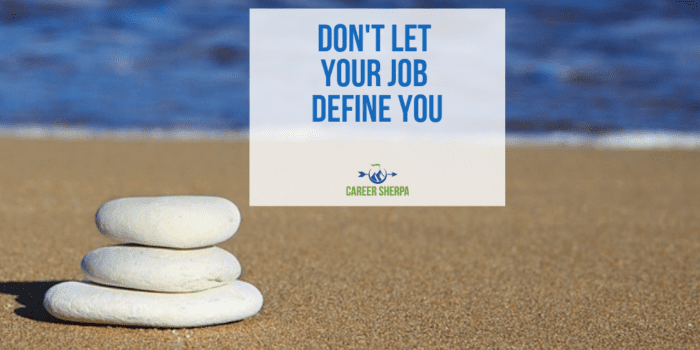 It may not be a big surprise to hear that your job is impacting your self-worth.
47% of working adults said they gain equal or greater feelings of self-worth from their jobs and careers as they do from their personal lives.
This is according to a study by the University of Phoenix School of Business conducted by Harris Poll in the first quarter of 2014 which surveyed more than 1,000 working adults in the United States.
Values and Priorities Change- So Should You
Is your job aligned with your values? Maybe this was true when you first started, but your values can, and often do, change. In fact, sometimes values change without you even realizing it. This may be one reason you are feeling dissatisfied with your work.
If you haven't evaluated what is most important to you at this stage of your life, now would be a great time to assess your values. Your values provide guidelines for your daily choices and actions. This post on decision making includes a list of values to help get you started.
Next, think about what you are most proud of today, inside and outside of work.
The reason you are good at your job and feel successful is most likely because your work and your values are aligned and support each other.
For example, if you felt good about a report you produced, this may indicate you value providing excellent quality, conducting research or collaborating as part of a team. Dig further and consider which experiences have shaped you into who you are today. Think about any compromises you are not willing to make. Remember, your answers should apply to both your personal and professional life.
Avoid Putting All Your Effort In One Basket
One day, you may wake up and find you have fallen out of love with your professional life. Changing jobs isn't the only solution. One way to create a personally and professionally fulfilling life is to volunteer or join activities in line with your personal values.
For example, if you have a soft spot for animals, invest free time helping out at an animal shelter. You could help raise money, promote an upcoming event or even walk orphaned dogs. The key is to diversify how you invest your time in case one day you find your job no longer suits you. By getting involved in outside activities, you will surround yourself with other, like-minded professionals involved in something that does provide you with a feeling of self-worth. This also provides you with contacts for new opportunities that align with your current values.
Follow Your Passion
Whether you believe following your passion is good advice or not, it is at least a great starting point. The things that interest you, you get excited about, or dare I say love, may about may hold the key to types of jobs that may provide you with a greater sense of self-worth.
Use your passion as a launching point to investigate options and research the reality of a career move, not necessarily a direct path to satisfying work.
Finding The Right Career Never Ends
The study also found that the search for the right career is a life-long quest. Your definition of the right career is a moving target and changes as you go through life based on your changing values and priorities.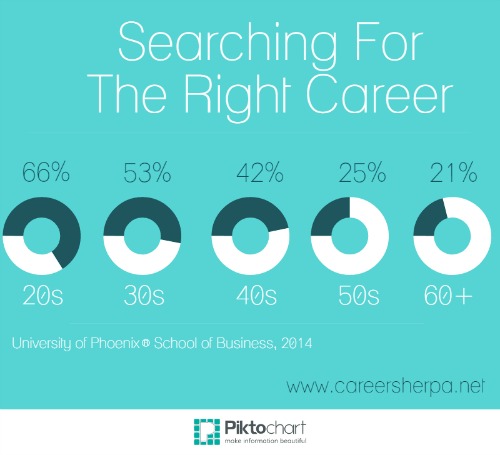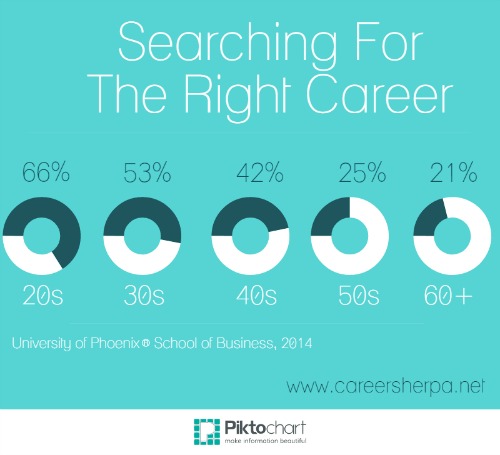 The good news is that "professionals no longer feel locked into a specific career path," according to Dr. Sam Sanders, college chair for University of Phoenix School of Business and former human resources executive. There are other influences at play here too. Dr. Sanders says
"workers are staying in the workforce longer and the lines between personal lives and work have blurred, so it is not surprising that workers are focused on finding jobs and careers that align with their values and contribute to their feelings of self-worth." 
Own Your Happiness
If there is a lesson from this study, it's that it is up to you to own your career and happiness, no matter what stage of life you are in. And if you need another exercise to help you figure some of this out, read this post!
Ok, you are still probably going to let your work define you. You and about 50% of the US workforce. Just do yourself a favor. Take a little time to think about what motivates you. Then make sure you find ways to incorporate those motivators into your personal or professional life.
Instead of expecting your employer to know what will make you a productive employee, discuss the types of projects or activities that you think will keep you engaged. And remember, it is your responsibility to ensure your skills are up-to-date, so be on the look-out for training or professional development opportunities that will keep your skills fresh and in-demand. Most importantly, maintain a balanced life.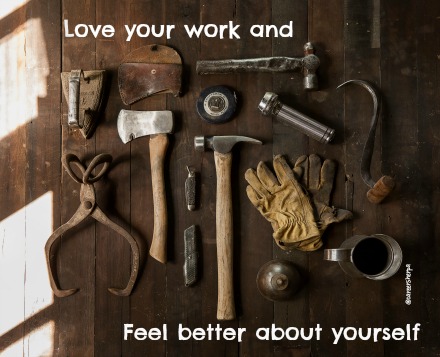 A version of this post originally appeared on US News & World Report On Careers

Hannah Morgan speaks and writes about job search and career strategies. She founded CareerSherpa.net to educate professionals on how to maneuver through today's job search process. Hannah was nominated as a LinkedIn Top Voice in Job Search and Careers and is a regular contributor to US News & World Report. She has been quoted by media outlets, including Forbes, USA Today, Money Magazine, Huffington Post, as well as many other publications. She is also author of The Infographic Resume and co-author of Social Networking for Business Success.