Here are 80 Must-Follow Twitter Accounts for 2014. These pros consistently produce and share great quality information on Job Search and Careers.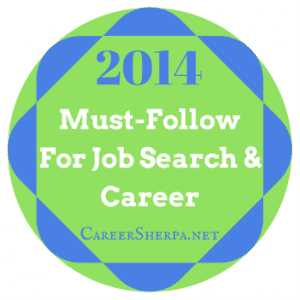 I culled and mulled this list because I wanted it to be genuinely valuable to you and not a popularity contest. (Some of that will always exist, I suppose, given the nature of social media!) Creating this list, like last year, was difficult. There are so many people and resources I turn to for great content and advice.
The other thing that happens, very much like with performance reviews, is that I tend to remember the more recent exchanges more than those from the beginning of the year.
I've categorized the list to help you understand what list to add these people to. (Hint: Lists are the best way to organize your Twitter stream!)
To cover my bases, let me remind you to check out last year's list of 99 people to follow on Twitter. I still follow and recommend all those people!
And these were (and still are) the top 11 blogs from 2012-2013.
Because I am think social media is so valuable (and you should be too), these were  my favorite social media resources in 2012-2013. (Be on the look out for my 2014 list!)
MUST-FOLLOW TWITTER ACCOUNTS FOR JOB SEARCH AND CAREER ADVICE

JOB SEARCH
@Career Attract and @KevinKermes
@YouTern and @YouTernMark
RESUMES (and more)
@rezlady and @ITtechExec
CAREER
RECRUITERS
NEW GRAD
HUMAN RESOURCES
PERSONAL BRANDING
BIG GUYS
OVER 50 JOB SEARCH
ENGAGING FRIENDS
@1to1Discovery


MORE LISTS
There are tons of lists out there! Please don't tell me you don't know where to go to find job search or career advice! Add these sites to your reader, join their free email lists, or follow them on your favorite social network! You'll probably get all your questions answered!
Top 100 Websites for Your Career by Forbes
18 of the Best Career Blogs to Read in 2014 on Start Networking Today
14 People to Follow in 2014 on Campus To Career
or maybe this Forbes list 35 Of The Most Influential Career Sites For 2014
This list will continue to grow as the new year unfolds!
Did I miss any sites or people? 

Hannah Morgan speaks and writes about job search and career strategies. She founded CareerSherpa.net to educate professionals on how to maneuver through today's job search process. Hannah was nominated as a LinkedIn Top Voice in Job Search and Careers and is a regular contributor to US News & World Report. She has been quoted by media outlets, including Forbes, USA Today, Money Magazine, Huffington Post, as well as many other publications. She is also author of The Infographic Resume and co-author of Social Networking for Business Success.