With all the news about Twitter's IPO this week, maybe you're thinking it is time to jump in!
Starting out on Twitter is a great step.
Twitter can help you connect better with your customers, find new customers and partners, and establish a presence for you and your business. If you are wondering how to get started, I've outlined the first steps here.
Did You Know?
According to Pew Research, about 16% of online adults use Twitter. The average Twitter user is between 18-29 years old, urban dweller and African-American. Is that the demographic you are targeting? Is that your ideal audience?
If not, it doesn't necessarily mean Twitter can't be a valuable resource for you and your business. In fact, there are some pretty strong arguments for using Twitter to increase the reach of your business.  Here are 10 Reasons Why Your Business Should Use Twitter by Aaron Lee (@askaaronlee)
Getting Started On Twitter
You need a human avatar/photo and a bio that describes who you are and/or what you tweet about and a link to learn more about you (your LinkedIn profile, website, about.me page or something). All three of these elements are important. They help establish credibility, trust and convey your value. Don't skip this step.
Follow Great Thinkers and Industry News
Who are the top people in your line of work, niche, or industry? They may be authors of books or articles you read. They may be people you've seen present at conferences. Find their websites which most likely will list their Twitter accounts and follow them.
Create Lists
There are likely categories of people or news you are interested in. Within your Twitter profile, create a list for these types of categories. You can either make your list public or private. Each time you follow someone, I would like to suggest you add them to a list. This list acts as a filter so you can follow the updates from certain types of people. If you are a company focused on leadership, you could title your list Leadership. Then, each time you find someone who is sharing or writing content about leadership, add them to this list. Yes, it takes 2 steps, (follow and then add to list) but in the long run, it will improve your Twitter experience.
Follow the Following
Now that you are following great thinkers, you want to begin following more people, to increase the quantity of information and potential relationships.  One way to do this is to look at who one of your top experts is following. You can then select the people you would like to follow yourself. You may not follow everyone they are following. Be strategic and use common sense. (Remember to add them to the appropriate list.)
Follow The Lists
Many people have allowed their lists to be viewed publicly. For those influencers/great thinkers you are following already, check their profiles to see what lists they have created and you can easily follow their entire list! (Though this doesn't mean you are following each of the accounts they follow, you are just following their list.)
Use Directories to Find Followers
If you're just starting out on Twitter, add your Twitter account and find others to follow! You shouldn't have to pay to add yourself to a directory!
15 of the Best Twitter Directories has a listing of these directories.
Just Listen and Watch
In order to get a sense of what's happening on Twitter, watch one user to see what they do and how they use it. (Hopefully someone you respect, has a large following, and is doing it right!)
Use A Dashboard
The homefeed on Twitter can feel overwhelming for those just starting out on Twitter.
I have used both Hootsuite and Tweetdeck. Tweetdeck is a bit easier to set up I think. The reason I like using a dashboard is because it sorts the stream of updates into manageable chunks. The reason I am such a huge fan of lists is because that's how I sort my streams. Here's a screenshot.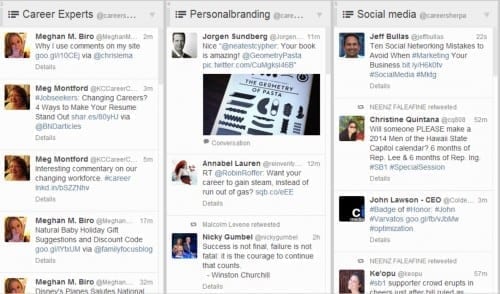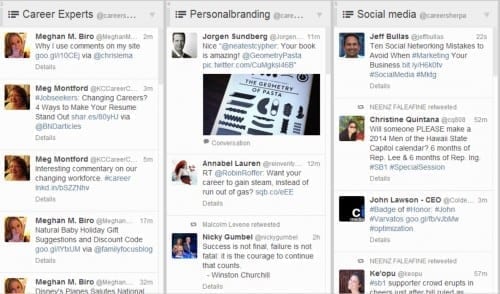 You can create columns by lists, hashtags (#), or search by key words, and more. Honestly, I believe that if you don't like Twitter, it is because you aren't using a dashboard. It makes it so much easier to see the people and what they are sharing in an organized format!
I've written about Twitter before and while these posts are 100% up-to-date, they still show logic! See my posts here.
Get Your Questions Answered
Twitter's Help resources ARE helpful. If you have questions, check it out!
For more help getting started on Twitter:
Where to find content to share and other rules of engagement!

Hannah Morgan speaks and writes about job search and career strategies. She founded CareerSherpa.net to educate professionals on how to maneuver through today's job search process. Hannah was nominated as a LinkedIn Top Voice in Job Search and Careers and is a regular contributor to US News & World Report. She has been quoted by media outlets, including Forbes, USA Today, Money Magazine, Huffington Post, as well as many other publications. She is also author of The Infographic Resume and co-author of Social Networking for Business Success.