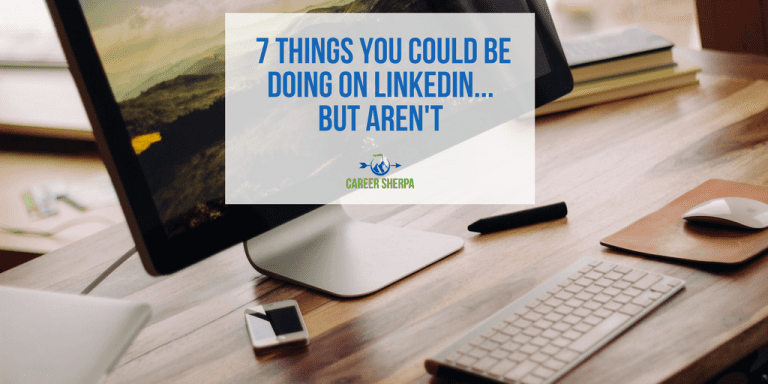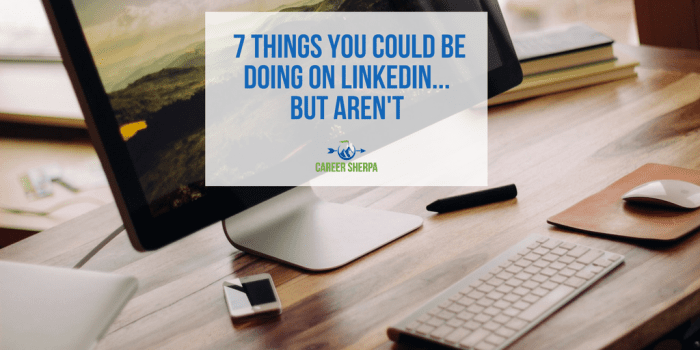 So you think you've used all the right buzz words in your LinkedIn profile, but still, recruiters aren't knocking down your door? What gives?
It's time to stop lurking on LinkedIn it is so much more than just an online resume.
LinkedIn is a social network and an online portfolio. Draw attention to your profile by actually using LinkedIn.
These are 7 things you could be doing on LinkedIn, but aren't… yet.
Before you start applying these new ideas, search to see how many people or companies have viewed your profile. LinkedIn now summarizes this information for you when you view your profile. You will see two numbers on your home page. LinkedIn tells you how many people have viewed your profile and how many people have viewed your posts.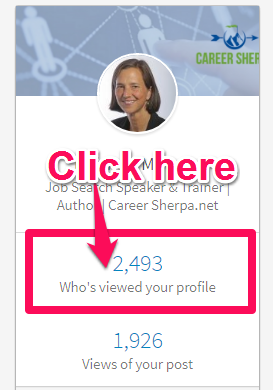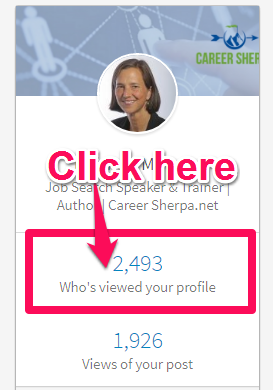 When you click on either number it will take you to a new page with greater detail. Take note of the companies and job titles of people who are looking at your profile. Are these companies you want to work for and job titles of people who could hire you? If so, you're on the right track. If not, you'll need to be smarter in what you say in your profile and what you are sharing on LinkedIn. (FYI: I use the free version of LinkedIn).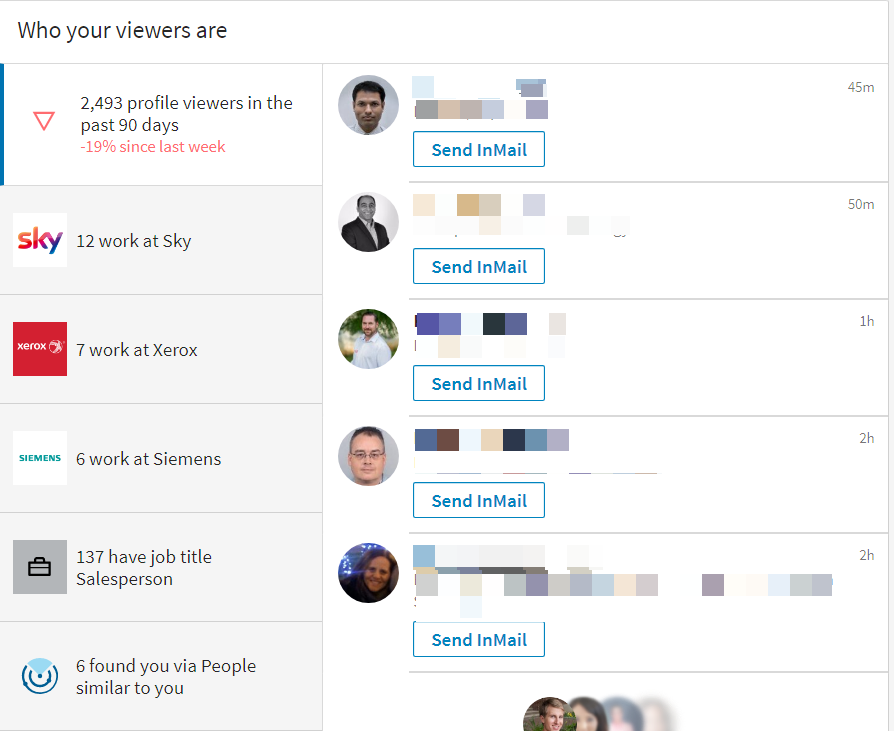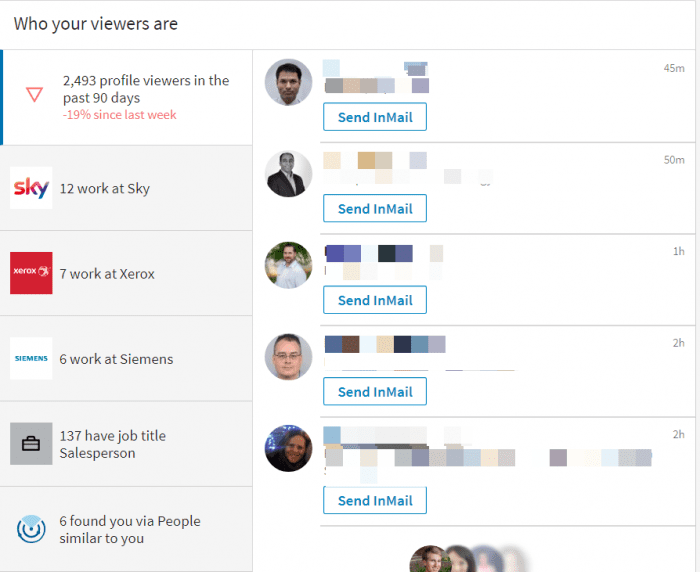 Write down your numbers so you can compare them to the number after 30 days of implementing some of these 7 actions. You will notice a difference. More importantly, you'll experience more activity on LinkedIn too!
1. Tag Someone
To make sure someone sees something you are sharing, tag them in your status update and they will receive a notification from LinkedIn.
To do this, type the @ sign and begin typing the name of the person (or organization) you want to tag in the status update field. You will see a list of people begin to appear under the name you have typed. Then just click on the correct listing.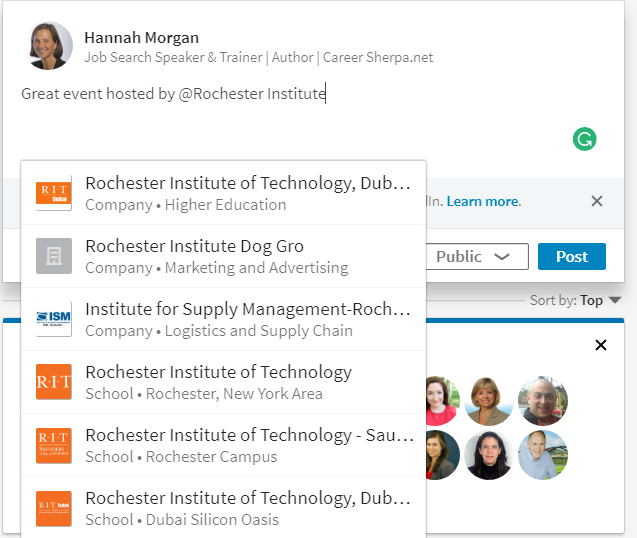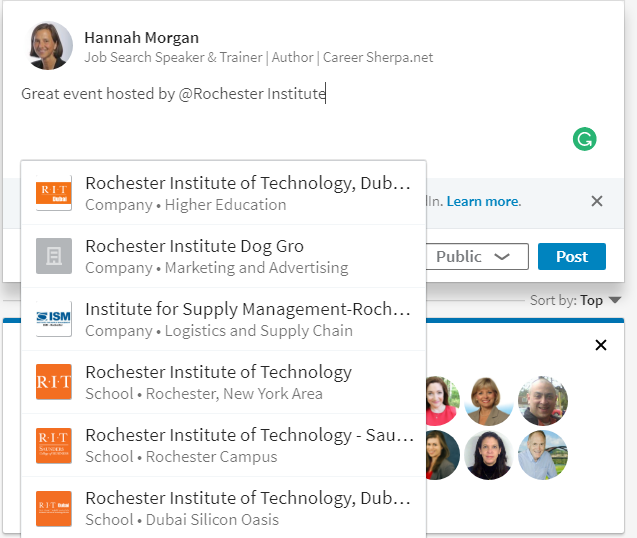 You know you've been successful when the name is highlighted in blue.
2. Personalize Every Invite To Connect You Send
As common as this may sound, the majority of invitations people receive are generic. People you want to connect with are more likely to accept your invitation if you explain why you want to connect. In fact, some people consider the generic invite lazy or even unprofessional.
To prevent this from happening, always visit the member's profile and then click "Connect." If you accidentally send a generic invite, immediately send an InMail or message to the person you connected with and explain who you are and why you want to connect. We all make mistakes, but taking the time to explain yourself to a future connection may actually strengthen your relationship.
3. Like, Comment or Share One Article Every Day
It may seem extreme to post something daily, but most people will not log into their LinkedIn profile every day, and even if they do, they may not see your activity. When you share daily updates related news impacting your career interests, it increases the odds that people in your network will see your name and face in their home feed and associate you with the information you share.
Add an introduction or short explanation about why you are sharing the article to catch a reader's attention. Another option is to like an interesting post someone has shared on LinkedIn and leave a comment.
Looking for ideas on what to status updates you should/could be sharing? Check out 10 LinkedIn Status Updates for Job Seekers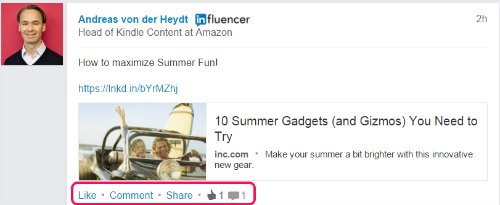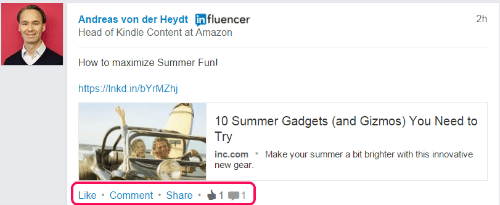 2 Ways To Find Great Articles to Share
Skim your home feed on LinkedIn. Look for interesting and relevant news your network is sharing. Then share (or re-share) the article. Don't forget to tag the person who originally shared it. It's nice to receive this type of recognition!
Read industry publications. If you search for and find something outside of LinkedIn, most publishers offer "share" buttons which allow you to share it on LinkedIn. Search your home feed on LinkedIn Whenever you like or comment on something someone has shared, it will ping them. This is one way to keep your name in front of your valuable network.
4. Write A Recommendation For Someone
Before you visit a new restaurant or order a new product online, do you read the reviews? Recruiters and companies are no different. Before they hire you or even interview you, they want to know what others think about you.
If it's uncomfortable or awkward to ask for a recommendation, why not write one instead? Writing a recommendation for a colleague, manager or client is not only nice, it makes you look good, too. A well-written testimonial shows your professionalism, leadership and strong moral character. Seeing these characteristics in action may be more powerful than just listing them in your summary or on your resume.
A well-written testimonial shows your professionalism, leadership and strong moral character. Seeing these characteristics in action may be more powerful than just listing them in your summary or on your resume. And one added
An added bonus: The person who receives your recommendation may be prompted to write one for you in return, which will only bolster your LinkedIn profile.
5. Publish An Article On LinkedIn
If you've always wanted to blog or have a knack for writing, this is your opportunity to show off your communication skills or tell a story about your job, company or career. You may choose to write a case study about a job success you took part in, list your favorite "tools of the trade," provide your opinion on an industry trend or describe a personal career achievement.
Anything you write should be free of grammatical and typographical errors so be sure to proofread your work before hitting publish.
Looking for more ideas on what you can write about? Before you write your first LinkedIn post read this:
Use the LinkedIn Publishing Platform to Tell Your Story.
Once published, share your article as a status update on LinkedIn and the other social media channels you are active on to gain greater readership.
FYI: When someone searches your profile, your most recent article is featured immediately below your summary section.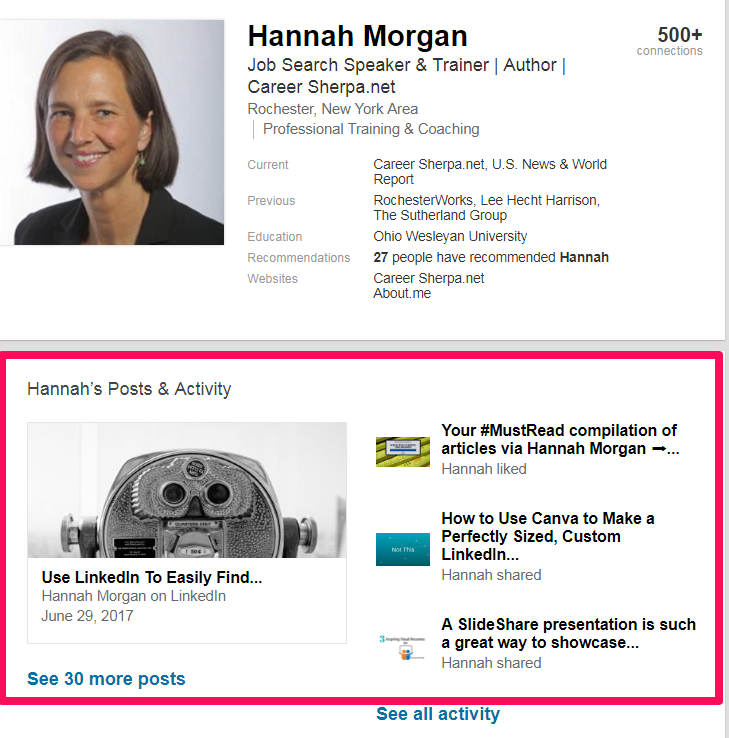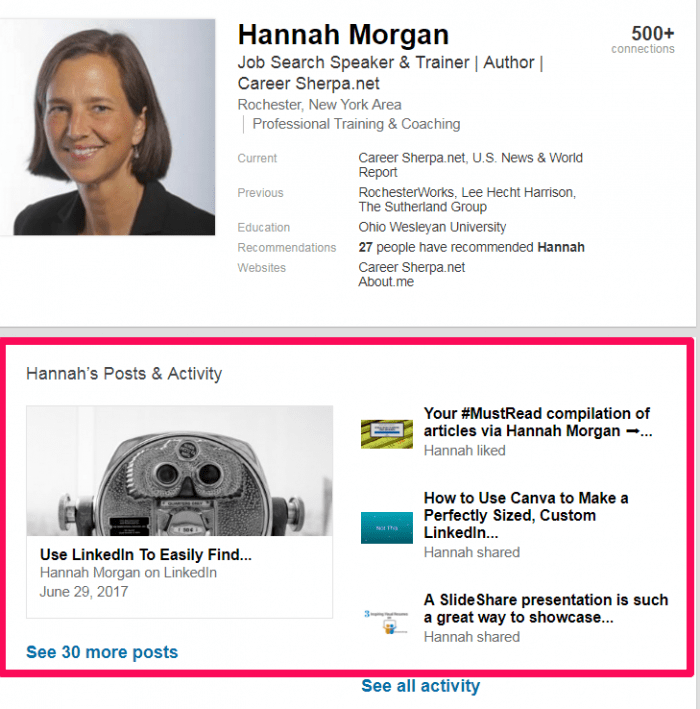 6. Create a Career Summary Using SlideShare
Sometimes it is challenging to condense your work history onto one or two pages. What if you could create a presentation highlighting your career achievements instead? Start by creating a visual summary of your career using your favorite presentation software. If you aren't sure what to use, search online for the presentation program that you feel comfortable with. Then upload it to SlideShare, which is owned by LinkedIn.SlideShare is a repository of presentations on many different topics.
Once you have uploaded your presentation into SlideShare, share it as a status update on LinkedIn.
Use your creativity and you'll find endless options for ways to use SlideShare to highlight your personal brand.
(You can see 3 examples here)
7. Turn on LinkedIn's Open Candidate Feature
This newer feature on LinkedIn allows companies and recruiters to see that you are actively open to new jobs and opportunities. Recruiters who work for your current employer listed on LinkedIn will not be able to see this annotation, to prevent the wrong people from knowing you are on a job search.
To turn this setting on, go to the jobs icon and click on "Update career interests."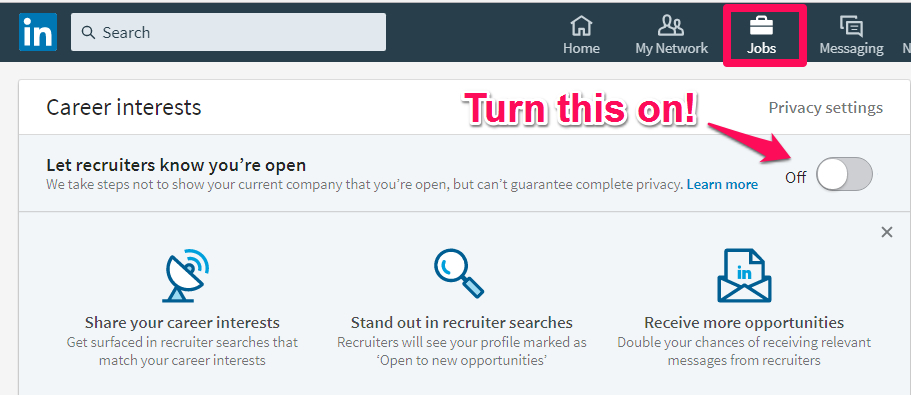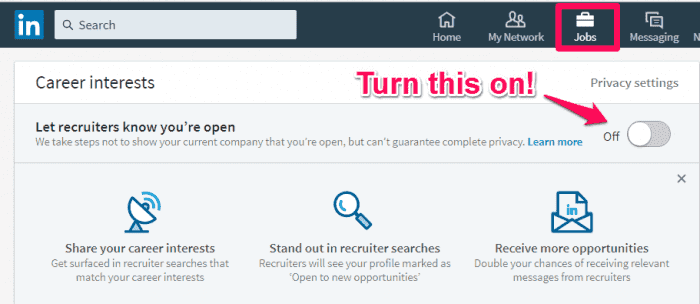 Next, make sure you fill out all the fields requested by LinkedIn, such as the job title, geographic preference and types of companies you are interested in. This should help match you with the right jobs or opportunities.
This post originally appeared on US News & World Report On Careers

Hannah Morgan speaks and writes about job search and career strategies. She founded CareerSherpa.net to educate professionals on how to maneuver through today's job search process. Hannah was nominated as a LinkedIn Top Voice in Job Search and Careers and is a regular contributor to US News & World Report. She has been quoted by media outlets, including Forbes, USA Today, Money Magazine, Huffington Post, as well as many other publications. She is also author of The Infographic Resume and co-author of Social Networking for Business Success.