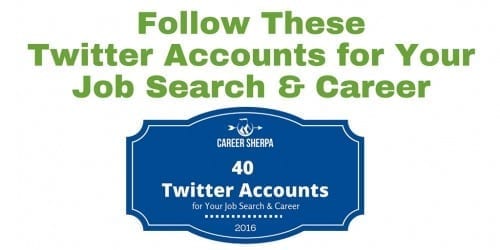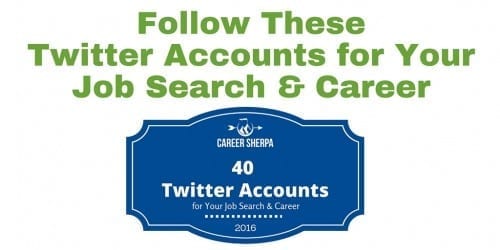 Twitter is an easy way to keep up with current news about job search, careers, and almost any other topic you can imagine. But sometimes it is hard to know who to follow. I've got you covered! 
This list contains experts who know what they are talking about. They are real practitioners- coaches, recruiters, HR professionals and resume writers who live this stuff every day. Beyond the normal job search stuff, you'll find information to help you understand how to use social media, learn how to lead and hopefully much more.
<Confession> It is so difficult to pare this down. I follow and am friends with so many people on Twitter (and beyond)! I know I have forgotten to include people or left some off.  Send me a DM on Twitter and I'll get you back on!
In case you are interested, you can see the lists of Twitter accounts from previous years. You'll find that some of the names have changed over time, but many are the same!
Follow the list on Twitter
If you want an easy way to follow everyone on this list, just click on  this link

ALL ABOUT JOB SEARCH
@Careersherpa Hannah Morgan (yes, me)
43 Best Job Search Websites 2016https://t.co/7W3fgj7yEF pic.twitter.com/AaPtukhe35

— Hannah Morgan (@careersherpa) January 19, 2016
 @Absolutely_Abby  Abby Kohut | Absolutely Abby
The Nuances of Networking https://t.co/IeY4fi3F2j — Abby Kohut (@Absolutely_Abby) February 10, 2016
@AvidCareerist Donna Svei | Avid Careerist
Twitter Job Search: 12 Tips to Help Recruiters Find You http://t.co/o7FgFHaNGa

— Donna Svei, Resumes (@AvidCareerist) May 4, 2015
@DonnaSerdula Donna Serdula | LinkedIn-Makeover
How a Recruiter Views Your LinkedIn Profile https://t.co/Clo5Ats6qM #CareerDevelopment #LinkedInTIps pic.twitter.com/U8I6HJcapS — Donna Serdula (@donnaserdula) January 11, 2016
@JobHuntOrg Susan P. Joyce | Job-Hunt.org
Keywords are critical for successful #jobsearch! Pick your best! http://t.co/OgbTudtvjF

— Susan P. Joyce (@JobHuntOrg) August 29, 2015
@JobSearchAmanda Amanda Augustine | Amanda Augustine
Looking for a job match made in heaven? First, research company culture. https://t.co/SKc0ZzNDrP via @TopResume pic.twitter.com/rcyzekObwT — Amanda Augustine (@JobSearchAmanda) February 8, 2016
@Keppie_Careers Miriam Salpeter | Keppie Careers
How social networking helps you get a job https://t.co/Bn99gFFLOv

— Miriam Salpeter (@Keppie_Careers) February 15, 2016
@phyllismufson Phyllis Mufson | Featured Expert on Job-Hunt.org
How to Add Accomplishments to Your Resume & LinkedIn Profile https://t.co/GjE62a7gkG by @JuliaErickson — Phyllis Mufson (@phyllismufson) October 23, 2015
@RobinRyanCareer Robin Ryan | Robin Ryan
Have an interview coming up? Check out 60 Seconds & You're Hired! The ultimate prep guide. https://t.co/N1JsNIXdBQ pic.twitter.com/URNBoDoteq

— Robin Ryan (@RobinRyanCareer) February 12, 2016
OVER 50/BOOMERs
@CareerPivot  Marc Miller | Career Pivot
My 3 Biggest Career Mistakes – Career Pivot https://t.co/PSHZHwhzT9 #career pic.twitter.com/FitSU773gk — Marc Miller (@CareerPivot) December 7, 2015
@KerryHannon Kerry Hannon | Kerry Hannon
Looking for an #career change @Moneyhttps://t.co/J2VzuHI6ya — Kerry Hannon (@KerryHannon) February 13, 2016
@NancyCollamer Nancy Collamer | My Lifestyle Career
The Encore Career Movement Grows Up. Spot-on analysis by @richeis315 via @NextAvenue https://t.co/5KEiZJRd21 — Nancy Collamer (@NancyCollamer) February 15, 2016
MILLENNIAL SLANT

@EntryLevelRebel  Jessica Stillman | Articles on Inc.
5 Surprising Life Regrets (That You Can Easily Avoid) https://t.co/xvRuDBpMoB — Jessica Stillman (@EntryLevelRebel) February 15, 2016
@YouTern | The Savvy Intern on YouTern
This is on you: "How to Help Recruiters Find Your Profile on LinkedIn" by @SimplyHired #geny #jobsearch http://t.co/3hOyNNXZzu — YouTern (@YouTern) March 18, 2015
Good to know –> "What Soft Skills Will Your Next Boss Expect From You?" @YEC #geny #jobfairy http://t.co/ddDctcrBoH — YouTern (@YouTern) March 28, 2015
 RESUME WRITING EXPERTS (and more)
@LisaRangel Lisa Rangel | Chameleon Resumes
@ResumeExpert Laura Smith-Proulx | An Expert Resume
Top Executive #Resume Trends in 2016 https://t.co/r3MVj0EtaT #careers #jobs — Laura Smith-Proulx (@ResumeExpert) February 7, 2016
@ResumeWoman Michelle A. Riklan | Riklan Resources
Job Seeking Tips For the College Grad: SOCIAL MEDIA – Will the company researching you like what they find? http://t.co/Vrqak5TTgg — Michelle A. Riklan (@ResumeWoman) February 13, 2014
@ValueIntoWords Jacqui Barrett-Poindexter | CareerTrend
7 Red Flags of a Sketchy #Resume Writer (+ how to vet experienced, qualified writer online) https://t.co/qeVL5QHaES pic.twitter.com/nPkaQFUOUp — JacPoindexter (@ValueIntoWords) November 11, 2015
HR/RECRUITER INSIGHT
@chrisrussell Chris Russell | Careercloud
You'll Be Surprised How Many Jobs are on this Non-job board http://t.co/XTiWJLMuVG pic.twitter.com/18nP14D5PE — Chris Russell (@ChrisRussell) August 17, 2015
@ed_han Ed Han
My #LinkedIn #tip4day: if you aren't energized by networking, it's time to rethink how you do it. — ed han (@ed_han) February 12, 2016
@hrbartender Sharlyn Lauby | HR Bartender
Happy Employees are not Engaged Employees #HR #recruiting https://t.co/I1m68yUyCZ pic.twitter.com/u2vRBtapnQ — hr bartender (@hrbartender) January 24, 2016
@jimstroud Jim Stroud | Jim Stroud
In the future, people will not look for jobs. Jobs will look for people. #sosueu — Jim Stroud (@jimstroud) September 24, 2015
@SocialTalent Johnny Campbell | SocialTalent
35% of #Fortune500 companies have a dedicated Twitter account for recruiting purposes. Do you? https://t.co/nWsnqLsVSA#HRTechWorld — Johnny Campbell (@SocialTalent) October 28, 2015
@StacyZapar Stacy Zapar | Tenfold
LinkedIn now has 414 million members, with 57% of traffic coming from mobile https://t.co/gE5My9tq5F #linkedin @linkedin #recruiting — Stacy Donovan Zapar (@StacyZapar) February 5, 2016
@tonyrestell Tony Restell | Social-Hire
New! Social Media is Like Riding a Bike… Social-Hire https://t.co/XNjVtxa5gf #recruiting pic.twitter.com/9hIFLtq8VA — Tony Restell (@tonyrestell) January 18, 2016
@WillRecruits Will Thomson | Bulls Eye Recruiting
So How DO You find a Job in 2016? https://t.co/JiVhw9e8vV via @willrecruits — Will Thomson (@WillRecruits) February 10, 2016
@WinningImpress  Katrina Collier  | The Searchologist
New blog: Friday 5: Yearning For A Career Change? http://t.co/OszXSoUyp2 #careeradvice #jobsearch — Katrina Collier (@WinningImpress) August 1, 2014
PERSONAL BRANDING
@dorieclark Dorie Clark | Dorie Clark
How Big Data is Transforming the Hunt for Talent – @forbes video – https://t.co/NuFcpzpRA5 — Dorie Clark (@dorieclark) January 4, 2016
@MegGuiseppi Meg Guiseppi | Executive Career Brand
Is Your Online Presence Strong Enough to Compete? https://t.co/YEXlOTBswy #personalbranding #jobsearch — C-suite Branding (@MegGuiseppi) November 2, 2015
@RyanRhoten Ryan Rhoten | Ryan Rhoten
Find a job on Twitter?!?! Yep >> https://t.co/33cTGqoqW4 #jobsearch #tips w/ @RyanRhoten pic.twitter.com/JFkl5VRbcI — Audra Knight (@media2knight) February 13, 2016
@WilliamArruda William Arruda | Reach Personal Branding
LinkedIn is a powerful networking tool. But it can all go wrong if you do any of these things. https://t.co/jdzD5c7veT — WilliamArruda (@williamarruda) December 29, 2015
LEADERSHIP
@FSonnenberg Frank Sonnenberg | Frank Sonnenberg Online
7 Ways to Live a Life of #Purpose ➤ https://t.co/9Cyi0oPZ8E | By @FSonnenberg | #Success #Happiness — Frank Sonnenberg (@FSonnenberg) February 16, 2016
@LollyDaskal Lolly Daskal | Lolly Daskal
THE DIFFERENCE BETWEEN BOSS and LEADER from @lollydaskal #leadership #leadfromwithin pic.twitter.com/FXS5QKKleB — Lolly Daskal (@LollyDaskal) April 13, 2014
SOCIAL MEDIA DONE RIGHT
@buffer  Buffer | BufferApp Blog 
Small changes in your daily routine can take you from making excuses to taking action. https://t.co/t8DEJPRyFT pic.twitter.com/LINIjS3Yc0

— Buffer (@buffer) February 16, 2016
@garyvee  Gary Vaynerchuk | Gary Vaynerchuk 
Please pass on to every1 who needs it https://t.co/lBKm2bANB5 pic.twitter.com/XI2SEc0CRI — Gary Vaynerchuk (@garyvee) January 28, 2016
@IanCleary Ian Cleary | RazorSocial
10 Strategies for Social Media Optimization and Building Your Brand on #SocialMedia https://t.co/HzXBdA8rGz pic.twitter.com/BN5LrH8N7K — Ian Cleary (@IanCleary) January 5, 2016
All THINGS WORKPLACE
@LindseyPollak Lindsey Pollak | Lindsey Pollak
Mentorship-a best kept secret to navigate career success. Learn how to make this relationship work. https://t.co/TANV5qrl7Y @Forbes @Anapio7 — Lindsey Pollak (@lindseypollak) January 22, 2016
@MarkSBabbitt Mark Babbitt | Switch and Shift
A1: Properly done, social enables companies to build a talent community and brand ambassadors. #SocialLeader

— Mark Babbitt (@MarkSBabbitt) February 16, 2016
@MeghanMBiro Meghan M Biro | Talent Culture 
#WorkTrends Preview: Forget Work-Life Balance & Start LIFEworking: Pick Yourself in the 21st Century https://t.co/vnUET1tbSZ — Meghan M. Biro (@MeghanMBiro) February 15, 2016
 RISING STARS
@TheOliviaGamber Olivia Gamber | Occupational Olivia
How to uncover the hidden power of your professional network with 2nd and 3rd degree connections: https://t.co/cWKmfdKfzE #networking — Olivia Gamber (@TheOliviaGamber) February 9, 2016
@SarahLandrum Sarah Landrum | Punched Clocks
10 Ways to Be a More Inclusive, Better Co-worker https://t.co/mwpVlZZqGs pic.twitter.com/RbntLGI7vp — Sarah Landrum (@SarahLandrum) February 16, 2016
There are loads more great blogs and websites for your job search listed in Best Job Search Websites 2016.

Hannah Morgan speaks and writes about job search and career strategies. She founded CareerSherpa.net to educate professionals on how to maneuver through today's job search process. Hannah was nominated as a LinkedIn Top Voice in Job Search and Careers and is a regular contributor to US News & World Report. She has been quoted by media outlets, including Forbes, USA Today, Money Magazine, Huffington Post, as well as many other publications. She is also author of The Infographic Resume and co-author of Social Networking for Business Success.