There are very few interview questions that carry as much weight as "Why are you the best person for this job?" It's a direct opportunity to sell what you're capable of, and convince hiring managers to give you a shot.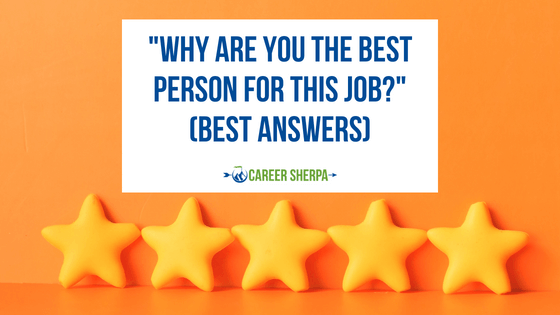 So as you'd imagine, coming up with a great answer is essential. This guide will teach you how to do exactly that.
Table of contents
The Reason This Question Gets Asked During Interviews
"Why are you the best person for this job?" is an interview question that can catch applicants off guard. You likely have many reasons why you want the job and believe you're a good fit. But when push comes to shove, not everyone knows how to answer this question!
Interviewers are responsible for ensuring that the people they hire are a good match for the company and role. That involves finding competent individuals who are fully aware of what the job entails and what they bring to the table. Even better is finding someone who can communicate what problems they will solve for the hiring manager. Everyone ideally wants a high-paying job, but not everyone is dedicated and capable of doing high-quality work.
That's what interviewers want to know.
"Why are you the best person for this job?" helps hiring managers determine if candidates understand the responsibilities of the role and truly believe they're the right fit. It also helps to assess the confidence they have in their skillset and the genuine interest they have in the role. Candidates that fit the bill will instantly move to the top of the list.
That's why giving a great answer goes a long way.
Think of this question as an opportunity to sell yourself to interviewers. Your job when delivering a response is to reiterate your interest, reassure them of your talents, and convince them that the right person for the job is sitting in front of them.
How to Answer "Why are You the Best Person for This Job?"
Figuring out how to answer this question is not something you want to do during the interview. The quality of your response matters, and it can easily make or break your chances of getting a job offer.
While "Why are you the best person for this job?" can be intimidating, there are a few steps you can follow to develop a knockout answer.
1. Understand the Responsibilities of the Job
The first thing you should do is study the job description to understand what the position requires. That's one of the things interviewers are listening for when you give your answer. They want to know that you did your homework, came prepared, and know what you're getting yourself into.
It doesn't matter what industry you're in. Every job is unique. Some of the responsibilities might be the same, but every position involves unique duties and tasks.
Knowing what the role involves goes a long way. It gives you the tools to develop a position-centric response about why you're the best candidate for the job.
2. Learn About the Company
Don't stop at examining the job description. Extend your research to the company.
Look at the company website, check out social media posts on LinkedIn, and look deeper into the organization. Figure out what it stands for and learn more about its mission statement. Take note of any special figures and accolades the company might have earned in the past.
While you're at it, dig into the company culture. You can do that by finding information on the corporate website or browsing the social media profiles of people who work there.
Interviewers want to know that your personal goals and values align with the company. During your research, find those common threads. They will be useful when coming up with a solid answer.
Also be on the lookout for projects, new clients or lines of business the company highlights. And if you have similar experiences launching, working with similar clients or serving a the new industry, by all means, this would be a great time to connect those dots for the interviewer.
3. Come Up With a List of Your Strengths & Unique Skills
Once you know everything there is to know about the job and company, you can start narrowing down relevant strengths and skills that make you stand out. "Why are you the best person for this job?" is an interview question that's all about presenting your capabilities. It's time to leave the modesty behind and put your best foot forward!
This is your chance to highlight skills that can make a difference. Compare your skills and experiences to what you learned during your research. Find the most relevant details and jot them down.
Having a short list of unique skills and strengths can guide your answer. Each one serves as a jumping-off point, and sprinkling them into your response can help interviewers imagine you in the role.
4. Show That You're Excited About the Opportunity
Don't forget to show your enthusiasm! It's not enough to be qualified on paper. Interviewers also want to know that you're genuinely interested and want the job for the right reasons.
You don't have to go over the top, but don't let your excitement fly under the radar, either. And be sure to smile.
Tell the interviewer why you're interested in the job. Explain why you feel you're the right fit and what aspects of the position excite you most. Showing enthusiasm makes you memorable and helps you stand out against a sea of candidates.
5. Give Some Examples
One great way to show why you're the best person for the job is to provide real-world examples that showcase your skills and capabilities. Everyone can say they can do something, but candidates who provide examples to back up those claims often get moved to the top of the list.
Use that list of unique skills and strengths you created earlier. Then, reflect on your past work experiences to provide examples illustrating them in action.
For instance, instead of simply saying that you're a great collaborator, provide an example of how your collaboration skills positively impacted previous companies. Maybe you led a project that earned your employer substantial profit, or contributed to a team that solved a complex operational problem that affected productivity.
Whatever the case, having examples makes a big difference.
6. Connect Your Answer to the Job You Want
Always connect your answer back to the job you're trying to get. This tip should remain on your mind when formulating a response.
Every skill and strength you talk about needs to relate to the job in some way. Interviewers don't care about strengths that you won't utilize in this job. So why talk about them?
For example, you shouldn't talk about your amazing cooking abilities when interviewing for an IT position!
"Why are you the best person for this job?" is best answered when you stay on target. It helps interviewers understand what you offer and how you will utilize your expertise to benefit the company. Connect those dots, and interviewers will remember you.
7. Frame Your Answer About What You Can Do for the Company
Another valuable tip is to frame your answer to emphasize how you will use your strengths to benefit the company. You want interviewers to buy in, so you need to show them that the investment in you as an employee is worth it.
Refer to your skills and tell interviewers how you plan to use them. How do your strengths translate to real-world work performance and productivity? Paint the picture for hiring managers and tell them exactly why you're the best person for the job.
8. Practice
Our final tip is a simple one: Practice, practice, practice!
Figuring out how to answer "Why are you the best person for this job?" can feel overwhelming at first. You have a small window to sell yourself, so you can't waste time on meaningless rambling.
You don't need to have an over-rehearsed script. However, you should know what points you want to hit. Create a checklist and do mock interviewers to ensure that you get your point across.
The goal is to get rid of those nervous jitters and be comfortable with delivering a confident answer that won't fail to impress.
Mistakes to Avoid in Your Answer
With the tips above, you'll have no problem delivering a great response. But there are still plenty of ways to mess up. Here are a few missteps you need to avoid.
Don't Undersell Yourself
Honesty is always the best policy during interviews. But that doesn't mean you have to be self-deprecating.
One common mistake that many people make when answering this question is bringing up their weaknesses or skills they lack. That's not what this question is about, so you should avoid any ounce of negativity. Avoid starting your response with, "Other candidates may have more experience than me, but…"
Undermining your own capabilities won't do you any favors. It shows a lack of confidence and highlights a weakness that interviewers won't soon forget.
Don't Make Tall Promises
It's one thing to be confident, but it's another to make promises you can't keep. Be realistic about your skills. Don't say you're a master at something when you don't have much experience at all.
Hiring managers will expect you to deliver on those oversold skills, so spend your time emphasizing what you're actually capable of delivering.
Avoid Bad-Mouthing
Always keep your responses professional and steer clear of anything that could be construed as bad-mouthing.
With a question like this, it's easier to do that than most realize. You might feel tempted to speak ill of former employers or colleagues. Or, you may have the urge to talk negatively about other candidates you've never met in your life!
Either way, that's the type of attitude that will have interviewers second-guessing your fit within the company culture. No one wants to hire someone willing to sink to those lows.
Focus on why you're the best person for the job, not why others aren't.
Don't Have a Script
We touched on this earlier, but it's important to remember. Having a pre-written response is not the right approach to this question. Reciting your answer verbatim will make you sound robotic and inauthentic.
Plus, it does nothing to prepare you for potential follow-up questions and an organic conversation.
Instead, have a list of points you want to hit and practice multiple ways to say them. You want to sound confident, not over-rehearsed.
Example Answers
Following the recommendations above will help you develop a great answer to this interview question, but sometimes it helps to see an example or two. Here are some samples you can use as inspiration.
Example 1
Our first example is a concise but powerful response. The candidate explains why they believe they have what it takes to succeed and provides a real-world example. They also reiterate their interest and leave no questions about their capabilities.
"I'm the best person for this job because I have the sales leadership experience you are looking for and can immediately make an impact here. At my last job, I managed a sales team of five employees.

Despite being a small team, we had the top sales record of our branch. I'm eager to bring that experience here."
Example 2
This next example focuses on a mix of soft and hard skills. It's a good response because the candidate frames it to show precisely what they can do for the company, all while providing examples to back up their claims.
"In my previous job, I gained many customer service skills that I'm eager to put to work here. I managed customer feedback and relayed that information to the larger customer support team. I also handled calls directly, compiled a list of customer information, and managed a database that was readily available to the entire team.

My communication skills and aptitude for organization make me the best person for this job. Through my past work experience, I've learned to use those skills to keep myself accountable and ensure that nothing slipped through the cracks, resulting in meaningful contributions for my team and enabling us to provide the best support to our customers possible."
Example 3
Our final example answer is bold. The candidate talks about details they learned about the company through the job description and directly connects their skills to explain why they are the best fit.
"In your job description, you mentioned that you needed an individual who was capable of establishing a more efficient workflow between departments. I believe my experience to can make that happen.

In my last job, I implemented solutions that eliminated wasted time and unnecessary work that had little value to the bottom line. I did that by putting my project management skills to the test. I improved procedures by using automated emailing and document processing systems.

This experience would be a valuable asset to your team, and I'm excited at the prospect of implementing changes that can improve productivity across the board."
Conclusion
Answering "Why are you the best person for this job?" shouldn't intimidate you once you know to approach it. In fact, you should welcome the opportunity to explain why you're the ideal candidate!
If you spend a little time before the interview preparing your response, you'll be ready to go when this question gets asked.

Hannah Morgan speaks and writes about job search and career strategies. She founded CareerSherpa.net to educate professionals on how to maneuver through today's job search process. Hannah was nominated as a LinkedIn Top Voice in Job Search and Careers and is a regular contributor to US News & World Report. She has been quoted by media outlets, including Forbes, USA Today, Money Magazine, Huffington Post, as well as many other publications. She is also author of The Infographic Resume and co-author of Social Networking for Business Success.