Is there such a thing as "burn out" in job search?  You betcha!  Just as you overworked yourself in your work-life, so can you over-work yourself in job search.  Most of us haven't done sales before, so we are unaccustomed to the process. You want to be pro-active in your job search.  You want to work smarter, not harder.  Therefore, you want to balance your time appropriately and focus on the activities with the higher rate of return.  You may have heard of the sales funnel.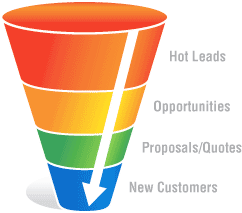 You see how the top of the funnel is bigger than the bottom?  That's because it takes many more "hot leads" to generate "new customers".
HOT LEADS
Hot leads, in my opinion are NOT job postings from job boards.  Hot leads come from referrals from your networking efforts or prospecting target companies.  That's why I have always recommended job seekers have at least 40-50 target companies.  As you pursue these hot leads, you are assessing whether or not they are viable opportunities for you.  Sometimes they are, sometimes they aren't.  The only way you can find this out is to have a conversation with a hiring manager or higher up within that target company.
OPPORTUNITIES
Based on your assessment of the hot lead and its viability for you, you will create a proposal (or should I say resume). All of your fact finding, research and conversations should allow you to write a compelling proposal which addresses the specific needs of the organization with the hot lead.  As you can see, without a lot of data, it is going to be very difficult to write a compelling proposal.  This is another reason why in today's job market, the one-size-fits-all resume doesn't work.  It doesn't connect the dots so that the company sees the right fit or solution.
NEW CUSTOMER
If your proposal and its presentation meet the needs of the company, then they become your new customer.  In other words, if they think they can't live without your services, they will be tempted to buy.
HOW LONG DOES THIS TAKE?
It takes much longer than you want. Let's put it that way.
Some of this is in your hands.  How long will it take you to uncover the hot leads? In other words, how long will it take you to identify at least 40-50 target companies?   How aggressive will you be in following up on referrals and requests for meetings with people within your target companies?  How well are you using your network?
Much of this is outside of your control.  In sales, the more expensive items take longer to sell.  The same is true with hiring.  A salary is a high-ticket item for the company.  That is one reason it takes companies so long to make the hire happen.  And let's not forget, there are the daily/weekly fires to put out and a multitude of other high priorities the company is facing.  Adding new talent generally falls down lower on the list.
What should you be doing more of?  Prospecting hot leads.  Learning about target companies.
Don't forget to check out the related posts down below for more information on these topics!
image credit to getentrepreneurial.com