"What is your dream job?" is a question that gets asked in job interviews often, so you need to be ready to answer it.
But coming up with a great response is not as easy as it seems.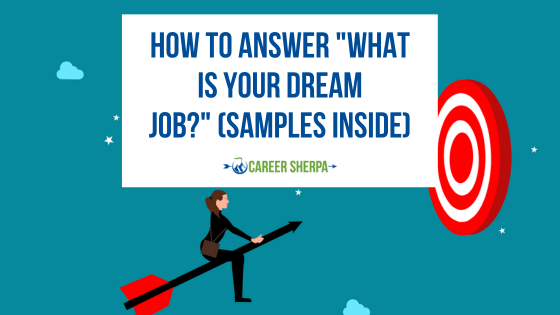 This guide will help you come up with a great answer that connects your dream job to the position you're applying for, all while impressing your interviewer.
Table of contents
Why This Interview Question Gets Asked
There are a few reasons why "What is your dream job?" comes up often during interviews. Contrary to what you might initially think, interviewers don't expect to hear that the position you're applying to now is your dream job. That's not what this question is about.
They want to hear about your motivations, passions and values.

A person's dream job says a lot about who they will be as an employee. Your response gives interviewers and hiring managers insight into the type of worker you'd be and how you'd fit into the company.
It's alright if the job you're applying to isn't your end-all-be-all career aspiration. That's rarely the case when interviewers ask this question. The goal is to learn about where you see your career going and better understand how this job fits into your larger plans.
It's about seeing if you'll have the natural motivation to succeed in this role while being satisfied with what you do. Motivated employees typically have a better chance of succeeding and performing well. Plus, they stick with companies longer due to better job satisfaction. Those are all things hiring managers want to see.
Interview questions like this go beyond your basic qualifications, focusing instead on what this job means to you. All the while, interviewers learn more about who you are and the skills you bring to the position.
How to Answer "What is Your Dream Job?"
Many applicants hear questions like "What is your dream job?" and assume they're nothing more than icebreakers. While they are more conversational, interviewers hope to learn more than most realize. Therefore, the quality of your answer matters.
Follow these tips to develop an impactful response that works in your favor.
1. Brainstorm Before the Interview
Preparing for this question should start long before you set foot into the interview room.
Sharing your dream job is something that deserves considerable thought. Interviewers will know if you deliver an off-the-cuff response, so you want to sound confident and prepared.
Start brainstorming before your interview. You've likely thought about your dream job before, but now is the time to hone in on where you see yourself going.
Think about your passions and skills. Then, do some research into relevant careers that genuinely interest you.
Focus on what you want out of a job. Is it the ability to apply your skills or to do something that aligns with your values? Steer clear of monetary motivations and stick to things that will satisfy and fulfill you.
Consider the type of work you want to do and what environment you want to be in. Take your time to brainstorm and research possible career paths. You don't have to make any concrete decisions or take steps to make your dream job a reality at this point. After all, this is only an interview question!
Keep in mind that the company you are targeting may have many of the attributes and career opportunities you are looking for. When researching the company before the interview, look at potential roles you may be interested in.
However, you want to have something clear in mind that you can talk about confidently. That's what's important. Think about what you want to do in the future and why your dream job is your ultimate goal. Then you can pursue it in the future!
2. Explain What Makes Your Dream Job Appealing
During your interview, emphasize what you find the most appealing about your dream career scenario. You don't want to deliver a one-word answer. This is a discussion-based question, so keep the conversation going by detailing what it is about that job you find so appealing.
Give the interviewer all the information they want. Talk about how this job supports your passions and why it's important. Focus on the things you love about the job, how it first got onto your radar and why you believe you're destined to get it one day.
Explaining what you like about the job is where the meat of your answer lies. Your explanation provides more insight into your values, motivations and passions. So, give this detail ample thought to ensure you can deliver a confident response.
3. Keep It High Level
Our tip is an important one: Keep your response fairly general. Instead of discussing specific roles or titles, focus on the job description. You should avoid mentioning any companies or job titles at all.
Why is this?
The point of "What is your dream job?" is to learn about who you are and what you can bring to the position you're applying for. If you get too specific about a job title you want, interviewers may think that you're only there to "fill the gap" until you get to your dream job. They may conclude from your response that you'd much rather be at a different job than this one, which could raise a few red flags for hiring managers.
The best way to answer this question is to talk about responsibilities or the overall job experience. For example, you might want to be a human resources team lead one day at a Fortune 500 company. Instead of saying that, you can focus on the fact that you want to help people reach their full potential in the workplace.
Focus on the general duties of your dream job and why you like them. Keeping things high level provides all the information interviewers need without getting too specific.
4. Highlight Any Common Ground with the Job You're Applying For
Here's how you knock your answer to this question out of the park.
Explaining what your dream job is covers the bare minimum. But if you want to go above and beyond, find ways to connect your dream job to the position you're applying for.
Remember: Interviewers use your response to learn about your motivations, what skills you'll bring and how satisfied you'll be in the role. Ultimately, they're trying to connect the dots to envision you in the position to see if you'd be a good fit.
And do include the reasons the company aligns with your career goals as well.
What better way to leave a positive impression than by highlighting that common ground yourself?
When preparing for your interview, consider how your dream job compares to this one. Are there any similarities? Do any aspects of this job compare to your dream role? What about this position helps you eventually get the dream job you want later?
Answering those questions will make it easier for you to find common ground. Emphasize the similarities so interviewers and hiring managers see you're dedicated to succeeding in this role. It's not about "settling" with something other than your dream job.
Hiring managers don't expect you to stay in this role forever. However, showing that you've applied for this job because it's similar to your dream job can greatly improve your chances of getting further in the hiring process.
5. Show That You're Excited for the Opportunity
Our final tip is to reiterate your interest in the job.
There's always a risk that you leave the wrong impression behind with your response. If you speak too highly or specifically about what your dream job is, interviewers might feel you wouldn't be happy "settling" for this position. Take the opportunity to combat that narrative with your answer.
Show the interviewer that you're genuinely interested and excited about this position. You can highlight the connections between this role and your dream job. Talk about how your experience with this role fulfills what you'd get out of your dream job.
You can also mention how this opportunity might help you get to where you want to be someday. Whatever you do, don't imply that you wish you were interviewing for your dream job instead. Let the interviewer know you're excited about the opportunity and intend to be a great employee.
Sample Answers
Everyone's response to questions like this will be different. Unlike other questions, you can't have a cliche answer here! You must give it the thought it deserves to form an impactful response.
However, we have some sample answers to point you in the right direction.
Sample 1
Our first sample is from a candidate who hopes to one day work in marketing. They're currently interviewing for a retail position. They use their marketing knowledge to show interviewers they would be a true asset in this role.
It works on all fronts, and their response has everything it needs to leave a great impression on hiring managers.
"My dream job would be to create marketing materials for retailers like your company. While I enjoy the sales aspect of working in retail, it's the marketing that excites me most. I enjoy coming up with advertising ideas that stick with shoppers.

I believe that marketing is integral to the success of any sales-based company. The right marketing campaign can make a big difference. It's all about presentation, and I hope to be part of that process one day.

One of the reasons why I'm so excited for the opportunity to work here at [COMPANY] is because your marketing is so top-notch. It's high-impact and does a lot to sell the brand. By working here and directly implementing your marketing strategies, I hope to learn as much as possible about successful marketing before one day stepping into that field myself."
Sample 2
In our second example, the job-seeker is interviewing for a sales position. Their dream job doesn't necessarily tie into sales at face value. However, the candidate found a way to make that connection.
Their response works well because it provides more insight into your passions and motivations while proving they can succeed in this sales role.
"I hope to one day be in a position where I can help others and positively impact people's lives every day. I'm a people person. I enjoy speaking with others, learning more about them and having empathy to connect on a much deeper level.

I do that with strangers sometimes! It's part of who I am, and my dream job would involve making a difference in the lives of others.

Working for a company like yours is a great natural step for someone like me. Your company sells products that enrich customers' lives in many ways. Several of your company's items are well-known for being game-changers for older people and those with disabilities.

I believe that working in sales is a great way to make a difference and help people. I'm excited to speak with customers and help them find the solutions they need with your products."
Sample 3
Our last example comes from someone applying for a junior developer role. Their dream job is to lead development projects for cutting-edge technology and apps. They use their response to show the hiring manager why they are the perfect person for the job.
They express their excitement for the opportunity while fully displaying their motivations.
"My dream job is to become a lead software developer and work on projects that millions use. I'm a huge tech nerd, and it's always been my dream to put something out into the world that people love.

Your company is already publishing apps that push the boundaries of technology. I'm such a fan of your existing apps, and I'm eager to be a part of the development process in some way as a junior developer.

I know that it'll take some time to improve my skills and work my way up to being able to lead projects. I'm so grateful for the opportunity to get my foot in the door at a development company I respect so much. This job would be the first step in getting to my dream job.

Not only do I get to be part of creating amazing software, but I'm eager to learn and hone my skills as a developer."
Conclusion
It's important to be ready to answer "What is your dream job?" if you have an interview coming up. And fortunately, coming up with a solid response is straightforward with the right approach.

Hannah Morgan speaks and writes about job search and career strategies. She founded CareerSherpa.net to educate professionals on how to maneuver through today's job search process. Hannah was nominated as a LinkedIn Top Voice in Job Search and Careers and is a regular contributor to US News & World Report. She has been quoted by media outlets, including Forbes, USA Today, Money Magazine, Huffington Post, as well as many other publications. She is also author of The Infographic Resume and co-author of Social Networking for Business Success.