Career aspirations are a topic that will come up often during a job interview. But unfortunately, many applicants are not prepared to do this!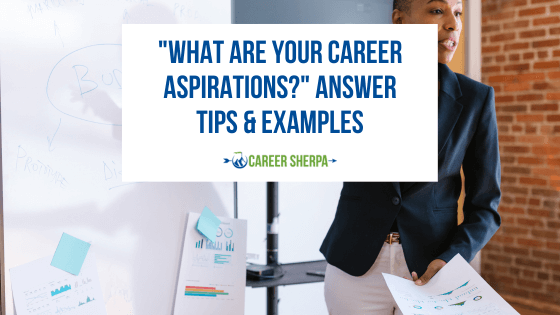 Table of contents
This guide will help you respond to "What are your career aspirations?" in an effective way. Not only will you learn how to answer this question, but you'll also get examples to make preparation even easier.
Why are Interviewers Interested in Your Career Aspirations?
Everyone has career aspirations. Whether you're trying to land an entry-level job or something higher up on the corporate ladder, you have larger goals beyond the job you're interviewing for. So why do companies want to know what potential employees plan to do in the future?
It all comes down to your ability to succeed in this role and what you can bring to the table. It's about analyzing your motivations and seeing if your aspirations align with the company.
Employers want to know that this job fits into that larger narrative you have planned for yourself. They hope to hear that your career aspirations align with the organization's values and that you've researched enough to know that your time working there would benefit you.
If your long-term goals fit the organization's, it's a win for everyone. Employers can help you grow, allowing you to learn new skills and continue developing your career. Meanwhile, you would have natural motivations to work hard and stick with the company.
Hiring managers don't want to bring people in who won't be happy in the work they do and leave after a year or two. They want to invest in employees who's values align with theirs and could possible grow their careers within the organization. If your career aspirations fit within the scope of what the company does, there's a good chance that you could be there for a long time and continue contributing to the organization's success.
"What are your career aspirations?" is an interview question that invites you to share your ambitions and passions. It can also shed more light on the skills you're bringing with you and prove that you've given this opportunity the thought it deserves. A well-thought-out answer shows that you're not just there for the paycheck.
Instead, you have bigger goals and hope that your time working for this company will allow you to grow and possibly reach those long-term goals.
How to Answer "What are Your Career Aspirations?"
Questions about your career aspirations seem simple enough to answer, but they say more about you and your potential than most realize. Developing a standout response can be the thing that pushes your candidacy to the next level.
Here's how you can form an answer that works in your favor.
1. Think About What Motivates You
The first thing you should do is reflect on what motivates you.
Career aspirations go beyond simple short term goals. They include personal experiences, lifestyles, and values. Think about what you truly want to do with your professional career beyond making money.
It takes ample self-reflection to understand this. Consider your core values in life and what's most important to you. It could be doing big things that make a difference or using your skills to lead a company to greatness.
Don't be afraid to think big and envision your future. That's what interviewers want to hear about. Focus on your natural motivations. Reflect on what pushes you to do well and advance your career!
Connecting your aspirations to your values and motivations makes you more likely to stick to them. Consider making a list. That list might change throughout your career, but it'll include items that won't change if you switch jobs. It should have motivations that will continue as your career evolves.
2. Keep Your Answer Career-Focused
Your response should remain within the professional sphere, so you should avoid talking about anything that doesn't involve your career.
Everyone has aspirations that loosely connect to their personal life. For example, you might dream of having a career that allows you to spend more time with your family. Many people also have money-related goals, such as becoming a millionaire!
Those goals are fine, but you should refrain from mentioning them in your answer. Instead, stick to career-related measures of success.
Remember what this question says about you and what interviewers hope to hear. They want people who are confident in their plans and driven to succeed at every job. Keep it simple and connect your response to the larger vision you have of your career.
3. Connect Your Aspirations to the Job You Want
Another great tip is to link your aspirations for the job you're interviewing for. If you say something completely unrelated to this position, it'll likely raise red flags for the hiring manager!
The best way to impress interviewers is to show that you've thought about how this job relates to the bigger picture. You want to express that you've given this position the thought it deserves and are confident it will benefit your career in the long run.
Consider how the position supports your career aspirations. Maybe you'll gain new skills to apply to a larger goal. Or, it might be an entry point into an industry you hope to conquer.

Whatever the case, connect the dots. Doing this shows that you have a plan of attack and are actively working to accomplish your goals. It shows hiring managers that you know this job is right for you and are actively invested in succeeding.
4. Demonstrate Commitment & Willingness to Grow Over Time
With a question like this, it's easy to inadvertently talk about the position you want as a stepping stone (we'll go over that mistake in detail a bit later).
The best way to avoid that faux pas is to emphasize growth. You must state that you understand there's a long way to go, but you're committed to getting there. It would help if you showed that you have more skills to learn and experience to gain.
Your goal should be to demonstrate to hiring managers that you're committed to this job. You don't have to guarantee that you'll stick with the company forever, but you need to focus on the growth aspects of this career move.
Consider discussing what you hope to gain from this position. For instance, you could say you're eager to learn a specific skill or become more confident working in this industry. Alternatively, you can say that the position plays a vital role in your larger career plans.
The most important thing is that you demonstrate a willingness to learn and continue developing your career within the company you are interviewing with.
5. Expect Follow-Up Questions
After inquiring about your career aspirations, interviewers might ask some follow-up questions. You should prepare for this!
Hiring managers might ask for clarification on certain details. Or, they could be so interested in your aspirations that they want to discuss them more!
Whatever the case, get ready to answer any follow-ups that might come. To do that, you need to understand your long-term career aspirations fully. Give this question the thought it deserves.
Self-reflect and get comfortable knowing what you want to achieve in your career. If you're confident in your plans, you should have no problems discussing more details off the cuff.
6. Practice Your Answer
Never go into an interview thinking you can answer this question on the fly! It sounds simple, but many interviewees trip up or say the wrong thing. You don't want this question to harm your chances of getting a job offer.
In addition to reflecting on what you want to accomplish in your career, get comfortable talking about it in many different ways. Avoid having an over-rehearsed answer that you read like a script. Instead, understand the core components of your response.
Know what your career aspirations are, how you want to make them happen, and what this job will do to support your path. Consider getting some practice in with a friend or loved one. The goal is to deliver a confident response that sounds natural.
Mistakes to Avoid When Giving Your Answer
A great response to this question can be a game-changer in the interview process. However, it can also hurt you if you make one of the following mistakes.
Focusing Too Much on Personal Answers
Many job-seekers make the mistake of emphasizing personal aspirations. It's fine to have those goals. Everyone does! But personal responses don't tell interviewers why this job matters.
Hiring managers want to hear about how your career aspirations connect to this job. It's about gauging your potential, learning what motivates you to succeed in your career, and seeing what skills you bring. They want to hear about your values and how you envision your future regarding your professional life.
Avoid talking too much about family or money. Instead, find ways to connect this job to your grander goals.
Off-the-Cuff Responses
We've already mentioned the importance of practicing your answer, but it deserves repeating! One of the worst things you can do is shrug your shoulders or give a generic response. The same goes for stumbling over your words.
"What are your career aspirations?" is an interview question that requires lots of thought. If you fail to do this you come off as ill-prepared, inauthentic, and lacking vision.
This is your career you're talking about! If you don't have a confident response, hiring managers may think you don't care enough about your future or are simply there for a paycheck.
Vague Answers
Another major mistake to avoid is simple responses. Here's an example:
"I aspire to help people and make a difference."
That's an admirable goal, but it doesn't say much about how you want to do that or what you hope to accomplish. It's too vague and can come off as uncaring.
Focus on quantifiable objectives. For example, instead of saying you want to make a difference, talk about how you want to make a difference. Fill in the gaps and be as specific as possible.
The more focused your response, the more hiring managers will think you've thought about your career and how this job supports your aspirations.
Implying That This Job is a Stepping Stone
Finally, never imply that this job is temporary.
There are a few ways that job seekers do this without realizing it. The first is by saying they want to accomplish their goals within a few months or years. For example, saying that you want to be a manager within six months shows that you view this opportunity as transitional.
You're telling the hiring manager you'll leave this job within a few months!
Another mistake is talking about an unrelated goal to the job or industry. For instance, if you're interviewing for a job in finance, you shouldn't say that you hope to be a professional artist. That has nothing to do with the job and shows that you only care about getting a paycheck.
Example Answers
We have a few examples to inspire you as you reflect on your career aspirations.
Example 1
Our first example is from an individual who hopes to become a high-level manager in their field. It's a solid response because it shows their willingness to grow and explains why they chose to pursue this opportunity.
"I hope to become a project manager and oversee multiple global advertising projects simultaneously. I've worked for several years to improve my communication skills.

During my last job, I contributed to many national marketing campaigns. But I'm ready for a new challenge. Your company has global clients, and I'm excited to gain experience working on international projects with teams from all walks of life.

It's always been my dream to contribute to something that people around the world see while working with globally dispersed collaborators. I believe that this position will help me get there."
Example 2
Our next example comes from someone interviewing for a research role at a law firm. Their goal is to work in human rights. They state why this goal is important to them and how they believe this role will support their endeavors.
"My background is in political science and international affairs. My larger career aspirations are to help others by working on human rights cases. Your firm is well-known for representing victims of human rights violations, so this opportunity aligns perfectly with what I want to do.

I hope to gain experience and absorb as much as possible through this legal research role. Conducting research on migrant rights and due processes is something I'm passionate about, and I'm eager to apply my skills here while learning as much as I can."
Example 3
Our final example revolves around learning new skills. The candidate is trying to get an entry-level job, but they're eager to obtain new skills during their time in this position. The answer works well because it shows a commitment to career development while reassuring hiring managers that they're ready to grow with the company.
"I want to become proficient in more complex programming languages. As a beginner data analyst, my coding knowledge is strictly limited to the essentials. However, I know that advanced programming skills are beneficial in this field and can expand my ability to succeed.

I'm excited at the opportunity to work with more seasoned analysts. I hope to learn as much as possible from them as I fine-tune my career development plan to focus on new skills to help me progress."
Conclusion
"What are your career aspirations?" doesn't have to be an intimidating question to answer. In fact, responding can be rather enjoyable once you've done the preparation.
You've been given an opportunity to talk about your larger plan and where you'd like to be one day. Enjoy it!

Hannah Morgan speaks and writes about job search and career strategies. She founded CareerSherpa.net to educate professionals on how to maneuver through today's job search process. Hannah was nominated as a LinkedIn Top Voice in Job Search and Careers and is a regular contributor to US News & World Report. She has been quoted by media outlets, including Forbes, USA Today, Money Magazine, Huffington Post, as well as many other publications. She is also author of The Infographic Resume and co-author of Social Networking for Business Success.