It's not uncommon to be asked "What can you bring to the company?" during a job interview, so it's essential that you're prepared with a good answer.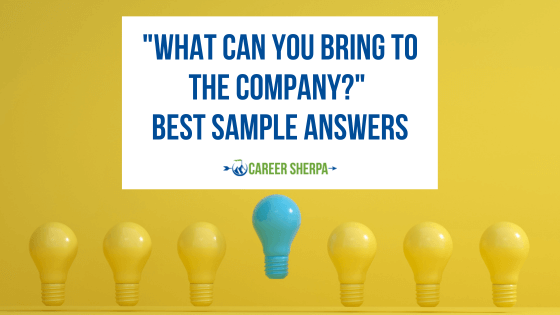 This guide will help you come up with an answer that makes employers excited to hire you.
Table of contents
Why This Interview Question Gets Asked
"What can you bring to the company?" is a common interview question that sometimes throws candidates off. Most other questions focus on your skills or qualifications, so when an interviewer asks this directly, it changes the discussion's dynamic.
So why do interviewers ask it?
The best way to look at this question is to view the hiring experience as a two-way exchange. You have a lot to gain from getting hired. It'll boost your career, help you move up the employment ladder, and earn a paycheck. But what's in it for the employer?
Ultimately, this question cuts to the core of why you're in the interview room. It's about selling yourself and telling the hiring manager why you deserve to get the job. Your goal is to convince them that you're the right person and can contribute to the company's bottom line, proving that hiring you is mutually beneficial.
You should also consider it your opportunity to show that you're confident in your capabilities. Employers want people who can fill this role confidently and succeed from day one. This question highlights everything you bring to the table and helps decision-makers determine if you're the right person for the job.
Sell yourself, prove you're passionate about this opportunity, and emphasize the unique skills that can make a difference for the company.
How to Answer "What Can You Bring to the Company?"
"What can you bring to the company?" is a question where your answer carries a lot of weight. Interviewers use every answer you provide to understand how well you fit this role. Delivering a standout response can drive the point home that you're the best person for the job while showcasing everything you can bring to the company.
Keep the following tips in mind while developing your answer.
1. Research the Company & Job Description
Before your interview, one of the most important things to do is research the company and fully understand what this job entails. This tip is important regardless of the interview question you're trying to answer, but it's especially vital for this one. You need to know as much as possible about the company and job to find the right approach.
Start by examining the job description. Find out what your responsibilities will be and what problems the company hopes to solve with this hire. Know what the company's expectations of you will be.

Understanding what they want out of a candidate makes a huge difference because it helps you tailor your response to the job, allowing you to create an answer that leaves a lasting impact.
Continue researching the company itself. You can read the organization's official website to read its mission statement and goals. Checking social media profiles and LinkedIn pages is also a good idea. There, you'll learn more about the company's core values, culture, history, and more.
Use all that information to create a knockout response that provides everything interviewers want to hear. That understanding goes a long way, allowing you to talk about what you bring to the company strategically while painting the best picture possible about your potential.
2. Focus on Your Skills
When people think about what they bring to a company, they often focus on personality traits. For example, you might feel tempted to talk about how personable you are or your experience working well with others. While those are important, now isn't the time to discuss them.
This question is all about your skills and qualifications. Focus on something tangible you bring to the table. A great personality and being easy to get along with don't do anything to help the bottom line. However, your hard and soft skills do.
Think about your past work experience and the skills you've obtained throughout your career. Compare them to the job description and everything you learned about the company during your research. Figure out what skills apply most to this role and emphasize how they can benefit the organization.
You want to talk your skills up and make yourself look like a high-value candidate. Connect the dots and show the interviewer how you can use those skills to excel in this position.
3. Connect It to the Job You're Applying for
Always connect your answer to the job. Talking about the core skills you bring with you only matters if you can actively use them to succeed in this job.
Once again, turn to your research. Reread the job description and pay attention to the keywords they use to describe an ideal candidate. Think about what this job entails and highlight the relevant skills that matter.
Then, find ways to connect your answer back to the job and show interviewers how you plan to use your expertise to boost the bottom line. For example, if you're interviewing for a marketing position, you can focus on your creativity and ability to develop campaigns that resonate with consumers.
If you're applying for a job at an accounting firm, you can lean on your mathematics skills and experience investing money for past clients. Whatever the case, make it as easy as possible for hiring managers to see how your skills can benefit the company in this role.
Provide examples if you have them to create authenticity and help decision-makers envision you in the job.
4. Practice Your Answer
Don't make the mistake of thinking you can answer this question on the spot. It's more important than most realize, and failing to develop a confident answer beforehand can make you look underprepared.
Give this question the thought it deserves. Then, practice your response multiple times. Consider doing a mock interview with this question.

You don't have to memorize a script verbatim. Doing that may make you look inauthentic. Instead, focus on the key points you want to hit and get comfortable delivering a response organically.
Have conviction! "What can you bring to the company?" is all about confidence and knowing what you have to offer.
5. Be Prepared for Follow-Up Questions
Finally, be prepared to answer any follow-up questions the interviewer might have. Not all interviewers will want you to extrapolate on the things you say. Some are pressed for time, or your original answer could include all the information they want.
However, there's always a chance that interviewers will ask additional questions on the spot. Questions like this often result in organic conversation and follow-ups.
Avoid saying anything in your response that you can't substantiate. The interviewer may ask more about the skills you touch on, so be comfortable providing more details if necessary.
What You Should Avoid When Answering
"What can you bring to the company?" is an interview question that provides an opportunity for you to greatly improve your chances of getting a job offer. However, your answer can also work against you if you make these mistakes.
Don't Be Too Humble
It's always important to find the right balance between being humble and confident when you're in a job interview. You don't want to be so pompous or over-the-top that hiring managers don't think you'll fit the company culture.
That said, this question is not a time to be overly humble. It's about confidence and believing in the skills you will bring to the organization. Don't be afraid to recognize that you're qualified for this job.
Believe in your words and be proud of the skills you have.
Don't Say "I Don't Know"
Saying something like this is the worst thing you can do. It shows that you're not excited about the opportunity and haven't thought much about how you fit the bill.
It's the quickest way to get your application out of the running, and some interviewers may even cut the discussion short when hearing this.
Steer Clear of Fabrications
Finally, avoid lying. This tip applies to all interview questions.
Avoid the urge to flourish the truth, too. Hiring managers might go the extra mile to substantiate any claims you make. Getting caught in a lie will ruin your chances of getting a job offer.
Sample Answers
Need some inspiration to guide you in the right direction? Your answer should be unique to the job you're applying for and your work experience, we have some example answers to give you a better idea of what interviewers want to hear.
Sample 1
Let's start with a candidate looking to get a job in retail. They're applying to work as a store associate who will provide direct customer service to shoppers.
This response works well for a couple of reasons. First, the job-seeker talks about their knowledge of home improvement and construction. They touch upon past work experience that will help them succeed in the role.
Secondly, they put that expertise into action, explaining how it will benefit them in the job. It makes it easier for the hiring manager to see them in this role and get a good idea of how successful they will be.
"I have a lot to bring to this company. I spent the last decade working as a handyman. I've completed countless projects, including everything from simple repair jobs around the home to bigger renovation work.

Thanks to my time as a handyman, I understand what DIY projects people want to do. I'm also familiar with the tools and materials needed to make those projects happen.

As an associate for your company, I believe I can be a real asset to customers. I can help recommend the right products and have the knowledge to answer their questions and provide valuable advice."
Sample 2
In our next example, the candidate is pursuing a leadership role in a marketing firm. Their response to this question focuses on problem-solving and time management. They use their past experience to highlight their capabilities and explain why they deserve the job over other candidates.
"My problem-solving skills and ability to work under pressure can be a real asset to this organization. In my previous job, I worked for a well-known firm specializing in the fast-paced fashion industry. My job required me to deliver compelling campaigns on a short deadline to accommodate new releases and seasonal sales periods.

It's a high-stress environment that I proudly conquered. That experience helped shape my approach to marketing strategies and managing my time. I thrive when working on projects with a quick turnaround, but I don't let short deadlines affect the quality of my work or creativity.

My experience working in fashion can translate well to your firm. I believe that I can work aggressively and deliver more projects to your clients, possibly increasing volume and helping you earn more revenue."
Sample 3
Our last example is for a job in IT. The job-seeker discusses their passion for technology before diving into their qualifications.
This response is a good example because it cuts straight to the point. Employers want to hear more about a candidate's expertise in a skills-based industry like IT. This candidate delivers by highlighting their certifications and capabilities.
"I can bring extensive knowledge and dedication to learning.

I've been passionate about technology and computers since the later 1990s. I was one of the only people in my high school who understood how to use those early computers! After early education, I pursued a computer science degree and graduated with a 4.0 GPA.

I began my career immediately and have worked in IT for the last two decades. Not only am I proficient in solving problems that companies of your size often deal with, but I also push to learn more.

I always stay up to date about the latest technology and often focus on the developments that can benefit the companies I work for. For example, I have several certifications in emerging technologies. That includes cloud certifications from Amazon Web Services, Microsoft Azure, and more.

hen you hire me for your IT team, you're getting someone with years of experience and knowledge and a person who's constantly pushing to be in the know of cutting-edge developments."
Conclusion
While it can seem daunting, answering "What can you bring to the company?" isn't hard. All it takes is some practice and time spent thinking about what you have to offer!
If you follow our steps and run through your response a few times before the interview, you'll be just fine.

Hannah Morgan speaks and writes about job search and career strategies. She founded CareerSherpa.net to educate professionals on how to maneuver through today's job search process. Hannah was nominated as a LinkedIn Top Voice in Job Search and Careers and is a regular contributor to US News & World Report. She has been quoted by media outlets, including Forbes, USA Today, Money Magazine, Huffington Post, as well as many other publications. She is also author of The Infographic Resume and co-author of Social Networking for Business Success.