These are two top LinkedIn mistakes that new or inexperienced LinkedIn users make. Learn what NOT to do on LinkedIn.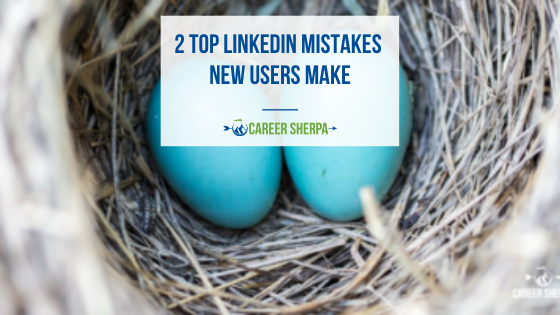 LinkedIn is a networking tool. Networking means building relationships, not just connecting with people to grow your network.
The two LinkedIn mistakes have to do with users who come across as wanting to connect only for their own benefit- Not mutually beneficial reasons. 
In order to build a relationship you need to prove you have something in common with the person (a contact, interest, college, past employer). Otherwise, why would anyone want to connect with a random stranger?
Avoid these two LinkedIn mistakes and you'll come across as someone who understands how to build relationships and use LinkedIn.
1. Not including a note with your LinkedIn invitation
I know, LinkedIn doesn't make personalizing the invitation easy, and it can be overlooked or forgotten. But, it makes you sound selfish or lazy when the invitation to connect defaults to LinkedIn's canned invitation:
I'd like to add you to my professional network on LinkedIn.
Always tell the person "why" you want to connect or remind them how you know them.
If you aren't sure where the option is to personalize your message (from either the desktop or mobile), there are two tricks you need to know. Tap into these secrets in this post: Always Customize Your LinkedIn Invitation to Connect

1. Not Reviewing the person's LinkedIn profile
Don't make this hasty LinkedIn mistake. Before you click on the "Connect" button, review the person's profile. Here's what to look for.
Highlights
If you have any contacts in common or are members of the same group, this information will be in the highlights. You may want to reference this information in your invitation note.


About section
One LinkedIn mistake is to not read the person's About section. Take time to read the whole thing. Click on see more and read everything they have written about themself. You may be able to reference something in your note. For example, if they say that outside of work they enjoy fly fishing and you are also an avid fisher-person, that would be great to include.
Activity
Not only can you see everything they have commented on or reacted to on LinkedIn, you can also see what they have posted. This can give you an idea of how active the person is on LinkedIn.
If you don't see any activity, you may not get a response to your invitation to connect. Or, if you want the person to recognize your name, making it more likely that they will accept your invitation to connect, leave one or two comments on things they post.


See examples of what your personalized note to connect could look like.
Following Might Be A Better Option
And there is another option you can choose if you are not ready to connect. Follow the person on LinkedIn. This allows you to potentially see their posts in your feed. Learn the Difference Between Following and Connecting.
Every person has a different reason or goal for being on LinkedIn. What this means is that they may or may not accept your invitation to connect. Don't be offended, just move on.

Hannah Morgan speaks and writes about job search and career strategies. She founded CareerSherpa.net to educate professionals on how to maneuver through today's job search process. Hannah was nominated as a LinkedIn Top Voice in Job Search and Careers and is a regular contributor to US News & World Report. She has been quoted by media outlets, including Forbes, USA Today, Money Magazine, Huffington Post, as well as many other publications. She is also author of The Infographic Resume and co-author of Social Networking for Business Success.