There are lots of things you can do to improve your job search.  You must be willing to ask yourself "Am I happy with the results I am getting?".  Really?!  Are you turning down job offers?  Here are some things to think about.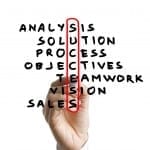 Develop a "Can Do" attitude
99% of job search is your mental outlook or approach.  I have found the more successful job seekers to be the ones with a "can do" attitude.  It certainly helps.  With a positive approach, these job seekers see everything as an opportunity versus an obstacle.  Remove language or thinking that puts blame or fault on anyone other than yourself.  No responses from submitting your resume?  What will you do differently?  Did you call or email the hiring manager?  Did you find someone who works there?  Did you show up at their door?  If you want a response, you could get one.  What will it take?
Targets not Resumes
Instead of focusing your search on sending out resumes, focus on WHO you will send your resume to.  Better yet, identify the names of people within companies where you would like to work.  Use their website to find names.  Use LinkedIn to research people in companies.  Use Google.  Barbara Safani lists some other tools in her post:  In a Job Search, Knowledge is Power. This is a job HUNT.  You are the hunter, so what are you hunting for?  You have to have a target, otherwise, you are aimlessly hunting and less likely to find what you are looking for.
Representing Yourself
You control the message.  What do people really hear when they meet you?  What do they think and do they know how to help?  If you aren't being clear and consistent, you've confused your audience.  Using a clear email signature is a way to ensure people are getting the right message.  Set it up today.  Provide more than just your name to your signature line in the email.  Brand it!  I've written about it before, this is the post.
I could go on and on, but these seem to be the top 3 for now. Just for fun, if you want to read some FAQ's I compiled about job search, see this post:  Q & A: Commonly Asked Questions by Jobseekers

Hannah Morgan speaks and writes about job search and career strategies. She founded CareerSherpa.net to educate professionals on how to maneuver through today's job search process. Hannah was nominated as a LinkedIn Top Voice in Job Search and Careers and is a regular contributor to US News & World Report. She has been quoted by media outlets, including Forbes, USA Today, Money Magazine, Huffington Post, as well as many other publications. She is also author of The Infographic Resume and co-author of Social Networking for Business Success.