The newly released Social Recruiting Survey results by Jobvite provides proof that social recruiting works and that there's ROI in social recruiting!
Employers are rapidly experimenting and often embracing the use of social networks to source and hire new employees.
94% of Companies Use (or plan to use) Social Recruiting
When Jobvite first polled recruiters and hiring managers in 2008, only 78% stated they were using social networks to recruit. What a difference a few years makes!
According to the Jobvite results in 2013, 73% of employers state they plan to increase their investment in social network recruiting.
Why Social Recruiting Works
In order to understand why social recruiting is working for employers, you have to understand how they are using the various networks. This should give you an idea.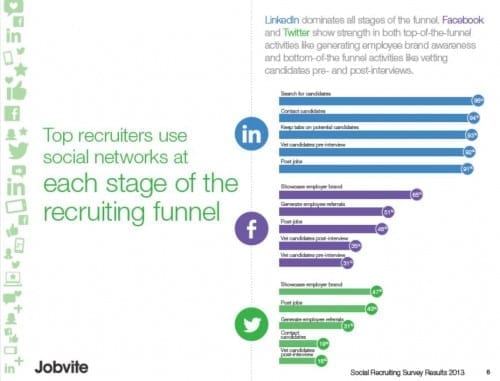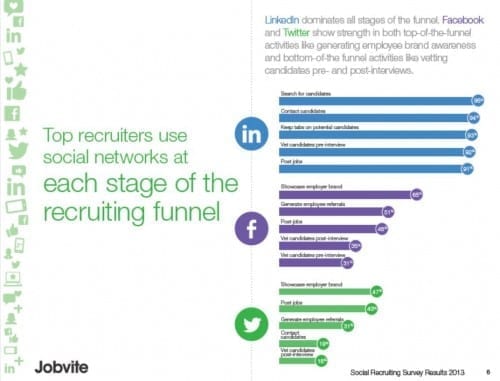 You can click on the image to view the details, here are the highlights from this:
LinkedIn
96% Search for candidates
94% Contact candidates
93% Keep tabs on potential candidates
92% Vet candidates pre-interview
91% Post jobs
Facebook
65% Showcase employer brand
51% Generate employee referrals
49% Post jobs
35% Vet candidates post-interview
31% Vet candidates pre-interview
Twitter
47% Showcase employer brand
43% Post jobs
31% Generate employee referrals
19% Contact candidates
18% Vet candidates post-interview
But to boil it down to the basics, this is what recruiters look for when they view candidate profiles on LinkedIn, Facebook and Twitter.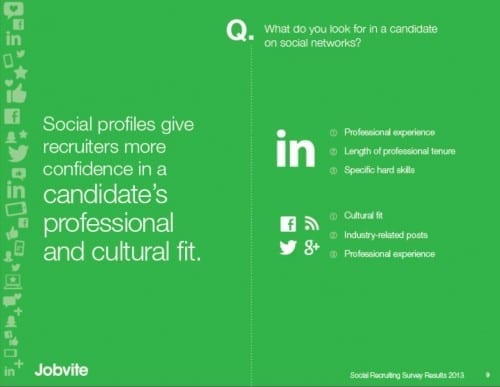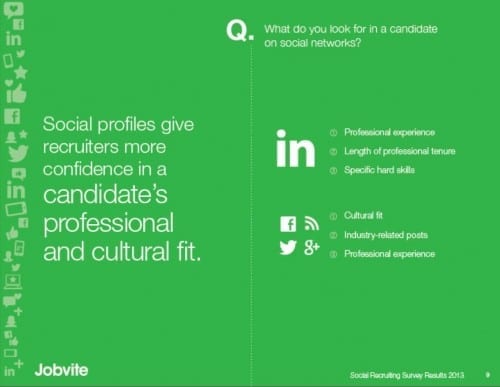 The ROI for Recruiters
Faster hires and less money spent! Plain and simple!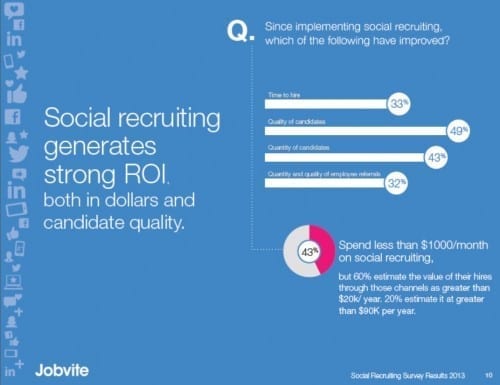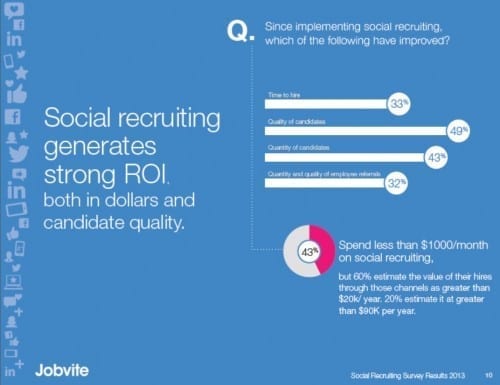 Need More Help On Social Networks?
 If you are in job search or plan to be in job search, learn how to master these social networks! Here are important tips.
Use the company's career pages 
Yes, companies post jobs, but they also post information about their employees and press releases on their career pages. While you are on a website's career page, look for other outlets on Facebook, Twitter or other social profiles.
Follow the company's Twitter accounts and "like" their Facebook page, but don't stop there. 
Enter into conversation with the company by re-sharing the status update with an addition such as, "New product release sure to build market share for @ABCco [link to company announcement]."
Another option is to ask a follow-up question to the company's status update. Be sure you have read the full article first, so that you ask a question not already answered in the article.
Good grammar and spelling count, so be sure to double-check what you post.
Connect with company insiders 
Employee referrals make great hires. Employers recognize this and offer employee referral programs where employees are compensated in a variety of ways, for passing along candidates who end up getting hired.
You can search Facebook to find people you know, if they have included their work information in their profile. You can search LinkedIn, too.
You can even use applications to help you search for people in your various networks who could help refer you to a connection.
Clean up all your social networking activity 
Even if you don't plan to use Facebook and Twitter to connect with employers and company insiders, you must make sure your profiles are up to par. A simple search could reveal your profile.
Take down questionable photos you've shared, whether you are tagged in them or not. Remove profanity, posts of a sexual nature, references to guns and extreme religious or political opinions.
Do be sure to include information about the volunteer causes you support and are involved in.
Don't wait 
Learning how to maximize your presence and activity online takes a bit of practice. Begin updating your profiles today to increase your odds of getting discovered in the future.
Originally appeared on US News & World Report On Careers

Hannah Morgan speaks and writes about job search and career strategies. She founded CareerSherpa.net to educate professionals on how to maneuver through today's job search process. Hannah was nominated as a LinkedIn Top Voice in Job Search and Careers and is a regular contributor to US News & World Report. She has been quoted by media outlets, including Forbes, USA Today, Money Magazine, Huffington Post, as well as many other publications. She is also author of The Infographic Resume and co-author of Social Networking for Business Success.