Over the past several months, we've seen drastic shifts in the job market and you've been riding the ups and downs of a pandemic job search. Here's help and hope to improve your strategy and knowledge.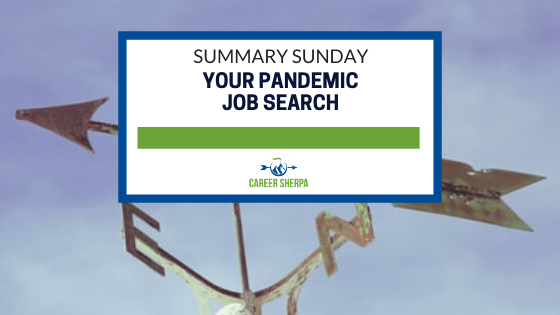 This week's Summary Sunday includes articles about your pandemic job search. You'll find
Job search tips from Jason Alba (JibberJobber founder)
The future of work from home employment
The differences between recruiters, staffing firms and headhunters
How to reach out to people when it's been a while
Social media trends likely to be embraced by employers (and job seekers)
LinkedIn's listing of in-demand and growing jobs
Journaling and your well-being
A pandemic job search requires different strategies than ever before. So if you are using old techniques and not seeing results, you'll need to change what you're doing.
JOB SEARCH
Job Search During The Pandemic | Ask The Headhunter, Nick Corcodolis Guest Post by Jason Alba
Pay attention to these four really important points about job searching today.
How Coronavirus Will Change The Job Market Forever | Bernard Marr, Forbes
Learn how working from home is here to stay and the ripple effect this has on the workforce.
How to Find Jobs Working with Recruiters, Staffing Firms, and Head Hunters | Susan P. Joyce, Job-Hunt.org
Understand the difference between the different types of recruiters. But keep in mind, during high unemployment, employers tend to use their own in-house recruiting/Human Resources team. (Finding people isn't as difficult today as it was 4 months ago.)
NETWORKING
Easy Tips for Reconnecting with Your Professional Network |Shelley Piedmont
If you haven't been keeping in touch with past colleagues, it's never too late to start. Here are tips and what to say when reaching out to someone you haven't spoken with in a while.
SOCIAL MEDIA
5 Emerging, Surging Social Media Trends for 2020 | PRDaily, Devon Gardner
Pay attention to the PR/Marketing trends because many of these relate to employers and job seekers. Personalization, humanization, just-in-time, and no self-promotion. Watch for these trends and see what you can do.
JOB MARKET
The Most In-demand Jobs: Where the Opportunity Is Now | LinkedIn, Blake Barnes
Using LinkedIn data, these are two sets of growing jobs – by volume and by growth.
WELL-BEING
Not Sure What You're Feeling? Journaling Can Help | NPR, Andrew Limbong
Journaling helps! It's especially useful for job seekers dealing with a lot of emotions. See how to get started.
In Case You Missed It
3 Options To Update Your LinkedIn Job Title and Employer When Unemployed

Hannah Morgan speaks and writes about job search and career strategies. She founded CareerSherpa.net to educate professionals on how to maneuver through today's job search process. Hannah was nominated as a LinkedIn Top Voice in Job Search and Careers and is a regular contributor to US News & World Report. She has been quoted by media outlets, including Forbes, USA Today, Money Magazine, Huffington Post, as well as many other publications. She is also author of The Infographic Resume and co-author of Social Networking for Business Success.