All too often, people struggle to secure a new job because they are missing job search know-how.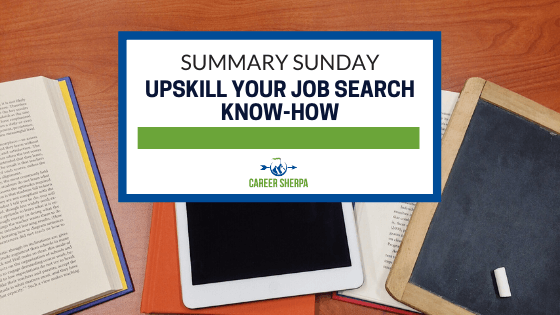 You may never have had to look for a job before or the last time you looked may have been a long time ago (over 5 years). Or, you may just not be getting the results you want.
Managing your career and job search both require that you update your skills and stay current with the trends. You don't want to be passed over for a promotion or left behind because you don't have current skills.
Without an understanding of how today's job search works, you are likely to miss out on opportunities, not present yourself convincingly, or find yourself in an unsatisfying job.
And I'll say one other thing. If you were looking for a job months ago, (November 2020 – May 2021 or so), you may have been doing some of the "right" things, but many companies just weren't hiring. Don't automatically think you were doing things wrong.
This week's summary is filled with opportunities for you to build your job search know-how and skills. You'll need this information now and in the near future!
You'll find info about:
courses and webinars to uplevel your skills
LinkedIn features and hacks
tips for those with unemployment benefits ending
interviewing worksheet
a tool for your career
I hope you will follow some of these talented experts!
LEARNING
What is the Great Reshuffle and How Can You Make the Most of it? (These Free Courses Can Help) | Dan Brodnitz of LinkedIn
Take any of these LinkedIn Learning classes through October 9th at no cost! They range from job search help to managing and working remotely and more!
No Fear Job Search Webinar Series | Jobscan
This is the second year Jobscan has offered no-cost learning opportunities for job seekers! PS: I'm offering the session on Sept. 23 called Job Searching After 50.
LINKEDIN
LinkedIn is Shutting Down LinkedIn Stories | Social Media Today
Stories, you know, LinkedIn's version of Instagram stories, which was only visible and create-able from your mobile device are going away. Perhaps what's popular on one social media channel won't work on every channel.
LinkedIn Cover Story – Roundup | Gillian Whitney
Not to be confused with stories, your cover story is a 30 video you upload that anyone who visits your LinkedIn profile can watch. Learn how it works and great ways to create a video (even if you aren't comfortable on camera). Now there's no excuse not to have one! (Everyone has access!)
If Your Unemployment Ended
If Extended Unemployment Benefits Ended For You Yesterday, Do This Today! | The Voice of Job Seekers
Mark A. Dyson walks through the steps you should take if your unemployment benefits ended and you need money. He includes short-term fixes and longer-term ideas.
Best Sites to Find Jobs Hiring Now | The Balance
Not all job postings are hiring immediately. If you are looking for a job ASAP to generate income (especially if you recently lost your unemployment benefits), these sites and ideas might be good sources for you.
INTERVIEWING
How to Prepare for Your Job Interview (+ Free Worksheet and Checklist) | Great Resumes Fast
If you have an upcoming job interview, check out this very detailed checklist. Who knew there was so much to do before the interview!
CAREER
How to Use Ikigai in your Career Strategy | Newsletter Dorothy Dalton 💥 – Issue #1 – Ikigai and Career Strategy
Learn how you can create a better career for yourself by finding the intersection between these four things:
what you love
what you are good at
what will pay you what you want
what the world needs
DID YOU SEE THESE?
I was a guest for these two topics.
The Good, Bad, Ugly of Job Search This Fall | The Modern Job Seeker Checklist
Mark A. Dyson and I chatted about today's modern job search and some of the good, bad and ugly things we have seen.
LinkedIn, The Latest and Greatest (for Career Practitioners) | Peak Careers
Jim Peacock (Peak Careers), hosted a conversation with Bob McIntosh, Edythe Richards and me about some of the recent changes and features on LinkedIn that career coaches need to know about.

Hannah Morgan speaks and writes about job search and career strategies. She founded CareerSherpa.net to educate professionals on how to maneuver through today's job search process. Hannah was nominated as a LinkedIn Top Voice in Job Search and Careers and is a regular contributor to US News & World Report. She has been quoted by media outlets, including Forbes, USA Today, Money Magazine, Huffington Post, as well as many other publications. She is also author of The Infographic Resume and co-author of Social Networking for Business Success.