Do you have what it takes to be employable in the long-term? Learn what to do so you have the skills and jobs for the future.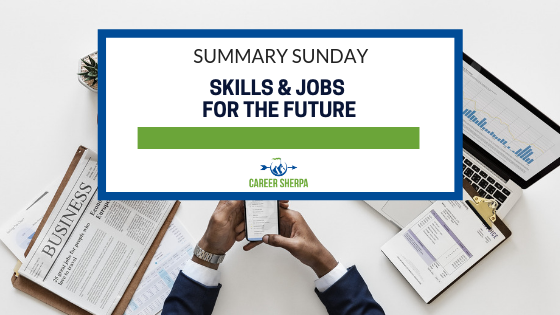 It's almost the start of a new year and you may be thinking about a career change or promotion.
If you are, then you are going to want to see what skills companies are looking for. You will also want to know what the hot new job titles are. Plus, learn which companies are best to work for. You'll also get job search and video interviewing tips and learn about data storytelling and how learning happens in companies today. It's all wrapped up in this week's summary.
Happy New Year to you and thank you for being part of my community!
MUST-READ
Glassdoor Announces Winners of Its Employees' Choice Awards Recognizing the Best Places To Work in 2019
by Glassdoor
This is Glassdoor's press release summarizing this year's winners and how they were selected.  A sneak peek at the top 5 large companies includes:
Bain & Company (4.6 rating)
Zoom Video Communications (4.5)
In-N-Out Burger (4.5)
Procore Technologies (4.5)
Boston Consulting Group (4.5)
LinkedIn 2018 Emerging Jobs Report
by LinkedIn
This analysis will help as you consider a new career in the United States. Here are some of the key takeaways:
Artificial Intelligence (AI) is growing and there is a need for people with skills AI and related skills.
Soft skills are hard to find (and 10 skills with the in-demand but a shortage of supply)!
Top 15 emerging jobs
Top 10 fastest growing jobs
JOB SEARCH
How Can I Get Ready For a Career Move in January?
The NRWA
9 career professionals provide their answers to this question. Are you ready?
INTERVIEWING
5 Ways To Master A Video Interview In 2019
by Execu|Search
Video interviews are becoming the new normal. These 5 tips will help you feel more confident behind the camera.
TRENDS
Why Data Visualization + Data Storytelling Is Marketing Gold
by Katy French | ColumnFive Media
Every job will be impacted by the need for data storytellers. What do you know about telling stories with data? And from a job seekers perspective, telling your story with data is just as important.
How The Smartest Companies Are Leveraging Learning
by William Arruda | Forbes
See how and why companies are changing their approach to learning and why going back to college isn't the only way to develop new skills. This is an interview with Kelly Palmer, Chief Learning Officer at Degreed and former CLO at LinkedIn.
Palmer says: "The the most forward-thinking companies are thinking about learning in the flow of work. It used to be that training or learning was about sending people away for training."