To make the most of your time during job search, you want to invest in the right job search habits and activities.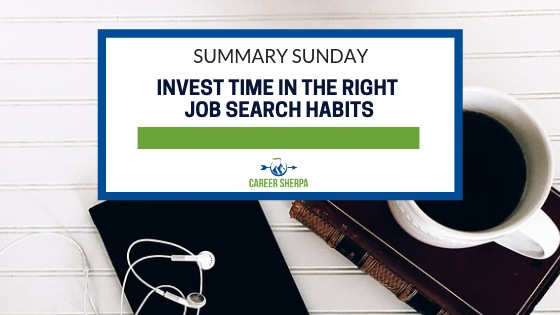 It's easy to slack off during job search. There aren't any deadlines and no one is looking over your shoulder.
So this week's summary will help you build a better routine and help invest your time in the right job search habits.
You'll find daily LinkedIn activities, interviewing answers NOT to use, ideas for Twitter lists to help you keep up-to-date, and ways to find target companies and more!
LINKEDIN
10 Things To Immediately Start Doing On LinkedIn Frequently
by John Hall | Forbes
These are 10 daily actions to take on LinkedIn to help you stay connected and grow your career. From quick shoutouts to creating your own content and tons of ideas that range somewhere in-between, being active on LinkedIn doesn't have to take much time.
INTERVIEWING
These Are The Worst Answers To The Most Common Job Interview Questions
by Anisa Purbasari Horton | FastCompany
Hiring managers and recruiters provided some of the worst answers they've heard during job interviews. Don't use these when answering "tell me about yourself?" "why do you want this job?" or the other four questions!
TWITTER
23 Seldom-Used Ideas for How to Use Twitter Lists
by Kevan Lee | Buffer
Twitter lists are invaluable for filtering out the noise in your home feed. Here are 23 list ideas to help make Twitter more valuable and worth your time.
PS if you didn't see my recent list, check out 50 Best Twitter Accounts For Job Search Advice 2019
JOB SEARCH
Expert's Guide to Creating Targeted Company Lists
by Sarah Johnston | Briefcase Coach
You know you should have a target list of companies to guide your job search activities, but sometimes you don't know where to go to find them. Here is a collection of 10 expert-recommended sources you can use to expand your target list.
CAREER
These CEOs work 40 hours or less a week (and think you should too)
by Pavithra Mohan | FastCompany
8.5 hours at work on a weekday. That's how long the average person spends at work. But at least three CEOs have found ways to balance their time between work and pleasure. See how (and why).
MENTIONS
Are Boomer Parents Giving Their Kids Bad Career Advice?
by Nancy Collamer | Next Avenue
"Here are four dated job-search tips some boomers give their millennial kids and the updated advice (from the MBA students, other career coaches and me) that's much better."
Thanks to Nancy for allowing me to chime in on this!
What a Job Search Strategy Looks Like
by Jason Alba | JibberJobber
Jason Alba featured my job search strategy a few years back, but he's focusing on it again. Jason has just released his 6-week online job search training. You can learn more The JibberJobber Job Search Program.

Hannah Morgan speaks and writes about job search and career strategies. She founded CareerSherpa.net to educate professionals on how to maneuver through today's job search process. Hannah was nominated as a LinkedIn Top Voice in Job Search and Careers and is a regular contributor to US News & World Report. She has been quoted by media outlets, including Forbes, USA Today, Money Magazine, Huffington Post, as well as many other publications. She is also author of The Infographic Resume and co-author of Social Networking for Business Success.