You'll want to adjust and adapt these pandemic job search strategies to succeed in today's economy and labor market. It's time to ditch the job search methods that aren't working.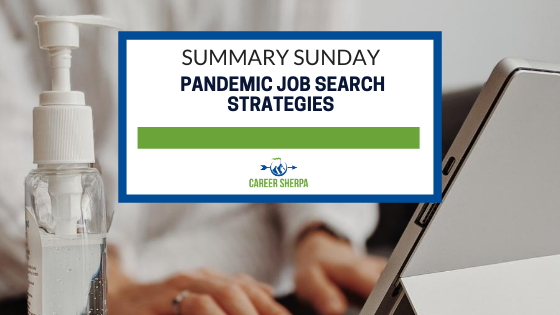 During times of high unemployment, you'll want to shift to job search strategies to help you stand apart. And to complicate things, you'll need to be effective in applying these new tactics virtually.
This week's summary includes articles that will enlighten and encourage you to try pandemic job search strategies that will re-energize your job search.
No one ever said this was going to be easy – and yet there are millions who have been successful landing a new job during this pandemic and you can do it too!
There's so much to learn… like which job search rules to break, differences between a PDF and Word doc, how to boost your self-confidence and more!
As I say almost every Sunday, there are so many talented experts sharing articles, podcasts, and free advice, there's no excuse for not finding the answers to your questions. Start with the smart people featured in this week's summary!
JOB SEARCH
7 job search rules you should break now | Fast Company
Some rules were made to be broken. Part of conducting a successful job search (during a pandemic) is knowing which rules to break and when. This should provide you with some guidance and a new perspective.
Your Job Search Needs a "Blue Ocean" Strategy | Turning Point Boston
"Your blue ocean job search strategy minimizes or eliminates the people completing for your role" Learn why and see examples of job seekers who were successful using this strategy.
Many thanks to Donna Svei for recommending this article!
Shining A Light On The Hidden Job Market | Andrew Seaman, LinkedIn Editor
How many times have you heard about the "Hidden Job Market?" This article dives into what it is and WHY it happens. Most importantly, you'll find recommendations on how to gain access to it!
Resumes
Resume PDF vs Word (Plus Much More About PDF Resumes) | JobScan.co
There are differing opinions and facts about PDF vs Word docs. Gain a better understanding of when to use each format when submitting your resume for a job.
LINKEDIN
LinkedIn for Career Change | Virginia Franco Resumes
It's important to adjust your LinkedIn profile so that it indicates your new career direction. From your headline to Recommendations, see how to modify your profile for what's next!
INTERVIEWING
7 Tips for Acing Your Next Virtual Interview | Mac's List
Video interviewing is the new normal so it's worth your time and effort to get used to this new format. This will help get you started.
WORKFORCE TRENDS
Google Has a Plan to Disrupt the College Degree | Inc.
The belief that a 4-year degree will open doors may not necessarily be true. What if you could gain in-demand skills that would immediately make you hirable? Certificate programs are the trend Google is banking on. You can learn more about "New Collar" jobs here.
WELL-BEING
Self-Confidence Leads To Success In Your Job Search And Career—Here's How You Can Start | Jack Kelly, WeCruitr.io
Of all the things you can do to help your job search, finding your confidence is among the most important. Here's how.
MENTIONS
Even in a Pandemic, Some Employers Are Hiring | Kiplinger
I share my top tips for pandemic job search including who's hiring, how to network your way to a new job and more!
I was extremely honored to be interviewed for this featured piece on Kiplinger!

Hannah Morgan speaks and writes about job search and career strategies. She founded CareerSherpa.net to educate professionals on how to maneuver through today's job search process. Hannah was nominated as a LinkedIn Top Voice in Job Search and Careers and is a regular contributor to US News & World Report. She has been quoted by media outlets, including Forbes, USA Today, Money Magazine, Huffington Post, as well as many other publications. She is also author of The Infographic Resume and co-author of Social Networking for Business Success.