The Great Resignation is here – fueled mostly by employees who want greater flexibility. A desire for higher pay and job security also drive the desire to leave their current job.
55% of American's in the workforce say they plan to look for a new job in the next 12 months

Bankrate's August 2021 job seeker survey
If you are searching for greener grass, now would be a good time – But you have to be sure about what "greener" means! In other words, create a wish list of the conditions you want from your new job.
This also means you should expect to see greater competition when job searching.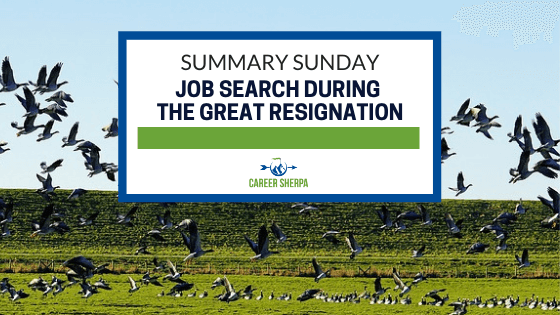 This week's summary includes articles about job search, interviewing, and hybrid work:
Juggling multiple job offers
How ATS work
TikTok and hiring
Introvert interview preparation
Handling job rejection
Storytelling
Hybrid work (employers vs. employees)
Signs of toxic work environment
JOB SEARCH
How to Juggle More Than One Job Offer (and Get What You Want) | LifeHacker
See how to navigate having more than one job offer. While the article mentions getting the offer in writing before asking for time, not every employer puts a preliminary offer in writing. (You should always get a final offer in writing!)
8 Things You Need To Know About Applicant Tracking Systems | Jobscan.co
Learn how ATS work, what they do to your resume, and ensure that your resume gets seen by the decision-makers who schedule job interviews.
Is TikTok the Future of Hiring? | ERE
See why Generation Alpha is different and what this will mean for companies trying to recruit them in the future. This opinion piece is written by Arran James Stewart, whose expertise is in hiring, recruitment, technology, and macro job market trends.
INTERVIEWING
5 Ways Introverts Can Prepare For Job Interviews | Fast Company
Yes, introverts can interview just as well as anyone. But learn how to tap into your strengths. Plus be ready to make some small talk!
Job Rejection After an Interview? Here's How to Handle It | Career Sidekick
Biron Clark shares 11 tips for dealing with job rejection.
CAREER
The Sea We Swim In: How Stories Work in a Data-Driven World | The Next Big Idea Club
Stories are more powerful than we imagined. To understand why, Frank Rose's book summary looks at the science behind how the brain process stories. (Warning, politics are mentioned in this article).
HYBRID WORK
It's time for leaders to get real about hybrid | McKinsey
There's a disconnect between what leaders think they need to do to support employees and what employees say they want. These are challenging times and this article explains why we are seeing the Great Resignation.
DID YOU MISS THIS
17 Signs Of A Toxic Work Environment (Plus What To Do)
Being able to recognize a toxic work environment is essential if you want to find a job you love. Read this article and learn what to look for.

Hannah Morgan speaks and writes about job search and career strategies. She founded CareerSherpa.net to educate professionals on how to maneuver through today's job search process. Hannah was nominated as a LinkedIn Top Voice in Job Search and Careers and is a regular contributor to US News & World Report. She has been quoted by media outlets, including Forbes, USA Today, Money Magazine, Huffington Post, as well as many other publications. She is also author of The Infographic Resume and co-author of Social Networking for Business Success.