It has been awhile since I last created a summary of my favorite shared posts. (If you ever want a summary, feel free to check out RebelMouse or Twylah). Sundays I sift through the content I've shared (written by others) and recycle it here to make sure it gets on your radar.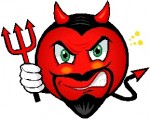 As the saying goes, the devil is in the details. Now, you could take this two ways. First, you can let the details bog down the process and never get anything done…OR if you don't pay attention to the details, it can totally derail your efforts!
By Donna Svei, Avid Careerist
Can one little word on your LinkedIn profile turn off recruiters or people looking to find their next great hire? Donna tells it like it is! She wears two hats: recruiter and resume writer. That's a great combo for someone looking for a re-write. Why? Because she understands how recruiters think! This means she knows how recruiters are searching for candidates online.
Just go read her post and I would suggest you check out the three "RELATED Posts" at the end as well!
Susan Adams, Forbes
In Bill Ellermeyer's expert opinion, these are the 8 rules to follow! Bill is now an executive coach but he ran his own outplacement firm and sold it to Lee Hecht Harrison. The article supports Ellermeyer's work with senior executives, but it is my opinion that the same rules apply to all levels of employees.
And one last thing, don't just read the headline of each point. It is written to shake things up a bit and though some of his point sound extreme, they are softened a bit in the description below. For example, he say's "Avoid headhunters" but what he really means and says is that you should know how they work and not to spend too much time chasing them down because they don't represent you, the job seeker, recruiters search on behalf of the employer.
My Most Popular Post
Is Your LinkedIn Profile Awesome?
This post comes complete with a 20 Point check list for creating an awesome profile AND a contest. Add your LinkedIn public profile URL (this is important so that everyone will be able to see it) to a growing list. (Follow the instructions in the post!)
In about a week, I'll start promoting the list and asking for my colleagues to vote for their top choice!
Have a great weekend and thanks so much for reading!
Don't forget to catch the super moon tonight!

Hannah Morgan speaks and writes about job search and career strategies. She founded CareerSherpa.net to educate professionals on how to maneuver through today's job search process. Hannah was nominated as a LinkedIn Top Voice in Job Search and Careers and is a regular contributor to US News & World Report. She has been quoted by media outlets, including Forbes, USA Today, Money Magazine, Huffington Post, as well as many other publications. She is also author of The Infographic Resume and co-author of Social Networking for Business Success.