Everyone needs a little help with their job search. Whether it's updating your resume, following up after a networking meeting, or applying artificial intelligence tools to the process, there are things you can improve on.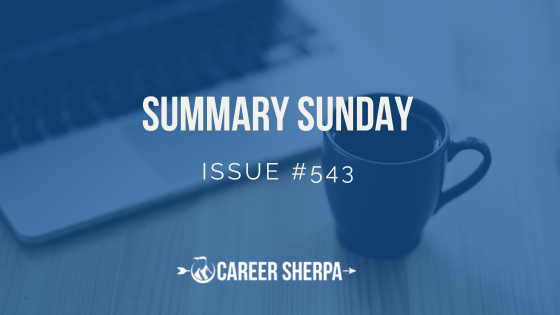 In this week's Summary Sunday, you'll find curated articles to help with:
Resume Trends
Follow up during job search
AI prompts for interview prep
Peer interview tips
A LinkedIn hack
Artificial Intelligence trends
Preparing for your professional decline
Why is workplace productivity on the rise
Monitoring employee experience
Employees aren't quitting (fast enough)
Your brain on Zoom vs. in-person
Please follow these experts and sources to up your job search knowledge!
RESUMES
Executive Resume Trends for 2024 | Career Impressions
Is your resume updated? If not, it could be damaging your job search. Adrienne Tom is one of several of my favorite resume experts. Review this list and take action today to make sure your resume represents you in the best way possible.
NETWORKING
Missed Opportunity: Why Not Following Up Is a Job Seeker's Networking Downfall | My Career GPS
The art and science of networking goes beyond reaching out to people. A huge part of your networking success is in your follow-up. Use this post (with sample messages) to help you take the follow-up more seriously.
INTERVIEWING
35 Genius ChatGPT Prompts to Help You Prep for Job Interviews | The Muse
ChatGPT is a wonderful research assistant. You can use it to help you prepare for the interview. Use any of these suggested prompts to help you prepare for your next interview. Remember, preparation is the key to your success.
15 Common Peer Interview Questions (Examples Included) | The Interview Guys
Interviewing with peers is a different type of conversation. Use these questions to help you prepare for these types of interviews.
LINKEDIN
A LinkedIn Hack That Can Increase Your Profile Views by 1000% | Jessica Hernandez
This quick tip shows you how to use LinkedIn's Resume Builder to add important keywords to your profile.
ARTIFICIAL INTELLIGENCE (AI)
Artificial Intelligence: Is It Okay for Job Seekers to Get Help With Their Job Search | HR Bartender
Asking from an HR point of view, is it wrong for job seekers use AI to write their resume? For job seekers, understand the potential dangers of AI content and for HR, Talent Acquisition and Hiring Managers, there's a clear call to action here to get on the same page.
Here are the top 10 free courses I'd recommend to learn AI in 2023 | Rowan Cheung
Microsoft, Google, Harvard, and DeepLearning have all released free courses on AI and ChatGPT. Learn how to create prompts, apply AI to your work and more. PS: I subscribe to his newsletter to stay on top of all the new tools and advances in AI.
OLDER WORKERS
Your Professional Decline Is Coming (Much) Sooner Than You Think | The Atlantic
Perhaps you should be planning your exit strategy instead of searching for your next job. The author spent four years figuring out how to turn his eventual professional decline from a matter of dread into an opportunity for progress. It's a fact and feeling article about how happiness, age and finding what's next. (PS: It's a longer read but worth every minute. ) Thank you to a job seeker who forwarded this to me!
WORKPLACE TRENDS
Productivity Shoots Up—Are RTO Mandates Why? | Korn Ferry
"The new data show productivity grew at its fastest pace in three years in the third quarter, increasing 4.7% year-over-year." Take a look at why this might be happening. Besides the thoughts around why, I was shocked to hear CEOs are looking for ways to push productivity even more in the next year.
Organizations Need to Proactively Monitor the Employee Experience | HR Bartender
Employee Experience is a term used a lot over the past few years. It's about proactively evaluating how employee morale. And companies do this to retain employees. Here's the biggest take-away:
"It's not fair to the employee, manager, or company to have check-ins, meetings, and surveys then not do anything with the information received. Organizations should communicate the purpose of the activity and what will be done with the information. And they should follow-up with employees if a suggestion isn't something the organization can address immediately."
Why Bosses Say Employees Aren't Quitting Fast Enough | Inc.
In juxtaposition to the article above, large employers are finding it necessary to lay off employees because they over-hired expecting attrition, but not enough employees are leaving.
Something Strange Happens to The Human Brain During Zoom Calls | Science Alert
New research from Yale found that when two people talk via Zoom, their brains aren't as active as when talking in person. In short, our brains don't process conversations the same way on Zoom as in person.
JOB SEARCH VISUAL
Reach out to everyone you know! Don't be a well-kept secret. Tell them:
1) The job(s) you are interested in
2) The types of companies you want to work for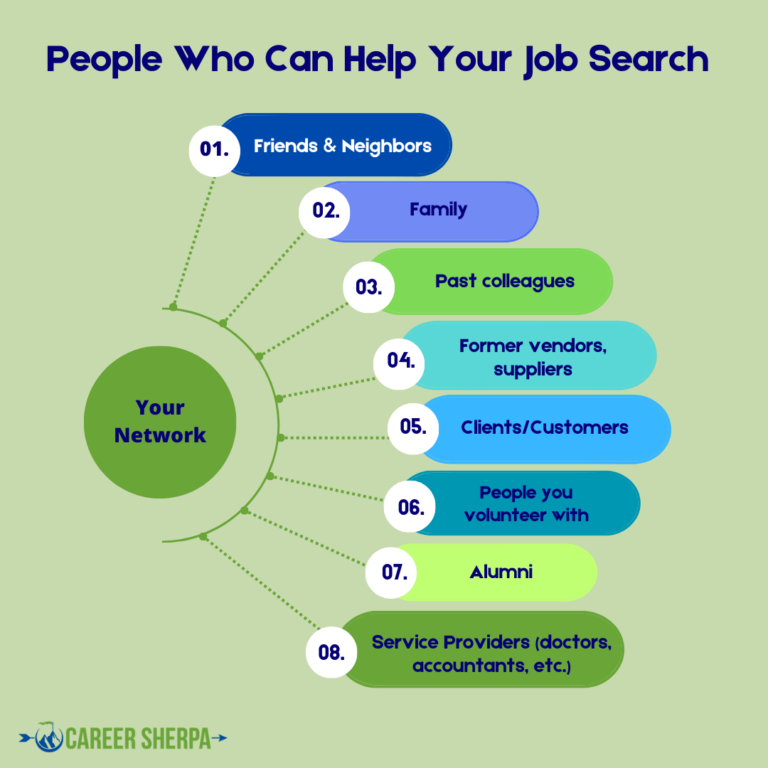 DID YOU MISS THESE?
How To Tell A Company You Have Another Offer (Simple)
How To Thank Someone For Their Time & Support (Examples)
Do you want to get this in your inbox on Sundays? Subscribe now!

Hannah Morgan speaks and writes about job search and career strategies. She founded CareerSherpa.net to educate professionals on how to maneuver through today's job search process. Hannah was nominated as a LinkedIn Top Voice in Job Search and Careers and is a regular contributor to US News & World Report. She has been quoted by media outlets, including Forbes, USA Today, Money Magazine, Huffington Post, as well as many other publications. She is also author of The Infographic Resume and co-author of Social Networking for Business Success.