Finding information to help with your job search isn't the problem. The challenge you face is finding good/accurate/reliable/trustworthy job search advice and information. Do yourself a favor and focus on information from those who know what they are talking about.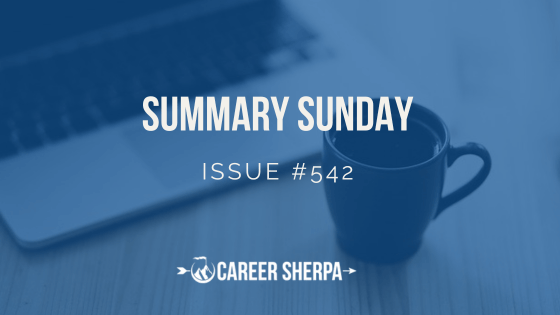 In this week's Summary, I've collected articles on:
Choosing between offers
Not needing to meet 100% of job qualifications
Questions to ask interviewers
Be a boomerang
LinkedIn's new feature "AI Job Seeker Coach"
What Gen Z wants from work
Please follow these authors or subscribe to their content to ensure you never miss helpful information.
And while I'm on the topic of following and subscribing, do you get these two newsletters for job seekers? They are always filled with valuable information! You'll thank me! Yes, I am recommending other newsletters! Because there's so much information and these folks do a fantastic job!
Briefcase Coach's Career Briefs: Job Search Newsletter | Sarah Johnston
Job Seeking Is Hard | Adam Karpiak
JOB SEARCH
How To Choose Between Job Offers | Sarah Johnston
One of the best problems a job seeker can have is to receive more than one job offer at the same time. It happens more often than you may think. And when it does, you need to thoughtfully assess the offers. Follow these tips!
Why You Shouldn't Wait Until You Meet 100% of Job Requirements to Apply | Shelley Piedmont
What if you don't meet all the requirements in a job posting? Should you still apply? Understand some of the things that go on behind the scenes so you can feel more comfortable applying for jobs when you're not a 100% match!
Still looking for a job? Consider the "boomerang" | The Random Recruiter
Do you know what a boomerang employee is? Employers pay attention when former employees apply. See some of the reasons why boomerang employees are desirable.
INTERVIEWING
38 Smart Questions to Ask in a Job Interview | Amy Gallo, Harvard Business Review
ALWAYS have a list of questions ready to ask during the job interview! Use this list and personalize your questions about the job, the team, your potential boss, the company, the culture and professional development.
Ask your interviewer some behavioral questions | Richard Hillier
You can learn a lot about a person and culture when you ask behavioral questions of the interviewer. Really, try asking some of these and see what is revealed.
LINKEDIN
LinkedIn Launches "AI Job Seeker Coach" | Rubin Hassid
Check out this new AI (artificial intelligence) feature offered to Premium LinkedIn users. It helps you research jobs you may be interested in.
WORKFORCE
Gen Z And The Great Office Debate Won't End In 2023 | Jeff Fromm, Forbes
While it can be dangerous to lump all people from a generation together, Gen Z does tend to have some common traits they share. How well do you understand Gen Z and what they want from work? We'll all be working with them so let's understand what's important to them so we can manage, communicate, and work better together.
Spoiler: Gen Z may have more in common with Gen X or Boomers than they do Gen Y.
MENTION
Ep 80: This is NOT an Episode About Resumes: A Conversation with Hannah Morgan | The SYCK Career Podcast, Kadima Careers
Are you tired of hearing the same old advice about sprucing up your resume and writing captivating cover letters? If you're eager to expand your network and level up your job search strategy, then what we're about to discuss is a must-listen. (I guarantee you will learn some new ideas!)
JOB SEARCH VISUAL
Social media channels used to find candidates (data from 2023 Employ Recruiter Nation Report). The takeaway is to diversify where YOU look for jobs because recruiters use many different channels.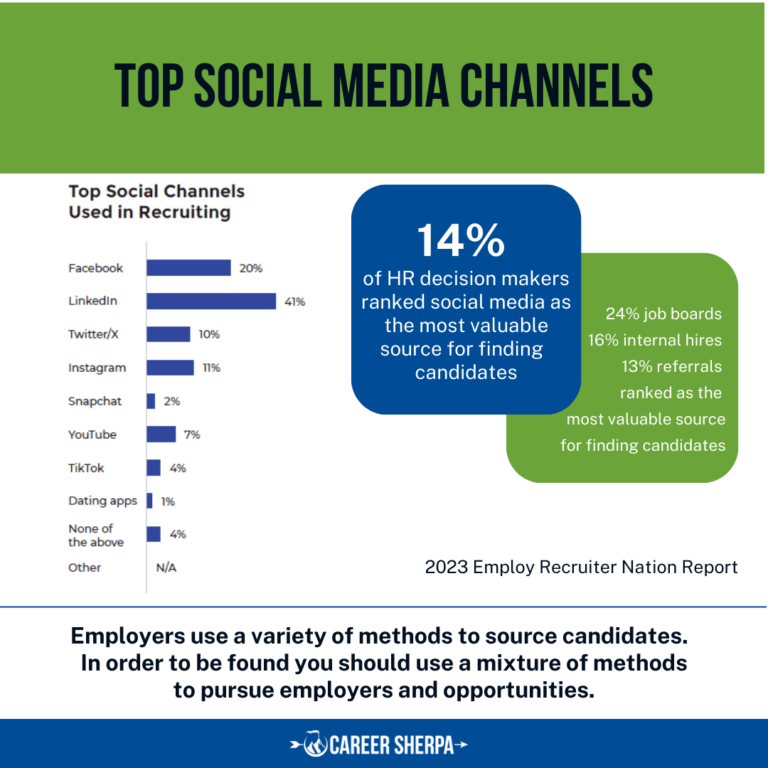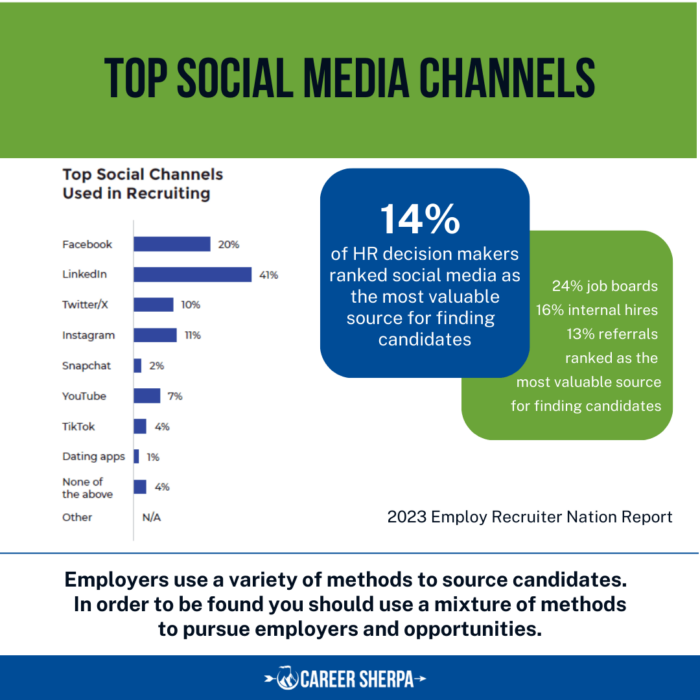 DID YOU MISS THESE
How to Use LinkedIn Effectively During Your Job Search (From the pros)
25 Frequent Teamwork Interview Questions & Answers
Using The Star Interview Method Effectively + Questions

Hannah Morgan speaks and writes about job search and career strategies. She founded CareerSherpa.net to educate professionals on how to maneuver through today's job search process. Hannah was nominated as a LinkedIn Top Voice in Job Search and Careers and is a regular contributor to US News & World Report. She has been quoted by media outlets, including Forbes, USA Today, Money Magazine, Huffington Post, as well as many other publications. She is also author of The Infographic Resume and co-author of Social Networking for Business Success.