Your LinkedIn profile and how you use LinkedIn will have a large impact on your job search. That's why it's important to make informed and strategic decisions before you make changes to your profile.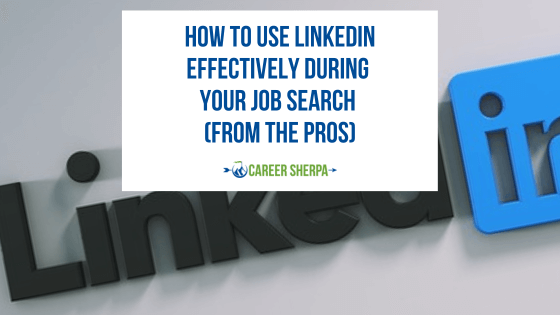 This is a collection of articles from job search experts, resume writers, and career coaches that address many of the common questions and misperceptions of job seekers.
LinkedIn has made a lot of changes in the last two years. Many of them are specifically for job seekers. And what you don't know CAN hurt you. So brush up on your LinkedIn knowledge with these resources.
LinkedIn Public Service Announcement: Always Have A Present Employment Position – Lisa Rangel
Did you know that if you don't have a current job listed in your LinkedIn profile it can hurt?
"LinkedIn has a built-in unemployment bias—> Many people don't know this…"
This post includes a video and article with information so you understand why this is happening and what YOU can do to fix it.
Your LinkedIn Mantel: 3 Eye-Catching Headline Strategies (With Examples) – Meg Applegate
Your LinkedIn headline is your 220-character tail that follows you wherever you go on the platform. Highlight both your utility and unique design for what matters for your forward career direction. Your headline is your career's mantel. Showcase what matters most to get the eyeballs you want on your profile
25 Keywords To Improve Your Job Search Profile – Susan P. Joyce
Optimize Keywords in Your LinkedIn Profile for Recruiters – Susan P. Joyce
These two pieces complement each other. When you hear someone talk about "keywords" what does that really mean? In the first article, learn what types of keywords should be in your LinkedIn profile.
In the second article, you'll get a better understanding of how talent acquisition (recruiters) use LinkedIn to search for potential candidates for their open requisitions. Knowing this will enable you to put keywords in smart places in your profile.
LinkedIn As A Networking Search Engine – Kenneth Lang
Have you ever used the LinkedIn search bar to search for people, companies or information? Well, Kenneth Lang has a slide deck that shows you some of the results you can get when you know what buttons to push on LinkedIn.
3 (slightly hidden) LinkedIn Tools to Help You Show Up More in Search – Virginia Franco
Most job seekers don't know about or know how to use these 3 LinkedIn tools! But you will! Discover new ways to optimize your LinkedIn profile with the right key skills and job titles to help people find you.
Did you max out on your connection invites? – Kelli Hrivnak
Maybe you have run out of connection invites or maybe you don't want to pay to upgrade on LinkedIn. There are workarounds you will want to know about that let you message people on LinkedIn. (PS: the rumor that LinkedIn was limiting messages to 10 per month is NOT true.)
How to Increase Your LinkedIn Profile Views and Interview Invitations in Only 15 Minutes A Day – Jessica Hernandez
In this article, you'll discover three steps to increase your visibility with recruiters, get more profile views, and attract more interview invitations in just 15 minutes a day — without applying to job postings.
Spoiler Alert: post, comment, and engage!
Power Up Your Job Search With These 7 Little-Known LinkedIn Features – Shelley Piedmont
The number of LinkedIn features for job seekers is tremendous. But I bet you are not aware of many of them. LinkedIn introduces hundreds of features each year, many specifically for job seekers. Yet most job seekers are unaware of those that could be helpful in their job searches. How many of these do you know about and use?
The LinkedIn newsfeed algorithms are like an eager-to-please puppy – Ed Han
If you want to see good content in your LinkedIn home feed then just follow this simple #LinkedIn #TipforDay. Easy-peasy!
Should Your Resume and LinkedIn Profile Be The Same? – Adrienne Tom
This is a classic question and one worth carefully considering. The short answer is no. There are similarities, but there are 5 major differences outlined in this article.
Is using the green, "Open to Work" banner on LinkedIn a good idea when looking for a job? | Adam Broda
This post includes a poll in which 67% of respondents said "Yes." Even though 23% answered "No" it's important to read the comments to understand your choice for using the "open to work" banner.
Keep Rocking LinkedIn w/ Kevin D Turner! – Kevin D Turner's YouTube channel
Sometimes you want to "see" something in action. Well, Kevin's channel can show you. From showcasing the newest features to answering some of the classic LinkedIn questions, there's something for everyone.
How To Network On LinkedIn To Get A New Job – Jack Kelly
You need a solid plan of attack in order to use LinkedIn and see results. If you are just getting started, follow the tips in this article.
LinkedIn Tip – Shea Ki
My top tip for LinkedIn is to actually use it after you create your profile. And often. Not using LinkedIn regularly and skipping out on adding value to others on it remains missed career leverage for most people when I first meet them. That usually changes when they get curious about the many benefits that can occur from being a positive contributor on it.
Pretty-please-with-a-delicious-cherry-on-top get more active on LinkedIn BEFORE you need help with finding a new opportunity. That way the support or helping hand you need will more likely be there when a career struggle or an unexpected professional shift occurs.
LinkedIn Features/Tools To Know
Some of the articles and posts above mention these tools, and I wanted to draw your attention to them again here because they can be very helpful when refining your LinkedIn profile and help with interviews.
Career Explorer – Not sure what jobs to look for next? Let LinkedIn data help you. Enter your current job title and see jobs that are next steps in that career path. Also pay attention to skills needed. Check out jobs and people in your network to talk with about the career.
Future of Skills – Are your skills up to date for your career path? LinkedIn analyzed skills in LinkedIn user profiles in 2015 and in 2022. There have been changes so make sure you have fresh, in-demand skills.
Interview Prep – Practice answering common interview questions the get AI-powered feedback on your delivery or request network feedback. Practicing out loud is so important.
LinkedIn Help – When you have a LinkedIn question, try using LinkedIn Help. It's quite good at providing answers.

Hannah Morgan speaks and writes about job search and career strategies. She founded CareerSherpa.net to educate professionals on how to maneuver through today's job search process. Hannah was nominated as a LinkedIn Top Voice in Job Search and Careers and is a regular contributor to US News & World Report. She has been quoted by media outlets, including Forbes, USA Today, Money Magazine, Huffington Post, as well as many other publications. She is also author of The Infographic Resume and co-author of Social Networking for Business Success.