Welcome to the end of summer! Now, let's get back into the driver's seat of your job search!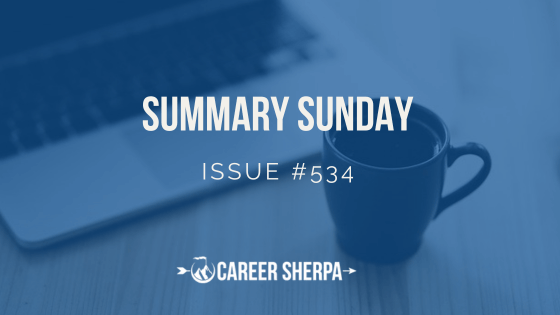 To help you re-launch or start your job search, this week's Summary includes articles and resources about:
Boosting your LinkedIn profile
Rock LinkedIn with this newsletter
Break the job searching cycle
Get referred
Recruiters lie (often)
Returnships
The rising age of workers research
Return to office roll outs
Starting pay decreases
And well-being tips
I carefully curate the content in this newsletter. The sources I cite are talented and experienced colleagues. If you don't follow them, you probably should!
LINKEDIN
Elevate Your LinkedIn Game: Takeaways to Boost Your Profile Today | My Career GPS
Shelley Piedmont put together this list of seven ways you can make your profile stand out (in the right way). Chances are, you have missed key opportunities to highlight your skills and experience. Take action on these things today.
Keep Rocking LinkedIn! | LinkedIn Newsletter by Kevin D. Turner
There are always new features and changes to LinkedIn. Many of these are specific to those in job search. To keep up-to-date on changes (because LinkedIn doesn't notify us), you can follow Kevin or at least get his monthly list of updates/changes to LinkedIn.
JOB SEARCH
Break Out of the apply-wait-get ghosted cycle of Job Searching | Jessica Hernandez
Follow these three steps (and hacks) because "Remember, a successful job search is about being active, intentional, and leveraging the power of your network."
30% to 50% of HIRES are REFERRED CANDIDATES! | Susan P. Joyce
The majority of job seekers don't tap into the power of referrals. Follow these 6 steps and see how you can improve your response rate! Because in order to get hired, you still have to impress the interviewers.
RECRUITERS
Liar, Liar Pants On Fire | Shelley Piedmont
36% of recruiters have lied to candidates! One of the things I look forward to the most on LinkedIn is Shelley's Monday Number of the Week. And be sure to check out the comments of this post for more interesting excerpts.
OLDER WORKERS
Why an Adult Internship Can Be Good for Your Career | FlexJobs
Changing careers, re-engaging in the workforce? Then you should know about "returnships" or adult internships.
Better with Age: The Rising Importance of Older Workers | Bain
Employers, facing an older workforce, may have to change their models to attract and retrain older workers who want less than full-time work. As Hung Lee stated in his tweet about some of this data: "Part time / gig work = really 'fractional' work, becomes more prevalent as we get older and change gears. Recruiters are going to have to design more jobs like this, or perhaps have such an offer available off-the-shelf for employees going into the 50+"
WORKPLACE TRENDS
80% of bosses say they regret earlier return-to-office plans: 'A lot of executives have egg on their faces' | CNBC Make It
No, employers aren't going to stop bringing people back into the office, but how they do it may change. But Amazon's CEO didn't seem to get the message. He was quoted as saying it's "not going to work out for you," if you don't return to the office.
You're Hired! But For Less Money | Korn Ferry
New data shows pay for new hires has dropped five percent from a year ago. See the data and what this means for job seekers.
WELL-BEING
Brain Laundry and Glimmers | 3Plus International
These two concepts pair well for job seekers. Sorting light and dark thoughts (like we sort laundry) and taking note of something that brings you joy.
What is Manifestation? Explained for Beginners | Mel Robbins
This is a mini course in why and how manifesting works. As Mel says, manifesting isn't wishing.
JOB SEARCH VISUAL
Before the job interview ends, make sure you have the answers to these 3 questions.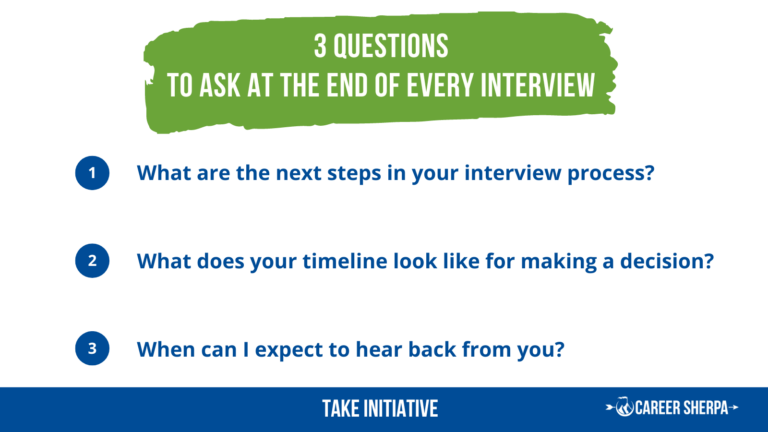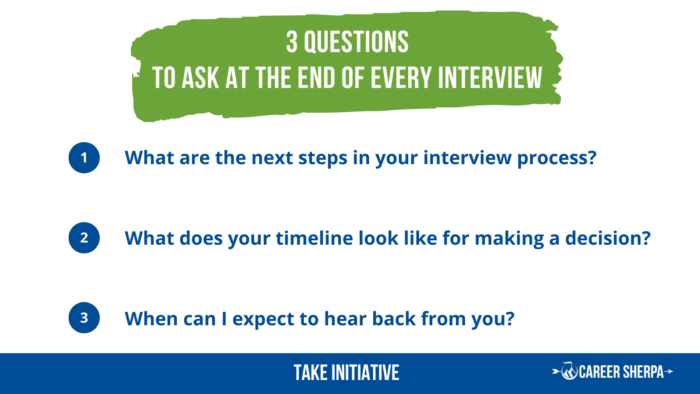 DID YOU MISS THESE
10 LinkedIn Status Updates For Job Seekers
Answers To "What Do You Like Least About Your Last Job?"
5 Networking Tips To Help You Do It Better

Hannah Morgan speaks and writes about job search and career strategies. She founded CareerSherpa.net to educate professionals on how to maneuver through today's job search process. Hannah was nominated as a LinkedIn Top Voice in Job Search and Careers and is a regular contributor to US News & World Report. She has been quoted by media outlets, including Forbes, USA Today, Money Magazine, Huffington Post, as well as many other publications. She is also author of The Infographic Resume and co-author of Social Networking for Business Success.