Do not read this today or tomorrow. Wait until Tuesday!
Enjoy your long weekend. Do something just for you and unwind!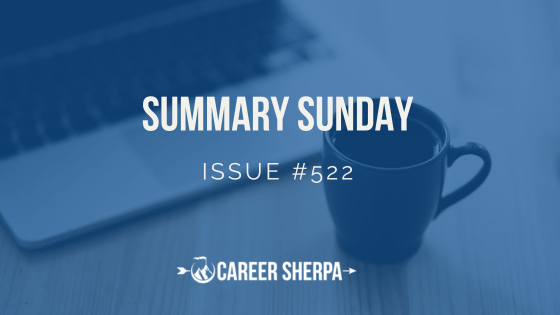 When you are ready to read this, it's a meaty one!
There are articles that address many different job search and career topics. You'll find:
Job scams & what LinkedIn is doing to reduce them
ChatGPT to write different parts of your resume
Interview questions candidates can ask
Due diligence research during job search
Tips to be successful in your new job
Fractional executive roles on the rise
Workplace trends myths
Remote workers laid off
Happiness hacks
Introvert storytelling prompts
Follow the authors of these articles to stay up-to-date on job search and your career.
JOB SEARCH SCAMS
How To Spot and Avoid Job Scams | Career Tool Belt
Scammers are getting smarter and taking advantage of unsuspecting job seekers. This article by Alison Doyle helps you understand what to watch out for. Plus, if you have been a victim of a job scam, don't be embarrassed. Please report it to either the FTC, your state Attorney General or the FBI (links in article).
Job Post Verifications On LinkedIn | Kevin D. Turner
Job Post Verifications were designed to help job seekers make safer decisions about applying for opportunities. See what steps LinkedIn is taking to verify companies post legit jobs. Job Verifications is currently being piloted with a select number of LinkedIn Jobs customers, so not all jobs will have verifications at this time.
RESUME WRITING
21 Great ChatGPT Prompts for Your Resume | Teal
If you have writer's block or need help up-leveling your resume, these prompts will help get you started. Remember, the final output you get from ChatGPT will need to be edited by you.
And no, using ChatGPT to help you craft a resume is not unethical as long as you revise the final output.
INTERVIEWING
7 Questions Tough Job Candidates Will Ask. Be Prepared | Inc
Treat the job interview like a conversation and have some of these questions by Adam Karpiak ready to ask! "Candidates who ask questions like this are … looking for a good fit for themselves and aren't just trying to get in at any cost" concludes Suzanne Lucas.
JOB SEARCH
4 CFOs Give Advice on How To Conduct Company Due Diligence | Briefcase Coach
Use these tips to evaluate a job opportunity. Relying on internet research or one person's answers during the job interview just isn't enough.
How To Be Successful At A New Job | Career GPS
Be sure you set yourself up for success when starting a new job. Follow these tips and remember to "practice situational awareness, hone your listening skills, and stick to your principles of doing right by others."
WORKPLACE
The Rise of Fractional Executives | Reforge
What is a Fractional Executive? 2Over the past two years, small and mid-sized companies have begun hiring fractional executives for a variety of advantages. 20+ leaders share examples, pitfalls, and benefits of hiring one.
Reality Check: Mythbusting Popular Workplace Trends | NASDAQ
Not all trends are new or are likely to be permanent changes. See 4 workplace myths and 3 things that are unlikely to change.
4 out of 5 MAANG companies have effectively banned remote jobs. | LinkedIn Post
This isn't the only post I saw this week about Meta's layoffs for remote employees. But it is one that makes an argument for RTO (return to office).
CAREER
5 Happiness Hacks That Take 5 Minutes Or Less | Huffington Post
Take any of these 5 steps and feel happier! Because we all need to feel good in order to win the job search.
The Quiet Advantage: Storytelling for Introverts | Karen Eber
See the 4 types of stories introverts do well preparing.
"Introverts possess a unique ability to observe and detect details and nuances, enabling them to weave vivid stories that captivate their audience. These stories allow them to build trust, establish connections, and forge stronger relationships with team members. They can also use stories to help persuade and influence others without being overly assertive or dominant."
JOB SEARCH VISUAL
Tell me about yourself during a job interview is really asking for a 1-2 minute summary of why you are qualified for the job and interested in it.
Try this formula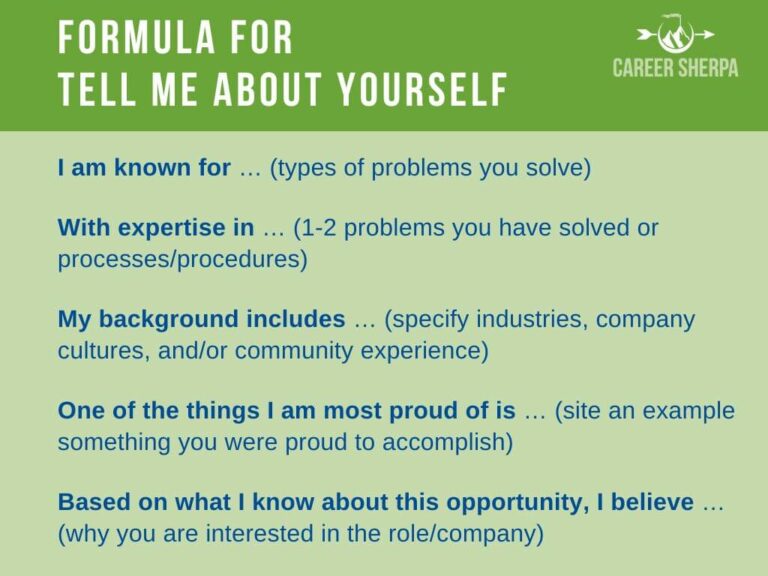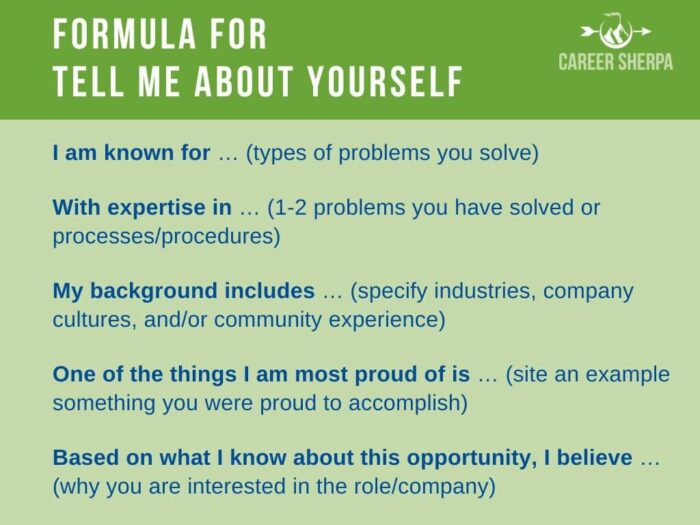 DID YOU MISS THESE
How To Choose A Career: Tips For Picking The Right Path
9 Panel Interview Questions & Answers You Must Practice
How To Work With A Recruiter To Find A Job

Hannah Morgan speaks and writes about job search and career strategies. She founded CareerSherpa.net to educate professionals on how to maneuver through today's job search process. Hannah was nominated as a LinkedIn Top Voice in Job Search and Careers and is a regular contributor to US News & World Report. She has been quoted by media outlets, including Forbes, USA Today, Money Magazine, Huffington Post, as well as many other publications. She is also author of The Infographic Resume and co-author of Social Networking for Business Success.