When looking for a new job, you should deploy a variety of strategies. You know how to apply for jobs online, but there are additional ways to uncover jobs.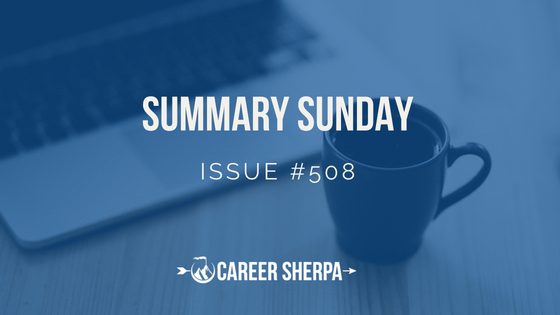 In this week's summary, I've rounded up articles to help you job search better. From these resources, I hope you will feel inspired to invest more effort in doing things that seem harder or a long shot. Here is what you'll find:
The 4 ways hidden jobs exist
It's taking longer to fill jobs
Top career coaches on LinkedIn
Resumes vs LinkedIn profile
4 types of networking mindsets
The impact of flexibility
Top 100 remote job employers
A special shoutout to all these publications and talented authors and creators! I recommend you follow them yourself!
JOB SEARCH
Hidden Job Market: 4 Ways It Exists | Lisa Rangel, Chameleon Resumes
Can you secure a hidden job? Here are 4 ways to do this. There is a hidden job market, no matter what some recruiters may say. I share this to help you understand you can get a new job in many ways besides just applying to jobs online. Do these things IN ADDITION to applying online to increase your job leads!
Hiring managers say 'time to fill' has slowed to 11 weeks | HR Dive
What took 7 weeks back in 2021, now takes 11 weeks. And hiring managers report they continue to hire, 50% for new roles and 40% to replace vacated positions.
The Top Career Coaches to Follow on LinkedIn in 2023 | Teal
The folks at Teal created this list of career coaches to follow based on their activity and quality of their profiles. Here is their list which includes these types of coaches:
Resume Writing
Guided Experience
Self-Guided Experience
LinkedIn & Branding
I was honored to be included on this list! Thank you!
RESUMES
Your Resume & LinkedIn Must Complement – Not Copy – One Another | VA Franco Resumes
Your LinkedIn profile and resume serve different purposes. Here are three ways they differ.
NETWORKING
TIN #028 – How To Change Your Mind About Networking | The Introverted Networker
Greg Roche lays out 4 different types of networking mindsets. Sometimes we need to remind ourselves that there are different ways to approach networking. Some may be more comfortable for us and some may make it more comfortable for others.
WORKPLACE TRENDS
Flexibility Is Key to Integrating Meaning and Work | MIT Sloane Management Review
Lynda Gratton outlines why flexibility isn't just a productivity issue. It has deeper roots. Flexibility or a lack of flexibility creates stress in the workforce. Through a job seekers lens, this article may help you understand what to look for in your next job, after doing some self-reflection.
Top 100 Companies to Watch for Remote Jobs in 2023 | FlexJobs
This isn't just a list of top companies. It includes information about which career fields continue to see growth, growing remote job titles and remote trends from 2022.
DID YOU MISS THESE?
Who To Use As A Professional Reference: A Simple Guide
"Why Are You The Best Person For This Job?" (Best Answers)
21 Situational Interview Questions & How To Answer Them

Hannah Morgan speaks and writes about job search and career strategies. She founded CareerSherpa.net to educate professionals on how to maneuver through today's job search process. Hannah was nominated as a LinkedIn Top Voice in Job Search and Careers and is a regular contributor to US News & World Report. She has been quoted by media outlets, including Forbes, USA Today, Money Magazine, Huffington Post, as well as many other publications. She is also author of The Infographic Resume and co-author of Social Networking for Business Success.