Hiring doesn't stop at the end of the year. Neither should you.
The week between Christmas and New Year's is notoriously slow. But that doesn't mean there aren't great articles being shared.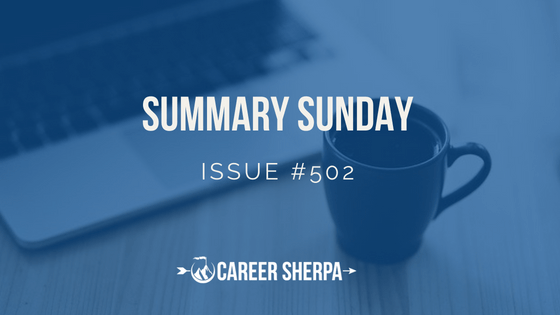 This week's summary takes a look at:
Trends impacting your 2023 job search
A look back at popular articles from 2022
How employees gained power in 2022 (and still have it)
Keep up-to-date with LinkedIn's changes
The power of empathy
If you liked any of these articles, please follow the author/publication. And please share with those who would benefit.
PREDICTIONS
Recruiting & Hiring Trends to Expect in 2023 | Briefcase Coach
Sarah Johnston put together a collection of predictions for recruiting and hiring in 2023. She expects these three words will dominate 2023 – fractional, flexible, and fastidious.
In addition, you'll find thoughts from some of the top job search experts.
7 Ways HR Will Look Different in 2023 | Redefining Work
Lars Schmidt has his finger on the pulse of human resources. In his year-end newsletter, he highlights prioritizing self-development. Managing your career in 2023 will require a hands on approach and you can learn more by reading his full article on Fast Company.
BEST OF
The Most Shared Content on LinkedIn in 2022 | LinkedIn
The news comes and goes pretty fast these days. It's quite possible you missed some of these top articles featured on LinkedIn. This will make it easy to catch up!
10 Top Job Search Articles from 2022 | Career Sherpa
Of course, I published my own list to top articles written in 2022.
FUTURE OF WORK
How workers fought back in 2022 | Vox
The highlight of 2022 was the rise in employee power. They spoke with their feet and left jobs that didn't meet their needs, wants or expectations. And you know what, it hasn't stopped, even with all the tech layoffs. The quit rate in the US is at 2.6% – still historically high.
LINKEDIN
100+ NEW LinkedIn Features for 2022 & into 2023! | Kevin D. Turner
It's almost impossible to keep track of all the changes to LinkedIn. But that's exactly what Kevin Turner does. He regularly shares new features and changes and has a running list of all of the updates in this post. Don't miss the next great feature.
CAREER
Empathy Is The Most Important Leadership Skill According To Research | Forbes
"A global study by Qualtrics found 42% of people have experienced a decline in mental health." But the good news is that there's new research that reveals empathy makes a positive impact on many areas such as innovation, engagement, retention, inclusivity, and work-life. Will you focus more on developing and showing empathy?
UPCOMING
Motivation Monday Job Search Accountability Group
Starting Monday, January 9th from 12-1pm ET.
Join this small group of job seekers if you are ready to commit to setting weekly goals, open to brainstorming ideas with fellow job seekers and want some accountability. Learn more here and register soon!

Hannah Morgan speaks and writes about job search and career strategies. She founded CareerSherpa.net to educate professionals on how to maneuver through today's job search process. Hannah was nominated as a LinkedIn Top Voice in Job Search and Careers and is a regular contributor to US News & World Report. She has been quoted by media outlets, including Forbes, USA Today, Money Magazine, Huffington Post, as well as many other publications. She is also author of The Infographic Resume and co-author of Social Networking for Business Success.