Whether looking for a new job or thinking of looking for a new job, it's important to make sure you have a good grasp of what to do and what to expect.
That's the purpose of Summary Sunday.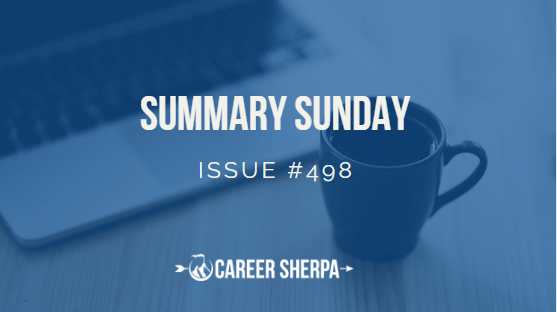 Things change pretty quickly these days so you want to make sure that your job search strategy aligns with today's hiring environment.
This week's Summary Sunday includes articles about:
Lists of job search coaches, resume writers and recruiters
What you need to know about rescinded offers
Salary negotiation tips
Ageism in job postings
Ways to make difficult career decisions
What is "career cushioning"
Making friends at work
Please follow these authors and share their work with those who will benefit!
JOB SEARCH
Career Thought Leaders Who Consistently Write Great LinkedIn Content | Sarah Johnston on LinkedIn
Following the right sources of information on LinkedIn will help with your job search. Sarah shared 3 different lists on Friday and I was honored to be on this one. If you don't already follow the people mentioned both in her post and those tagged in the comments, I hope you will. Here is her list of recruiters and list of resume writers.
Rescinded Job Offers: Why It Can Happen and What to Do | Job-Hunt.org
While it's not common for job offers to be taken off the table, it can happen. See a few of the reasons for job offers to disappear and what you should look out for.
SALARY
Top Salary Negotiation Mistakes That Keep You From Getting Paid What You're Worth | Shelley Piedmont
There are seven common things people do during salary negotiations that trip up the discussion. See what you can do next time to get paid what you are worth.
OLDER WORKERS
Ageism Continues to Creep Into Hiring | ERE
This is a view from a recruiter's perspective on why using the number of years of experience to qualify candidates is a bad idea. (Hint: Job seekers, stop using your years of experience. Instead, quantify the scope and scale of what you can do.)
CAREER
How To Consider and Make Difficult Career Decisions | Inside Higher Ed
You'll find three different methods to help you reach a decision. This is written for college students making a career choice, but it applies to anyone facing a complex career choice. For example:
The stakes are high for the person making this decision.
Both choices feel comparable to each other.
Your head and heart pull you in different directions.
It brings back memories of past decisions that may not have gone as expected,
'Career cushioning' is the newest workplace term everyone's about to hate, thanks to an impending recession | Forbes
We don't need a term for looking for a new job while employed, but we got it. See why employed workers are hedging their bets on a new job. Thanks to John Tarnoff for drawing attention to this topic.
The Power of Work Friends | Harvard Business Review
We spend many hours working, yet "Gallup has seen a five-point decline in those who say they have a best friend at work since 2019." This article contains three ways you can build more work friendships. Thanks to Hung Lee for pointing out this article.
MENTIONS
Don't Give Up The Job Search Just Because The Holidays Are Near | Professional Resume Services
Erin Kennedy shared these reminders about job searching over the holidays. Thanks for including my reminder.
DID YOU MISS THESE
Answering Interview Questions About Organizational Skills
Two Weeks After An Interview With No Response: Quick Tips
Motivation Monday Job Search Accountability Group

Hannah Morgan speaks and writes about job search and career strategies. She founded CareerSherpa.net to educate professionals on how to maneuver through today's job search process. Hannah was nominated as a LinkedIn Top Voice in Job Search and Careers and is a regular contributor to US News & World Report. She has been quoted by media outlets, including Forbes, USA Today, Money Magazine, Huffington Post, as well as many other publications. She is also author of The Infographic Resume and co-author of Social Networking for Business Success.