Attitudes about layoffs, job search and careers change over time. These changes sometimes happen by us and sometimes they happen to us. And sometimes they just happen.
Being able to adjust to new situations is a skill we all need to develop. By understanding what's happening or what could happen, you're less likely to be caught off guard.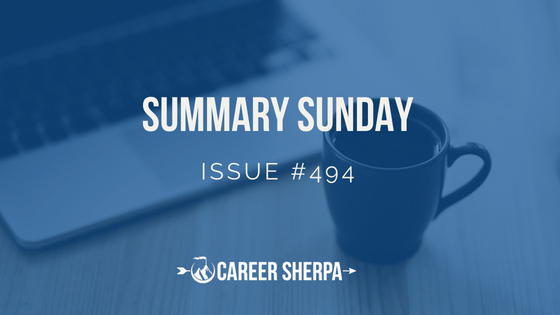 That's why staying on top of job search and career trends is important. But it takes time. Summary Sunday is one small way you can get a glimpse of trends you should be aware of.
In this week's summary you'll find articles about:
LinkedIn's "About This Profile" feature
Safely listing contact info on LinkedIn
Stripe's Layoff email
Follow-up emails to recruiters and hiring managers
Asking for help via email
The shift away from quiet quitting
Newer workers want skills development
I hope you find these articles helpful and please share them with those who will benefit.
LINKEDIN
New LinkedIn profile features help verify identity, detect and remove fake accounts, boost authenticity | LinkedIn
LinkedIn is rolling out "About This Profile." This new feature "will show you when a profile was created and last updated, along with whether the member has verified a phone number and/or work email associated with their account."
Safely Publish Your Phone Number and Contact Information on LinkedIn | Job-Hunt.org
As a follow-up to the previous article, this is a good reminder to add your contact information to your LinkedIn profile. When your contact information is accessible it makes it easier for recruiters to contact you, especially if you are searching for a new job.
LAYOFFS
CEO Patrick Collison's email to Stripe employees | Stripe
It's always challenging to deliver news to your employees about layoffs. This email from Stripe's CEO is one of the better communications seen. Letting people go is never easy, but when you are clear about the details, it makes it a tad bit easier for employees to swallow. Twitter should have taken a page from this playbook. (Thanks to Ed Han for originally sharing)
6 Things To Do After A Layoff | CareerSherpa
I offer tips to help those who find themselves newly laid off.
JOB SEARCH
How to Write a Thank You Email After an Interview | Teal
Wondering whether you should send a thank you after a call with an employer? This article walks you through different scenarios and why writing a follow up email after an interview is a good idea.
PS: If you aren't familiar with the free job search features and services offered by Teal, definitely check them out!
Job Search Challenge
For the next 5 weeks, I'll share a list of activities job seekers can work on. Here is this week's list.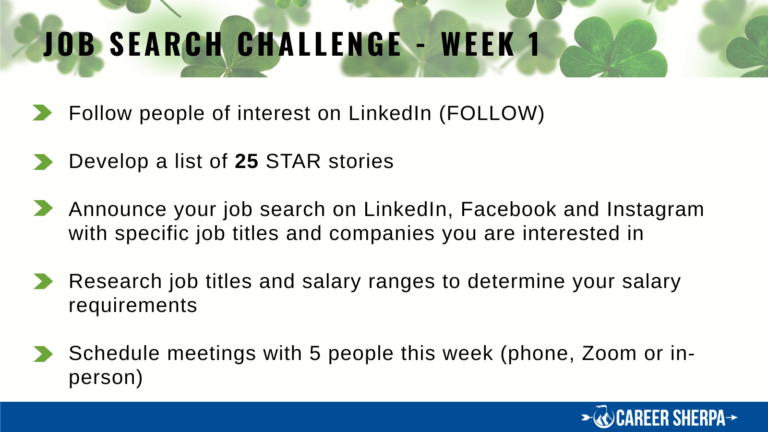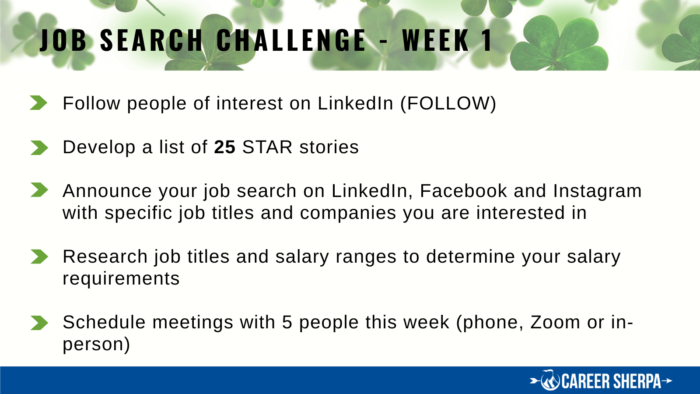 CAREER
How to Ask for Help Over Email—and Actually Get It | The Muse
We are overwhelmed by email at work. So when you do need to ask for help from a fellow employee, what do you need to do to make sure they respond to your request? Follow these steps.
The guy who inspired the "quiet quitting" movement is back to working 50 hours a week | Quartz
Things change. People change. Just as the pandemic forced workers to reevaluate the time they spent working, the threat of layoffs is forcing employees to change their thinking again. But remember: "The disenchantment that has come to be known as quiet quitting is not about the hours worked, but the ones worked needlessly."
Millennials and Gen Z want skill development at work or they're out the door | Yahoo
A new study by Amazon and Workplace Intelligence uncovers some interesting findings:
70% of workers felt unprepared for the future of work
80% of employees from a variety of industries, said they are concerned they lack the skills necessary to advance their careers
74% of Millennials and Gen Z are ready to jump ship because of a lack of support from their companies when it comes to building skills and providing career mobility options.
Employers and leaders would be smart to jump on this and develop better ways for employees to learn and grow their skills.
DID YOU MISS THESE
How To Write A Letter Of Introduction: 6 Simple Tips
"Why Do You Want To Work Here?" How To Answer + Examples

Hannah Morgan speaks and writes about job search and career strategies. She founded CareerSherpa.net to educate professionals on how to maneuver through today's job search process. Hannah was nominated as a LinkedIn Top Voice in Job Search and Careers and is a regular contributor to US News & World Report. She has been quoted by media outlets, including Forbes, USA Today, Money Magazine, Huffington Post, as well as many other publications. She is also author of The Infographic Resume and co-author of Social Networking for Business Success.