How much do you know about hiring and workforce trends? The more you know, the better you will be at searching for a new job.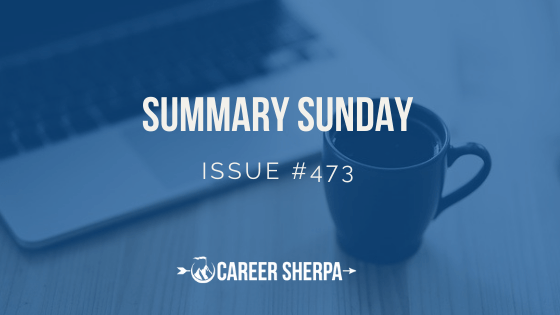 You see, if you've been with just one employer (or haven't had to look for a job in a while), your knowledge of how the hiring process works and what to expect may be different from what is happening today.
It's important to your success to get a reality check on many of the issues that impact your job search, so each week, I share articles to help bridge this gap.
This week's summary includes articles about:
Pay transparency and pay discrepancies
Cover letters (they aren't dead yet)
What you need to know about social media background checks
Swearing at work
Reminders for making choices
Asking for help
I hope you find new information that helps you take control of your career and job search.
PAY
New pay transparency laws can help in salary negotiations | New York Post
New York City is about to make pay transparency a requirement in all job postings. See why this could be helpful to job seekers.
Worker expectations push employers to address pay compression, survey finds | HR Dive
Robert Half surveyed 376 C-suite executives. The firm found that 56% of respondents observed pay discrepancies between new hires and more tenured staff in the past year. This is an issue companies will have to address.
The Best Ways to Find Salary Information | CareerSherpa
A list of salary calculators and resources to help you conduct research.
COVER LETTERS
6 Ways to Ensure The Cover Letter You Write Is Read | Chameleon Resumes
The cover letter isn't dead yet. But if you are going to write one, write a good one using these tips from Lisa Rangel.
SOCIAL MEDIA
Social Media Background Checks: What Employers Should Know | HR Bartender
While the intended audience for this article is HR professionals, it should help job seekers understand the impact social media has on job search.
CAREER
Sure, Work Makes Us Want to Swear. But Should You? | Wall Street Journal
Are we swearing more at work? Donna Svei also has run a poll asking about whether you swear at work. You can see some interesting comments here.
20 Choices That Will Determine Your Destiny | Frank Sonnenberg
"Make good choices. A wise person once said, "When writing the story of your life, don't let anyone else hold the pen." It's your choice. Your destiny. Own it!"
How To Ask For Help At Work | David Burkus
Asking for help (at work or during job search) isn't easy. But these 6 tips will help you ask and get the help you need.
DID YOU MISS THESE?
Conversation with Colleagues – Mark Anthony Dyson
Watch the full replay of my conversation with Mark. We talk about hybrid work, boomerang hiring, and if it's easier to change careers right now.

Hannah Morgan speaks and writes about job search and career strategies. She founded CareerSherpa.net to educate professionals on how to maneuver through today's job search process. Hannah was nominated as a LinkedIn Top Voice in Job Search and Careers and is a regular contributor to US News & World Report. She has been quoted by media outlets, including Forbes, USA Today, Money Magazine, Huffington Post, as well as many other publications. She is also author of The Infographic Resume and co-author of Social Networking for Business Success.