Your emotions and frame of mind impact your actions – in all aspects of your life – including job search!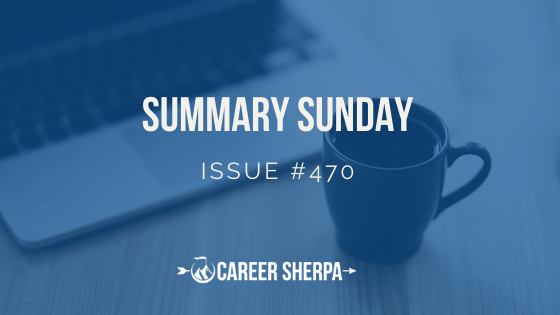 This week's summary includes articles about how we make decisions (and possibly have regrets). It also features articles to help you develop new skills you'll need throughout your career.
Here's what you'll find:
Reasons people quit
Reasons people regret taking a new job
LinkedIn Learning Paths
Top Podcasts
Managing multiple job interviews
Learn to be more creative
Managing stress and burnout
If you enjoy these articles, follow or subscribe to the author's site.
GREAT RESIGNATION
These are the top reasons why US workers quit their jobs in 2021 | World Economic Forum
"A new Pew Research Center survey finds that low pay, a lack of opportunities for advancement and feeling disrespected at work are the top reasons why Americans quit their jobs last year."
How To Avoid The 'Great Regret' When Switching Jobs | Forbes
Yet, not everyone is happy with the choice they made to quit. This article by Jack Kelly dives into some of the reasons people regret moving to a new job and what you can do to ensure you make the right decision.
"In fact, 30% of people who left their jobs for greener pastures didn't have a good outcome. Within only 90 days of employment, respondents to the survey said that they resigned due to 'organizational culture and the mismanagement of workplace expectations.'"
LINKEDIN
LinkedIn PathFinder | LinkedIn Learning
The Pathfinder generates a custom list of LinkedIn Learning courses based on what you want to achieve. Based on your career goals, LinkedIn will suggest a custom learning module. Some of the career goals include: Cultivate work-life balance, Grow as a leader, Get a new job, and Master hybrid work. You'll need a subscription to LinkedIn Learning, but they are offering one-month at no cost. (Thanks to Kevin D. Turner for highlighting this and many other new LinkedIn features).
Free Learning Paths To Top Jobs | LinkedIn
Learn skills needed for in-demand jobs. These 10 jobs were identified as having the greatest number of job openings, have had steady growth over the past four years, pay a livable wage, and require skills that can be learned online.
See what these 10 jobs are and what skills are required. And the training modules for these jobs are free.
JOB SEARCH
Your Guide to the Top Career Podcasts of 2022 | Mac's List
Since 2017, Mac Prichard has compiled a list of top podcasts for job search and career. If you enjoy podcasts, here is this year's list in alphabetical order.
How to Manage a Job Offer When You're Still Interviewing Elsewhere | Harvard Business Review
It's not uncommon to be interviewing for more than one job at a time. This article points out what you can do to make it easier on yourself, yet keep all the balls in the air.
CAREER
Anyone can be trained to be creative, researchers say | Ohio State University News
This new method, based on narrative theory, helps people be creative in the way children and artists are: By making up stories that imagine alternative worlds, shift perspective and generate unexpected actions.
"Creativity isn't about guessing the future correctly. It's about making yourself open to imagining radically different possibilities." Angus Fletcher
STRESS
How Your Mind Can Better Manage Stress | Entrepreneur
This article lays out the reasons why we get stressed and steps to take to reduce our fight or flight reaction.
Finding Out How Brutal Burnout Can Be | The Science of Wellbeing
Burnout is real. Are you familiar with the Maslach Burnout Inventory – a well-validated test you can take to see how burned out you're feeling? There's also an example of how one man made a career shift after being burned out.
DID YOU SEE THESE
Episode 43 brings you the 20 brilliant and inspiring women who have been guests on Normal Lies over the last year. | Normal Lies

Hannah Morgan speaks and writes about job search and career strategies. She founded CareerSherpa.net to educate professionals on how to maneuver through today's job search process. Hannah was nominated as a LinkedIn Top Voice in Job Search and Careers and is a regular contributor to US News & World Report. She has been quoted by media outlets, including Forbes, USA Today, Money Magazine, Huffington Post, as well as many other publications. She is also author of The Infographic Resume and co-author of Social Networking for Business Success.