If you do the right things for the right reasons, you can't go wrong in your career or in job search.
Don't overcomplicate it. Keep it simple. All you're trying to do is to present yourself as a solution for a job. Just continue to take small incremental steps that will eventually lead you to whatever's next.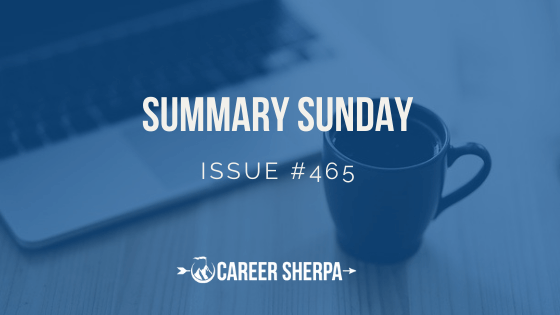 In this week's summary, see what's happening:
Scams and updates on LinkedIn
The ATS isn't rejecting your resume
Questions job seekers can ask at the interview
Report on remote work
The meaning of meaningful work
HR tech, follow the money for career success
LINKEDIN
News about scams on LinkedIn and updates.
LinkedIn is Becoming a Paradise for Phishing Attacks | Tech Radar
"The number of phishing emails impersonating the recruitment site has grown 232% in February 2022 alone." according to cybersecurity experts Egress.
Special Edition: We Listened To Your Feedback and Here's What We're Doing | Building LinkedIn
Tomer Cohen is the Chief Product Officer at LinkedIn. In this edition of his bi-weekly newsletter, he addresses 5 areas of feedback they are listening to:
You want better ways to curate your feed experience
You want more ways to organize your inbox & connections
You are looking for more tools to advance your career
You want better ways to measure how your content is performing
You are curious about bringing Crypto to the LinkedIn Metaverse
JOB SEARCH
3 Reasons to Banish the "ATS Rejects 70% of Resumes"​ Claim & Other ATS Myths | Careers By The Numbers
It isn't the ATS that is rejecting you.
"Most candidates are eliminated from the hiring process because they do not clearly meet requirements (especially years of experience), have a gap on their resume, do not follow directions, or incorrectly answer a "knock-out question," not because of formatting." – Marie Zimenoff
INTERVIEWING
10 Hard Questions You Should Ask Your Interviewer | FlexJobs
Always have questions ready to ask throughout the interview, not just at the end when asked, "what questions do you have for me?" Asking questions shows your interest in the job/company and shows you've been paying attention. Consider some of these 10 questions (or variations of them).
REMOTE WORK
2022 State Of Remote Work | Buffer
See the results of this year's report surveying over 2,000 from 16 different countries. It reveals answers to questions like:
Do people still like remote work?
How is remote work truly happening in 2022?
Have the benefits and struggles of remote work shifted?
What is the continued impact of the COVID-19 pandemic on remote work?
And what does remote work mean for career growth and pay?
CAREER
How to Find the Secret to Meaningful Work | The Atlantic
You can read the transcript or listen to the podcast hosted by Arthur Brooks as he interviews chief happiness officer and CEO of Delivering Happiness, Jenn Lim.
They explore "workplace practices to live out purpose-driven principles. We'll also talk about why authenticity is vital to strong leadership and 'walking the talk,' and how to factor emotional needs into our workplaces."
WORKPLACE TRENDS
Will $17 billion in HR tech help you hit the career jackpot? | Fast Company
Marie Zimenoff highlights 5 areas of HR technology that can be used to your advantage in the workplace and during a job search. There's a saying… "follow the money." Where ever money is being invested means it's worth paying attention to.
DID YOU MISS THESE
Conversations with Colleagues – David Fano, CEO of Teal
27 Best Questions To Ask At The End Of An Interview
31 Common Phone Interview Questions (With Answers)

Hannah Morgan speaks and writes about job search and career strategies. She founded CareerSherpa.net to educate professionals on how to maneuver through today's job search process. Hannah was nominated as a LinkedIn Top Voice in Job Search and Careers and is a regular contributor to US News & World Report. She has been quoted by media outlets, including Forbes, USA Today, Money Magazine, Huffington Post, as well as many other publications. She is also author of The Infographic Resume and co-author of Social Networking for Business Success.