The best questions to ask at the end of an interview accomplish a couple of things. First, they yield valuable information that will help you and the hiring manager during the process. And secondly, they show that you're prepared and take initiative when it comes to your career.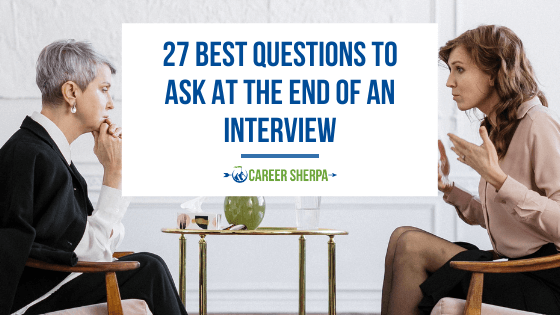 Read through this comprehensive list of good questions to ask at the end of an interview and pick the ones that are most applicable to your situation. You'll be happy you did!
1. What does a typical day look like for this position?
Job descriptions can only provide you with so much information about your day-to-day life in the position you're trying to get. Typically, they don't go into detail, leading to many unanswered questions. Now is your time to get clarification.
This question provides more insight into different aspects of the role. It'll help you better understand your responsibilities and what the company expects of you.
In the eyes of an interviewer, this is a great question to ask at the end of an interview. It shows that you're genuinely interested in the job and eager to get started.
2. Who would I be reporting to? Is it possible to meet them during the interview process?
Knowing who you need to report to is crucial. The company you're applying to likely has several "higher-ups" that you need to impress. Understanding the internal hierarchy can help you avoid mishaps and ensure that you're communicating with the right person.
Of course, getting the chance to meet them and make an excellent first impression is always a plus. In most cases, it shows great initiative and will make both the hiring manager and your reporting manager view you in a positive light.
3. What is an interesting or exciting project that you've worked on since you've started at this company?
Here's a question to ask at the end of an interview that the hiring manager will love to hear. At first, it can catch them off guard, but most interviewers don't mind reflecting on their time with the company and talking about what they enjoyed. It gives them a chance to brag a little and talk positively about the organization, which is always a big plus.
For you, it's a chance to get perspective about what it's like to work there from someone who's already in the mix. You can see what types of projects the business does and how particular roles function.
4. What is the company culture like?
Asking about the company culture is more important than most realize. The work environment plays a big part in your day-to-day life and can ultimately impact your success.
This question shows that you're serious about the job to an interviewer. Not only that, but it shows that finding the right fit is important to you in your job search.
Not everyone knows how to define their company's culture. Another way to ask this question is to ask about a specific element of culture that is important to you such as: "tell me about how things get done here?" or "What am I going to learn in my career two to three years from now as a result of working for you?"
Of course, the answer to this question offers excellent insight into how the company operates. You can learn about its philosophies and how the organization treats employee satisfaction. No one wants to spend time in a toxic work environment!
5. What differentiates you from your main competitor?
This question certainly isn't easy to ask, and it might come off as a bit odd depending on how you word it. However, choosing your words carefully can indicate that you're already thinking about how you can improve the company's bottom line and position against its competitors.
Hopefully, you've already learned a bit about competitors and the organization's place in the larger market. However, asking a hiring manager about this information will give you some insider information you might not have found during a quick Google search.
6. How does this company help its employees grow professionally?
Hiring managers want to bring people in who will stick around and evolve with the company. Asking this question at the end of an interview indicates your interest in growing alongside the organization, which can do a lot to improve your odds of getting hired.
For you, this question is also quite beneficial. It can show you how much or how little the business invests in bettering its employees.
7. What are your expectations from a new hire in the first 30 to 60 days?
The first several months of your employment are nerve-wracking enough. Knowing what the organization expects from you can make things easier. It ensures that you know how to succeed and understand the metrics used to gauge your performance.
The reason this is one of the best questions to ask at the end of an interview is that it shows initiative. Asking what you can do to make the higher-ups happy before you even get hired indicates that you're willing to put in the work to do a good job.
8. How have people succeeded in this role in the past?
This question is somewhat related to the previous one. It's about figuring out how the organization measures success and what they expect to see out of you. No matter how much they try not to, most managers are going to compare you to the previous person who had the job. Knowing what you're up against goes a long way.
Asking this question at the end of your interview positions you as a high-achiever and a go-getter. It shows that you're already looking for ways to make an impact and see success.
9. What is the main challenge the company currently faces? What is being done to address that challenge?
Once again, this question is all about word choice and tone. If you're not careful, it can come off as a little critical. Choose your words wisely!
Typically, this question is about getting the opinion of the hiring manager and learning more about the details you won't see on a job listing. It gets the conversation rolling and provides you with information you can use to make a lasting impression if hired.
It shows tons of initiative, indicating your genuine interest in the company and how you can contribute to the bottom line.
10. How does someone in this role collaborate with their supervisors?
Hiring managers usually love to hear when applicants want to work with supervisors. Once again, it shows that you're a go-getter who is willing to do whatever it takes to move a project forward. But more importantly, it shows that you're willing to work with others to contribute to the bigger picture.
As an applicant, the answer to this question can provide insight into how the supervisor works. If they're open to collaboration, it usually means that they will let you use your strengths to help the company succeed.
11. In what ways are you better than the competition?
Here's another competition-based question that you should do some research on beforehand. Knowing a little bit about some of the company's biggest competitors and the market as a whole can do a lot to further your chances.
That said, asking someone on the inside will give you more information than you could ever find on a Google search.
Asking this question at the end of an interview will encourage hiring managers to speak more openly about the competition. Meanwhile, it comes off as a pretty big statement of support, indicating that you're interested in learning as much about your future employer as you can.
12. What do you like most about working with this company?
While it might not seem like you would get a lot of information out of this question, it's worth asking. From an interviewer's point of view, it's a great jumping-off point for discussing what's possible when working at the company. It's a chance to talk about their experience and highlight the good you can do if hired.
The information you get from this question is pretty valuable, too. It uncovers details you normally wouldn't learn until you're already working there.
13. Are there any other questions you have for me?
Even though it might feel strange, this is a very good question to ask at the end of an interview. With it, you can give the interviewer an opportunity to bring up any lingering questions of importance that you might want to address.
Most interviewers have a script of questions they ask. Because they're on a time crunch, they might not veer off the list. Asking any unanswered questions opens things up and lets the interviewer get more information than they already have.
It displays your openness to discuss your resume or application.
14. How do you think the company will change over the next five years?
Changes occur all the time. Whether it's budgetary constraints, new corporate structures, or massive mergers, those details matter! The answer to this question will let you know what you can expect during your first few months of work.
Asking this question reveals your seriousness about the job. It also shows good foresight, indicating that you're trying to stay one step ahead of the curve.
15. What is the most challenging part of this position?
Here's a great way to show humility and self-awareness. Some applicants go into interviews with so much confidence that it actually turns hiring managers off. This question is about being realistic and understanding that things aren't always going to be a walk in the park!
For you, asking this question at the end of an interview can help you prepare for the struggles ahead. If the interviewer provides an answer you didn't plan for, you can use it to brush up on skills before you start.
16. How do employees feel about the company living up to its core values?
This question asks for honesty, yielding information you could never get from a Google search or listing. It's insight from someone on the inside, which is always valuable.
If asked strategically and with the proper wording, most hiring managers will appreciate that you're already looking to understand the company's internal workings.
17. Is there anything else you'd like from me to help you make your decision?
Confidence and enthusiasm go a long way. This is one of the best questions to ask at the end of an interview because it shows that you're eager to get started and want to provide as much as you can to get the job.
On your end, it's one of those "peace of mind" questions. After asking it, you can walk away knowing that you did everything you could. You don't have to worry about second-guessing yourself later.
18. What are the characteristics of successful employees at this company?
This is another question that can give you a better idea of what it's like to work at this company. The way the interviewer answers is important. Not only does it paint a picture of the work culture and environment, but it also highlights what they expect out of you.
The hiring manager will appreciate the question because it shows that you're willing to put in the work to succeed. Furthermore, it indicates that you want to fit in with your colleagues and at least match their level of success.
19. What are the biggest opportunities the company is trying to take advantage of?
Opportunities always present themselves, and the corporate landscape changes to follow them. Asking this question at the end of your interview is about understanding how the organization will use its resources in the near future. Where is the company headed, and how can you contribute to that bigger picture?
That's the type of information you'll get from this question.
It's not just helpful to you if you get the job. It may even help you land the position. The question demonstrates your eagerness to learn more and become a power player in the organization.
20. What makes employees want to stay at this company?
Want a broader look at the company culture? Ask this question!
It can catch hiring managers off guard. Like other questions we mentioned, choosing the right wording is important. You want to bring it up with positivity, not skepticism.
Luckily, most interviewers aren't going to have a problem answering. It's a chance to shine a positive light on the organization. Meanwhile, you get to learn more about how employees feel working there.
21. What is the typical career path for someone in this role?
It's always good to know that the company you're trying to get a job at promotes internally. No one wants to stay at an organization with no opportunity for growth. How the interviewer proceeds to answer will give you a better idea if this is truly a job that you want.
From their standpoint, it demonstrates your willingness to stay for the long haul. That's a massive plus for any business, so this question can have a significant impact.
22. What does the "perfect" candidate for this position look like?
Everyone wants to come off as the perfect candidate, but most can only guess what that means. If you want some clarity, ask what your interviewer is looking for outright!
This is a good question to ask at the end of an interview because It gives you the chance to point out connections between what they're looking for and your existing skills. Plus, it can give you more understanding of the hiring process and what the organization wants out of a new hire.
For an interviewer, this question is all about initiative. It shows your dedication to getting the job and highlights your willingness to go the extra mile.
23. How has this position changed over time?
Change is inevitable. What you're going to do now in this position may not be what you do in several years. Understanding how the job has already evolved will give you a better understanding of how it might change in the future.
It's all about being prepared and ensuring you have the skills to keep up.
From an interviewer's perspective, the question indicates that you're someone who thinks of the long term. It's a sign of your eagerness to adjust to changing duties and responsibilities, too.
24. What are some soft skills that would serve me well if I were to be hired at this company?
It's not all about the hard skills. While your obvious qualifications are important, most jobs require many soft skills to succeed.
Asking this question at the end of an interview will help you find out what exactly it takes to do a fantastic job in this position. If you're not super comfortable with the soft skills, you can work on them to improve your odds of getting hired.
Let the hiring manager know that you're willing to learn. That may sway their decision in your favor.
25. Do you have any concerns or questions about my qualifications?
This is a very good question to ask at the end of an interview, even though it puts interviewers on the spot. It can be a little awkward at first for both parties, but it asks for honesty and gives you an opportunity to address concerns. It also shows that you're not afraid to confront your weaknesses and make improvements.
Obviously, you can gain a lot of insight from the interviewer's answer. But more importantly, it gives you the chance to let them know you're willing to do the work and improve. Or, if they've misunderstood something about your past, you can address it right there in the room!
26. What can I expect from the training process or onboarding process?
Every job comes with a bit of training. Knowing what you're in for will help you prepare before your first day.
Brush up on the skills you need to know so that you can hit the ground running!
Asking this question also shines a light on your eagerness. You're being proactive and showing that you want to proceed to the next stage of the hiring process.
27. What does your timeline look like for making a decision, and when can I expect to hear back from you?
Finally, you can ask when you may hear back from the hiring manager.
This is a question you don't want to forget! The last thing you want is to wait by the phone for an answer. Understanding the timeline will ease your mind and eliminate the stress of waiting.
Most hiring managers like hearing this question at the end of an interview because it shows initiative. Let them know that you're eager and ready to work!
Do You Really Need To Wait for the End of the Interview
Always be ready to ask questions at the end of the interview. However, it may make more sense to ask some of these questions during the interview.
For example, if the interviewer asks what you are looking for in a job or in a company, you can supply your answer. Then, immediately after you finish, ask the interviewer "what do you like best about working here?" This makes the interview more like a conversation instead of an interrogation. Plus you'll learn important information you may be able to use later.
Realistically, you'll probably only have time to ask a few questions, so prioritize the questions that are most important to you at this point during the interview. Remember, you will have the opportunity to ask questions in future interviews with that company too.
Conclusion
Now that you're familiar with the best questions to ask at the end of an interview, all that's left is the preparation. Decide on the ones that apply to your situation, write them down, and pull them out when it's time to shine!

Hannah Morgan speaks and writes about job search and career strategies. She founded CareerSherpa.net to educate professionals on how to maneuver through today's job search process. Hannah was nominated as a LinkedIn Top Voice in Job Search and Careers and is a regular contributor to US News & World Report. She has been quoted by media outlets, including Forbes, USA Today, Money Magazine, Huffington Post, as well as many other publications. She is also author of The Infographic Resume and co-author of Social Networking for Business Success.