Yes, hiring is happening!
But you still need focus and a plan.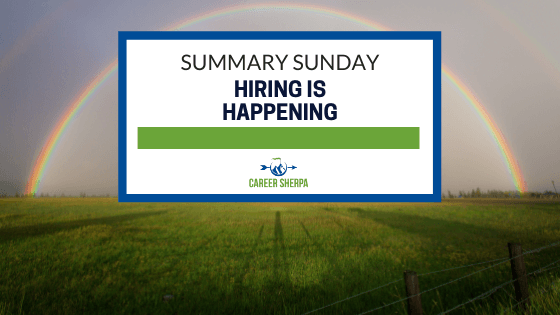 This week's summary includes articles to help you understand:
How long hiring is taking in certain areas
Which industries are hiring the most
Articles about upskilling and finding your career focus
What you should be doing to find a new job
Articles about using LinkedIn for job search
It's up to you to adjust your job search strategy to meet today's hiring landscape! Be flexible.
HIRING TRENDS
These industries have the slowest hiring times, according to LinkedIn | CNBC
Hiring is taking longer. Especially in these areas.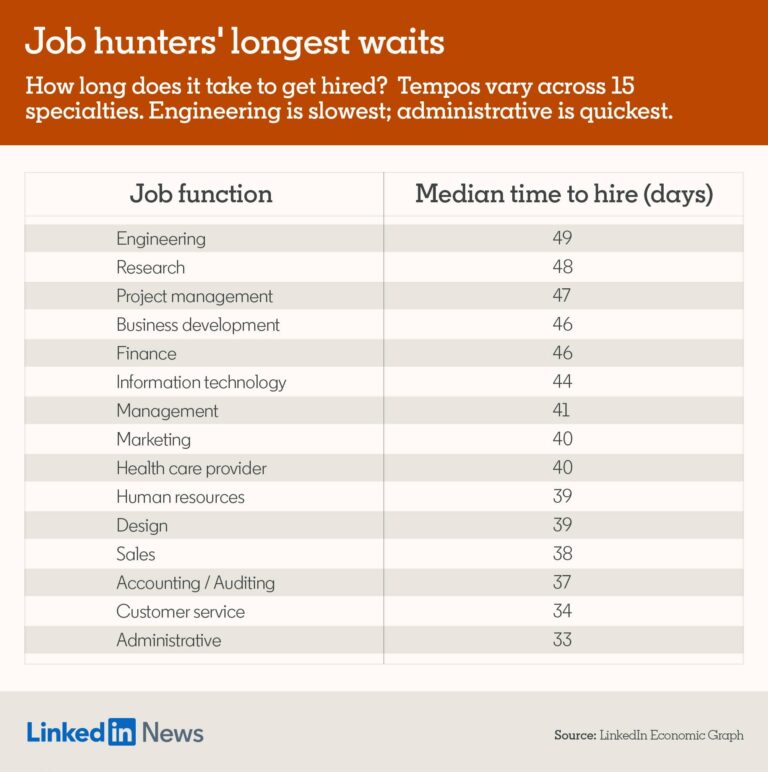 Optimism's new outpost: industries that run on diesel instead of data | LinkedIn
"Caterpillar has more than 1,000 openings world-wide, ranging from painters to payroll specialists." See which industries are hiring according to LinkedIn's Workforce Confidence Index.
The People Who'd Rather Quit Than Give Up Remote Work | Slate
Alison Green shares responses from workers about how they feel about returning to the office. She notes:
"And after going through the past year—in which many people were asked to bring their work into their homes overnight and managed to keep things running smoothly even while juggling child care, remote learning, and huge amounts of stress—a lot of people just look at their relationship to their employer very differently"
CAREER
Achieve Success In Your Career Through Learning New Skills | Morgan Jones
How do you find the time and energy to upskill? This article provides ideas.
How To Figure Out What To Do In Your Career – 10 Exercises And Prompts To Get Started | Caroline Ceniza-Levine
Try one or more of these exercises to help you find career clarity! 100 dreams is one of her clients' favorites.
JOB SEARCH
How to Land a Great Job During the Post COVID-19 Pandemic Boom | Chameleon Resumes
"The basis of finding a great job in this post COVID-19 pandemic boom is that you actively look for, go after, and accept the job with the majority of terms reflecting your wants and needs." Rangel lays out how to do this!
LINKEDIN
Increase Your Visibility to Recruiters by Following Companies on LinkedIn | Avid Careerist
Following companies on LinkedIn is a good thing. But it also has dangers. Understand what happens when you follow a company on LinkedIn.
13 LinkedIn pros talk about creating a powerful LinkedIn Experience section | Things Career Related
The previous installment of the three most notable LinkedIn profile sections addressed the About section. This installment looks at what some, particularly recruiters, consider to be the most important section, Experience. If some of you protest Experience being the most important, don't worry. The next installment will look at the Headline.
NEVER JOB SEARCH ALONE
Being unemployed is lonely. You miss your routine, your colleagues and your sense of purpose. It's also difficult to hold yourself accountable after facing rejection after rejection.
Well, there's a solution. Motivation Monday Job Search Accountability Group.
It starts August 23rd.
It's 5 weeks of facilitated conversations with a small group of like-minded job seekers. You will report weekly on your successes, your goals and ask the group for feedback on a topic/issue you need help with.

Hannah Morgan speaks and writes about job search and career strategies. She founded CareerSherpa.net to educate professionals on how to maneuver through today's job search process. Hannah was nominated as a LinkedIn Top Voice in Job Search and Careers and is a regular contributor to US News & World Report. She has been quoted by media outlets, including Forbes, USA Today, Money Magazine, Huffington Post, as well as many other publications. She is also author of The Infographic Resume and co-author of Social Networking for Business Success.