A side hustle is one way to increase the amount of money you bring in each month. But it could be end up being more than just extra cash.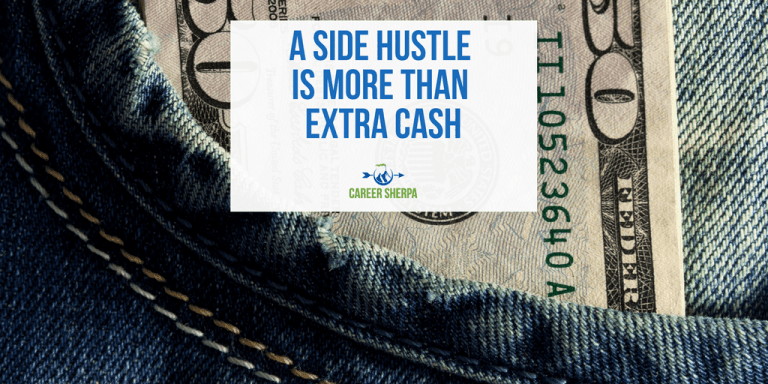 Who Has Side Gigs?
Over 44 million people say they have a side hustle, according to Bankrate's study. Here are some more stats you might be interested in:
28% of millennials, ages 18-26, were most likely to hold side jobs.
Every week, 61% of younger millennials say they earn extra money on the side, and 96% of them say they work a side hustle at least monthly.
Side hustlers make an average of $200 a month and while you won't be able to quit your day job, the extra cash can come in handy.
But there's another reason to line up a side hustle.
Save Extra Money
Common wisdom and financial gurus recommend you have between three and six month's worth of expenses in your savings account to help survive an emergency like a layoff or downsizing.
Few Millenials are able to accumulate that type of savings on an entry-level salary. Diligently depositing income from a side hustle into savings is one way to build up savings. Unfortunately, Bankrate found that less than half the side hustlers saved the money earned.
Income and Job Security
There is another benefit to a side hustle. If needed, it can easily be converted into a part of your portfolio career. This offers a form of job security or at least reduces the anxiety about losing a job and not having enough money to survive.
If you're looking for ideas for a side hustle that require little to no investment, below are some opportunities to turn your passion into income, or at least allow you to use what you have to earn a buck.
Start With What You Know and Like
If you are wondering where to start looking for your side hustle, it's best to start with what you know how to do and what you enjoy doing. This will make it easier for you to dedicate some of your free time.
To get more ideas on the types of freelance jobs people are hiring for, investigate freelance jobs posted on job boards like upwork, LinkedIn's ProFinder, a professional services marketplace. And for more sources of freelance job boards check out Think Like A Free Agent.
Freelance Writing
If you have strong writing skills, look for freelance writing opportunities. Search for freelance writing or content writing job sites.
Some job listing sites may require a small monthly fee to join. Carefully read the reviews and research the sites reputation. And watch out for scams that ask you to pay money for training or ask for you to write without a contract.
Another way to find freelance writing gigs is to talk to friends and family members who run small businesses and see if they need help writing newsletters or blog posts.
Graphic Design
There are lots of opportunities to use your graphic design skills. You can apply to offer your services using LinkedIn's ProFinder. It will help potential clients make a decision if they can see your work so it's a good idea to create an online portfolio with samples.
From designing logos to creating company brochures, you'll find many types of freelance graphic design jobs on sites dedicated to creative services like 99designs.com or Behance.net.
Take Advantage of the Sharing Economy
Wouldn't it be great to make money by renting something you already have? Do you have a car that's costing a bundle just sitting in a garage (check Turo) or what about that bike that's taking up space in your hallway (check Spinster)? Rent them through sites that can make the match and collect money.
If you enjoy meeting new people and want to use your car to make money, check out becoming a driver for Lyft or Uber.
If you travel a lot for work or are planning a vacation, maybe listing your apartment on Airbnb is a way to bring in some extra money.
Or you could shop for groceries (think Instacart) or deliver meals (think Grubhub).
Maybe you are handy and can do odd jobs (check out Takl)
The sharing economy and technology have made it pretty simple to pair your goods and services with those who need them.
Sell Your Stuff
If you have unused items, why not sell them on Craigslist or one of the many other sites designed for selling goods? This is a relatively easy way to kill a couple of birds with one stone. You'll clear your clutter and make some cash.
Another way to make money is to sell your photographs, unusual crafts or other handmade items. You can participate as a vendor at local festivals, farmer's markets or use an Etsy site to sell your goods.
Offer a Service Everyone Needs
Dogs need walking. Kids need watching. Busy families need meals prepared. There's no shortage of opportunities to provide a service people need. Begin spreading the word and try creating a Facebook business page your friends can easily share and help you promote your offering.
Sell Your Knowledge
Another way to make money is by using skills you have mastered. If you speak more than one language or are a math whiz, why not tutor others? You can tutor anyone, anytime using video calling like Zoom or Skype. Promote your services at schools and colleges to reach students who need extra help.
The Takeaway
A side hustle isn't just a way to earn extra spending money. It's an opportunity to build your savings and have income insurance in case of an unexpected job loss. Take advantage of the numerous opportunities to pad your savings or pay off your student debt.

Hannah Morgan speaks and writes about job search and career strategies. She founded CareerSherpa.net to educate professionals on how to maneuver through today's job search process. Hannah was nominated as a LinkedIn Top Voice in Job Search and Careers and is a regular contributor to US News & World Report. She has been quoted by media outlets, including Forbes, USA Today, Money Magazine, Huffington Post, as well as many other publications. She is also author of The Infographic Resume and co-author of Social Networking for Business Success.