Portfolio careers offer income and job security. So what is a portfolio career and how do you get one?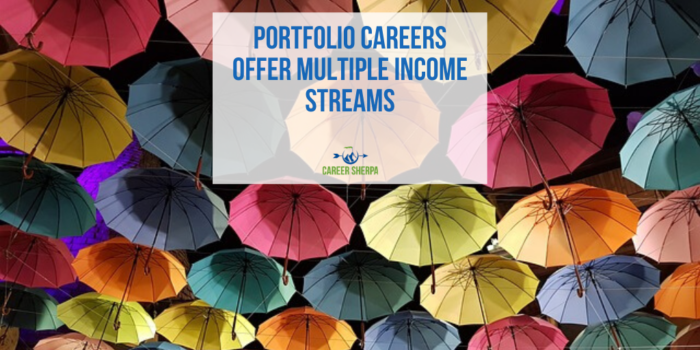 Defining Portfolio Careers
A portfolio career is defined in this article as:
Portfolio careers are usually built around a collection of skills and interests, though the only consistent theme is one of career self-management. With a portfolio career you no longer have one job, one employer, but multiple jobs and employers within one or more professions.
"…a portfolio career, in which instead of working a traditional full-time job, you work multiple part-time jobs (including part-time employment, temporary jobs, freelancing, and self-employment) with different employers that when combined are the equivalent of a full-time position. "
The portfolio career concept isn't new. It's been going on for a while over in England and parts of Europe and caught attention in the US during the Great Recession of 2010.
Out of necessity, people turned to side jobs and gigs to help make ends meet when jobs were scarce and pay was low. It's still a good option for extra cash and income security.
Benefits Of Portfolio Careers
Portfolio careers offer more flexibility, variety, and freedom. In other words, you can turn them off or on as needed and do the type of work you really enjoy. Furthermore, side gigs and a portfolio career can fill gaps during unemployment, they build new skills, expose you to new ideas and work styles, and introduce you to new people.
The portfolio career concept isn't new. It's been going on for a while over in England and parts of Europe and caught attention in the US during the Great Recession of 2010.
When you need a little extra cash to make ends meet
The Downside of Portfolio Careers
There are drawbacks. Managing your portfolio of jobs requires organizational skills, some marketing and sales skills as well as risk tolerance.
You also don't want to flaunt your side gigs in front of your employer or co-workers. It's best to keep your outside work separate.
Who Should Start A Portfolio Career?
Who are good candidates for a portfolio career? Almost anyone.
All you need to do is determine what type of side-gig is suited for you.
These people tend to gravitate towards the concept more easily:
Retirees
Returning to the workforce moms or dads
Consultants (they already have the independent mindset)
Those tired of corporate life
It all starts by defining what you love doing. Then brainstorm to come up with a way to bring this into a market. Then implement/sell it.
The advantages are many:
Being in control of your life
Ensuring streams of income, when one assignment ends, you'll always have others
Flexibility in schedule or work-life balance
When you look around at the devastation caused by layoffs- financially and emotionally, it kind of makes sense to diversify…

Hannah Morgan is one of this year's LinkedIn Top Voice in Job Search and Careers and a nationally recognized author and speaker on job search strategies.  She founded CareerSherpa.net to combine her career expertise with her love of writing, speaking and social media. Her mission is to educate professionals on how to maneuver through today's job search process.  Hannah is a regular contributor to US News & World Report. She has been quoted by media outlets, including Forbes, USA Today, Money Magazine, Huffington Post, MarketWatch, LifeHacker, The Muse, Business Insider, SmartBrief, Payscale as well as many other publications. She is also author of The Infographic Resume and co-author of Social Networking for Business Success.