What are you doing to protect your privacy and reputation on social media? See where you rank in comparison to social media users and what you can do to improve your reputation and enhance your privacy.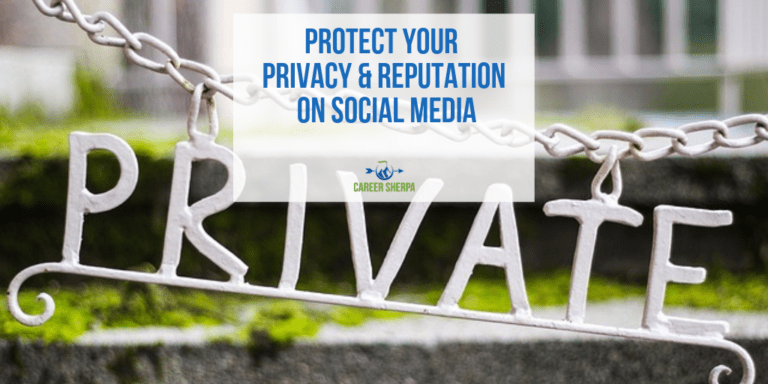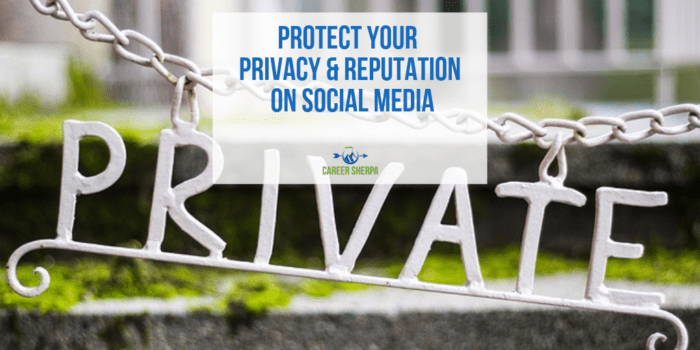 What steps or precautions do you take to ensure your social media profiles reflect the best information about you?
Whether you are actively or passively job hunting, your reputation on social media is being assessed. So, in order to gain attention and stand out (for the right reasons), carefully consider what you share on social media.
Let's look JDP's findings from "How Job Seekers Curate Their Social Presence." By the way, JDP provides employee background screenings and their study surveyed 2,007 US workers in July 2019.
As you look at the findings, I hope you will be thinking of new ways highlight your positive attributes and successes where ever you are active on social media.
Social Media Is Used By Employers & Recruiters
The survey reports that 84% of users believe social media regularly impacts hiring decisions. They are correct.
In fact, in 2018, a CareerBuilder report found that 70% of recruiters use social media to evaluate candidates. And of those recruiters, 57% found content that caused them not to hire candidates.
You're not alone if you think this is an invasion of your privacy. 50% of the JPN respondents also said they didn't think employers should be able to look at candidates' social media.
However, the reality is, your information is out there. So you have several choices.
Clean it up
Use social media to your advantage
Lock it down
But here's the rub. 47% of HR/recruiters say that if they can't find a job candidate online, they are less likely to call that person in for an interview, according to that CareerBuilder study.
Privacy Settings ON
43% enable privacy settings to keep material hidden from current employers and future social media screenings.
TIP: The majority of social media users do not adjust their privacy settings. Become familiar with settings, be very aware of what you share and know who is in your network.
Google Yourself
46% searched for their names in Google, Bing or some other search engine which resulted in their hiding incriminating social media posts.
TIP: Recruiters/HR will search for your name too, so take proactive steps to clean up what they'll find, especially on page 1 of search results. For more help, check out Job Seeker: Get On Page One
Actions Taken For Privacy
In order to keep your private life private what do you do? Here are several steps the study points out:
50% removed old profiles or posts to protect professional reputation

And 66% were more likely to do so on Facebook

1 out of 3 refuse to connect with co-workers on social media
Social Media Platforms Considered Private
When asked which social media platforms users thought should be off-limits to employers (aka private) this shows that Facebook is in top place.
Facebook – 45%
Twitter – 35%
Reddit – 33%
Instagram – 28%
Personal website – 27%
YouTube – 16%
LinkedIn – 9%
And as a result, some found a work-around. 27% created an alias Facebook profile.
Self Promotion
Social media platforms help get the word out about you. And little self-promotion never hurt.
25% actively present themselves to attract employers by liking, posting, or following industry-relevant material
And which social media platforms do they choose to self-promote/engage on?
LinkedIn – 32%
Facebook – 26%
Twitter – 19%
Instagram – 16%
YouTube – 6%
TIP: If you haven't thought about engaging with industry profiles/material or target company updates, this would be an easy way to stand out since so few users take this approach.
INFOGRAPHIC – How Job Seekers Curate Their Social Presence
Here's the infographic recreated to summarize JPN's study.

Hannah Morgan speaks and writes about job search and career strategies. She founded CareerSherpa.net to educate professionals on how to maneuver through today's job search process. Hannah was nominated as a LinkedIn Top Voice in Job Search and Careers and is a regular contributor to US News & World Report. She has been quoted by media outlets, including Forbes, USA Today, Money Magazine, Huffington Post, as well as many other publications. She is also author of The Infographic Resume and co-author of Social Networking for Business Success.