As crazy as this may sound (and feel), it is really important to practice your interview answers out loud.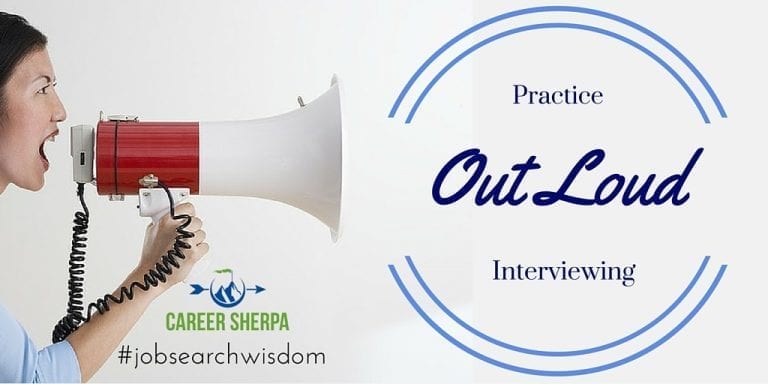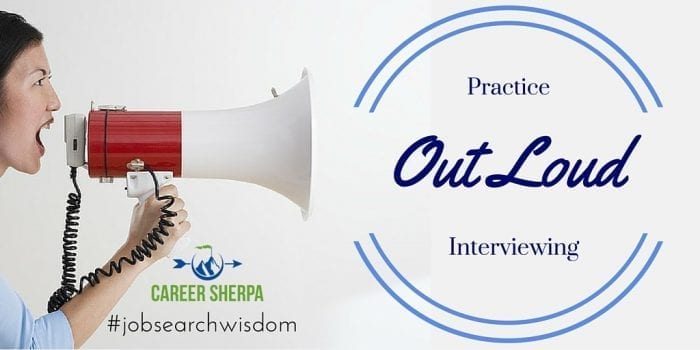 You may have spent hours rehearsing the answers in your head but when you go to open your mouth, seldom does the answer come out sounding like it did when you were practicing.
Whether it is in front of the mirror, in a networking group, recording it on your iPhone or on a call with your cousin Isabelle in Massachusetts – just do it.
3 Steps To Learning Your Lines
I had an actor in one of my classes who told us about the 3 steps actors use to rehearse lines:
Memorize
Internalize
Personalize
You don't want to sound robotic, you want your answers to sound like you own them.  That's one of the keys.
I also have heard people tell me that they don't need to memorize their answer, that they are better winging it.  As you can imagine, they are not as good as they think.
Each time you practice out loud you will feel better about your answer.  It becomes more concise, more focused and crisper!
Do Your Prep Work Before You Interview
Develop accomplishment stories that specifically apply to that job and company you'll be interviewing for. In other words, carefully review the job posting and develop an example of a time you did what the job posting is asking for.  This way, you'll be sure to have relevant examples to back up your qualifications.  You are less likely to be caught off guard or surprised by questions if you can anticipate what the company will ask. You'll have a collection of examples to use when you anticipate what's important to the interviewer.
Research the company and person you will be interviewing for.  It will give you a level of comfort entering into the conversation.  By research, I don't mean a brief and last minute google search.  Certainly, that is part of it.  Dig deep.  Definitely use LinkedIn and find people you know who work there and talk with them before the interview to get the inside scoop.
This type of preparation will take a bit of time so don't wait until the day before the interview to start gathering this information.
Practicing your answers out loud also takes time. As with anything, the more you practice the better you get!

Hannah Morgan speaks and writes about job search and career strategies. She founded CareerSherpa.net to educate professionals on how to maneuver through today's job search process. Hannah was nominated as a LinkedIn Top Voice in Job Search and Careers and is a regular contributor to US News & World Report. She has been quoted by media outlets, including Forbes, USA Today, Money Magazine, Huffington Post, as well as many other publications. She is also author of The Infographic Resume and co-author of Social Networking for Business Success.