Networking goes by many different names. Some call it connecting, chatting, sharing, learning, or meeting. Whatever you call it, networking is simply about building relationships and sharing information. Period.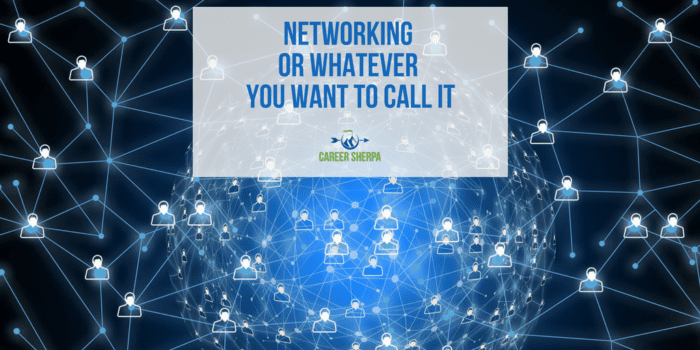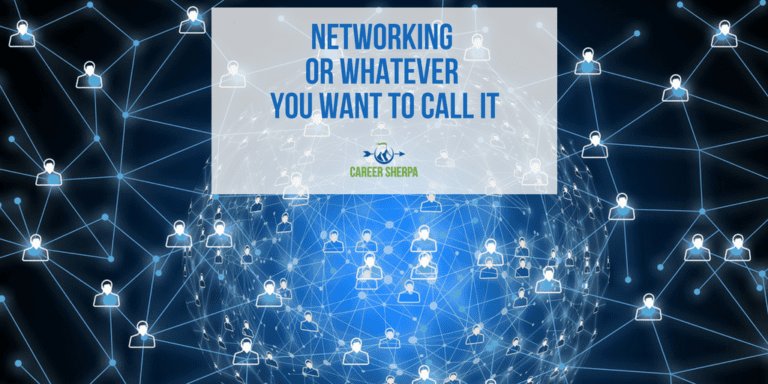 Every time you talk with someone, there is an element of networking involved.  Sometimes you see and feel the connection, other times you may feel like there wasn't any connection at all. One reason job seekers get frustrated (and give up) is that it is difficult to see where these conversations and new relationships will lead. The end result of your conversations isn't always evident. You can't predict who will be able to introduce you to new people or opportunities. So, for people who are looking for tangible results, applying to jobs online checks the box and networking doesn't.
These meetings aren't just about landing a job lead.  You also talk with people for a variety of personal and professional reasons as well.  I think networking needs a new name!
Networking requires you step outside of your comfort zone, and sometimes you just have to do it! Here is some advice to make it less awkward.
Learn about the other person!
Make networking "other-centric".  In other words, focus your conversation on learning about the person you are speaking with. Here are some questions you can ask to keep the conversation going  Hate Making Small Talk?  Just Ask Questions
Have a plan and start today!
Before you do anything, develop a plan to network strategically and purposefully. This also helps you see how to structure your time and effort. Read more about this here:  Start with a plan to grow your network
Break the rules (a bit)
When applying for jobs, studies say that referrals are the number one way new employees are found and hired.  So how can you find company insiders? LinkedIn is the obvious answer. Learn how to  Find the Back Door for a Job Posting Using LinkedIn
Networking Success
You can downplay the importance of networking or even ignore it, but the facts are the facts. The majority of job seekers report that they secured their last job due in part, if not fully, because of networking! This is a post compiling feedback from job seeker about their job search. Famous Last Words of Job Seekers