Ah, another Monday has arrived! What's on your agenda this week? Time to rise and shine and get your job search moving!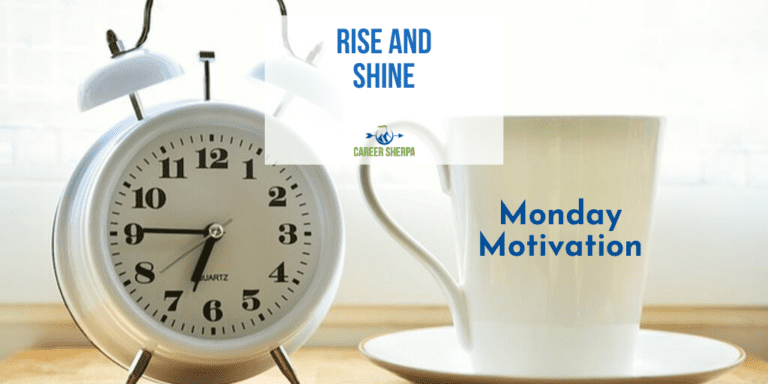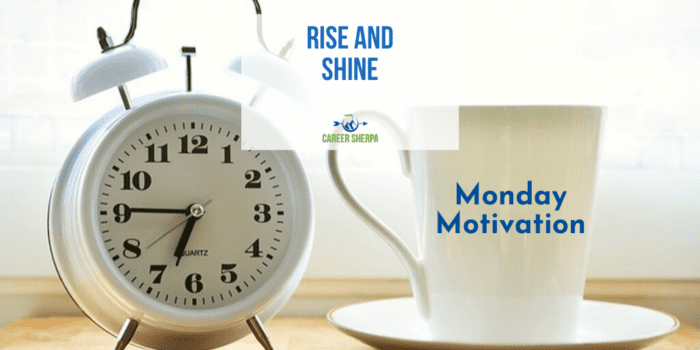 Rise to the Occasion of A New Week
What I really mean by this is to create opportunities for yourself! Stop waiting for good things to happen. Make them happen.
More money won't automatically appear in your checking account.
You won't get promoted unless someone knows what you can do and you aren't going to land that job if you haven't had interviews.
So make things happen and get your job search moving.
Take Small Steps
What will make you feel like you've made progress this week? What small steps will lead you to accomplish this?
If you want a job, you need to either have had a lot of interviews or arranged conversations with people who could hire you.
Stop The Financial Bleeding
If you want more money, what are your options? How can you earn it? All of these ideas would require short term steps. Research, planning, small first steps to implement need to go on a timeline.
Yes, it sounds like a lot of work, because it is! You need to plan and prepare for each step.
Block Chunks of Time
Rather than panic or obsess, allocate specific amounts of time to accomplish the small steps.
Spending all day researching one specific company isn't going to get you any closer to your goal.
Instead, spend 30 minutes (or so) researching the company and 10 minutes (or so) finding people you know inside the company and another 10 minutes (or so) crafting a clever message to the people you know.
Here's more advice on structuring your time.
Become Efficient
Implement templates and processes to minimize the time you spend on redundant tasks.
For example, you know you will have to write many emails asking for an introduction. Create a template but be sure to customize it for each and every person you send it to.
Know that each time you apply for a job, you should add a follow-up date (about one week). This keeps the job on your radar. You should schedule follow-up for networking contacts too.
So rise and shine and plan your job search activities.

Hannah Morgan speaks and writes about job search and career strategies. She founded CareerSherpa.net to educate professionals on how to maneuver through today's job search process. Hannah was nominated as a LinkedIn Top Voice in Job Search and Careers and is a regular contributor to US News & World Report. She has been quoted by media outlets, including Forbes, USA Today, Money Magazine, Huffington Post, as well as many other publications. She is also author of The Infographic Resume and co-author of Social Networking for Business Success.