Is feeling overwhelmed the new normal? It doesn't have to be. See what you can do to reprioritize your job search schedule and find a little balance.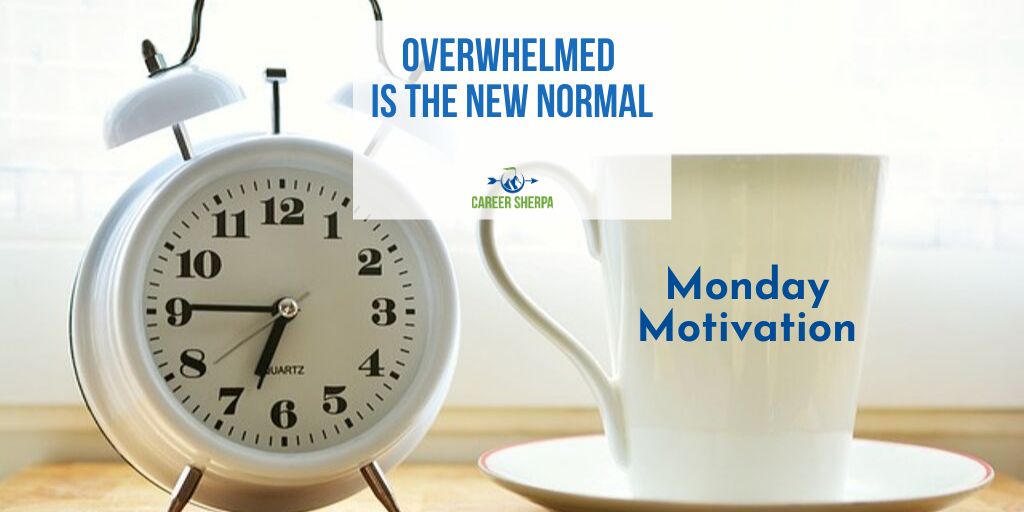 Dealing With The New State of Chaos
Working from home, children in online classes, meal prep, work outs. There's just a lot going on in the house these days (of COVID).
While not everyone is guilty of succumbing to the daily state of chaos, some of us are. I have a huge amount of respect and admiration for those who are great planners. They minimize emergencies by getting things done ahead of time. I, on the other hand, am one of the greatest procrastinators ever!
So as this week begins, I think again and again about planning, mapping, setting and doing today what I know I should not put off until tomorrow.
Too Much To Do…Too Little Time
For some job seekers, part of this feeling of overwhelm comes from over-committing.
Are you one of those who feel like you can do more than you actually can OR do you underestimate how long it takes to get certain things done? There are always unanticipated snags, delays and other holdups that slow us down.
If you always feel like you are running out of time, then don't overcommit or over-schedule yourself.
Being Helpful
I know job seekers who will drop everything they are doing to help people out. That could mean transporting someone somewhere out of the way, taking an elderly relative out to lunch, or volunteering to help someone move.
Don't get me wrong, helping is wonderful. Except when you do it to procrastinate or when it interferes with what YOU need to do.
Map Your Plan
First, if you haven't already, know when your unemployment runs out or your savings will run out. This is the date you will implement your Plan B if you don't have a new job. Learn more about establishing your Plan B here.
Next, realize that it will take longer than you want to secure a new job. So work your job search – no less than 20 hours a week and no more than 35 hours a week. Here's how to structure your week.
Finally, take care of yourself physically and emotionally. Discover ways to eliminate pandemic job search stress.
Feeling overwhelmed is the new normal, but it doesn't have to get in the way of your finding a new job.

Hannah Morgan speaks and writes about job search and career strategies. She founded CareerSherpa.net to educate professionals on how to maneuver through today's job search process. Hannah was nominated as a LinkedIn Top Voice in Job Search and Careers and is a regular contributor to US News & World Report. She has been quoted by media outlets, including Forbes, USA Today, Money Magazine, Huffington Post, as well as many other publications. She is also author of The Infographic Resume and co-author of Social Networking for Business Success.