One question I hear more than any other by job seekers is "how do I stay motivated?" The answer to finding motivation is in your head.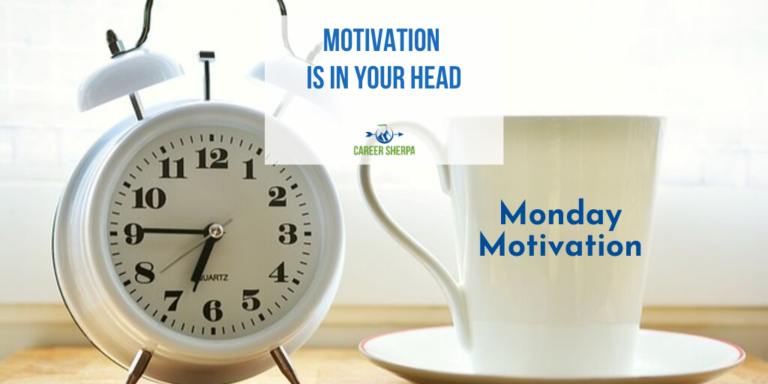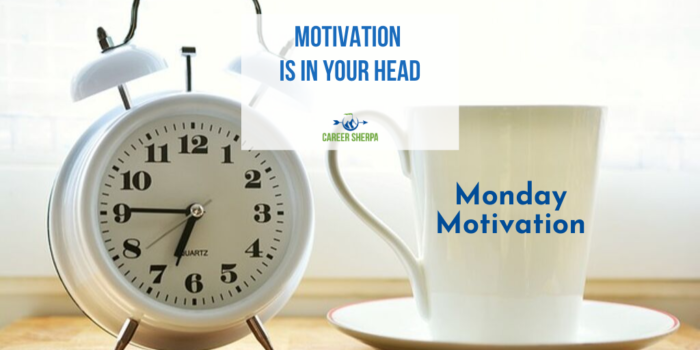 The answer to finding motivation is as unique as the individual asking for it, but this post gathers some data and ideas to help you unlock the keys to finding motivation during a job search.
Turn New Ideas into Action
Are you full of good ideas that you fail to act on or implement? Do you avoid trying something new or different? Well, it isn't all your fault. It is the way your brain functions.
Dr. Ellen Weber developed the MITA method (MITA™ is a brain-based approach to foster innovative leading and learning).
Dr. Weber describes why some ideas stick and others don't in her post A Brain on Persistence. It seems that the part of your brain that collects new ideas has limited storage capacity. That is why so many innovative ideas are left on the cutting room floor. But never fear, Dr. Weber outlines these steps to help follow through on good ideas. Persistence!
Weber says:
Persistence comes from five principles that factor in the brain's staying power. These include:
targeting expected outcomes
critical first days
outsourcing detailed steps
tackling barriers
encouraging yourself and others
Writing the details down, sharing your ideas with others, identifying and eliminating barriers, and even spelling out the specific outcome of the idea will help you turn it into a reality!
Persistence In Your Job Search
Think about how this translates to your job search.
Your working brain receives new ideas during networking events, seminars and conversations. But it can't hold on to all this information. You need to convert it over to the other side of your brain that will make it more habit-like. Following Dr. Weber's advice, here is how you can do this.
1. Write down the specific outcomes or results you expect from the new idea.
For instance, if someone suggests networking with Harry Hiring Manager, write down what you expect the outcome to be. (No, not a job.) The immediate outcome is acquiring the meeting by a certain date. Based on that meeting you may or may not decide you would want to work there.
2. Capture the details.
How does the person referring you know Harry Hiring Manager? Why do they think you should speak with them? What do they know about their work schedule, personal life, volunteer or membership affiliations?
3. Define the steps and assign timeline
Creating a detailed outline of what your contact steps will look like and post it to your wall! For example, your outline might look like this:
Jan. 23: call and introduce reason for requesting a meeting within first 2 weeks of February
If no response follow up on Jan. 27 via email.
Jan. 30: Contact referral source to thank them and let them know the outcome
4. Articulate and tackle Barriers
What are some of the known excuses Harry Hiring Manager may give for not wanting to meet with you?
Too busy
No jobs
Not the right person
No response
These don't mean they won't help, so don't take no for an answer.
5. Make it fun!
If it becomes drudgery or too stressful, you are not likely to stick with it.
Here are 5 more ideas to help you get motivated:
1.  Make a dream board / Vision board add all the things you want in your life and put in a place you will see it every day. Get ideas here.
2.  Sign up for a support group/master mind group with like-minded people who share your passion. See one here.
3. Start your day with a great motivational book. Read one or two pages every morning or until feel motivated and ready to rock it.
4. Have someone in your life that will help keep you accountable, this could be a mentor, a life coach or a business colleague.
5. Find a motivational blog or forum where you can read that day's motivational post.
You can train your brain to be more positive. Just look for the good in each day!

Hannah Morgan speaks and writes about job search and career strategies. She founded CareerSherpa.net to educate professionals on how to maneuver through today's job search process. Hannah was nominated as a LinkedIn Top Voice in Job Search and Careers and is a regular contributor to US News & World Report. She has been quoted by media outlets, including Forbes, USA Today, Money Magazine, Huffington Post, as well as many other publications. She is also author of The Infographic Resume and co-author of Social Networking for Business Success.