If you're aiming for a marketing role in today's competitive landscape, you need to be ready to answer the common interview questions. On the surface, many of these questions may appear simple, but don't be fooled – they often contain nuances that can catch you off guard!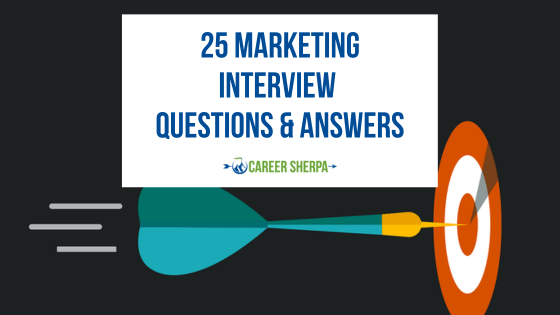 This comprehensive list of marketing interview questions will make the preparation process easy, so you can answer with confidence and make a great impression.
1. What interests you about a career in marketing?
Here's a common icebreaker that hiring managers use to learn more about you. It's considered one of the easier marketing interview questions to answer, but there are still plenty of ways to get it wrong.
When answering, your goal should be to provide a response focusing on deciding factors outside money. You can discuss your history with marketing, the impact it had on you when you were young, and what you hope to accomplish in the future.
Good topics to talk about include the creativity involved in your work, how your job is different every day, the unique psychological aspects of marketing, and more.
2. What's your favorite marketing campaign? What did you like about it?
We're surrounded by marketing everywhere we go, but some campaigns resonate more than others. With this question, interviewers are asking to hear about what campaigns stuck with you over the years. They want to learn about the types of campaigns that have caught your attention.
This question aims to gain more insight into what inspires your work. What marketing campaigns catch your eye says a lot about what you bring to the table and how you work.
Think about an impactful campaign and why you love it. Detail your reasoning and get specific.
3. Why are you interested in this position?
Employers want to hire people who are enthusiastic and passionate about their work. More specifically, they prefer to onboard candidates who are there for more than a paycheck.
What is it about this specific position that interests you?
Before your interview, research the company to learn as much as possible. Explore their current and past marketing campaigns and understand why you felt compelled to apply.
This interview question for marketing positions is a great opportunity to gush about the company. You can bring up some of its previous campaigns that inspired you, the company's work culture, mission, etc. Show that you understand this job and want to work for the company.
4. Where do you see your career going in the next five years?
Many interviewers will ask a version of this question, regardless of the position.
But why?
Ultimately, it's a way for hiring decision-makers to learn more about your long-term potential with the company. The job market is changing, but employers don't like to bring people in who will be gone within a year or two.
Hiring new employees is an investment, and they want people who are there for the long haul.
Avoid saying you want nothing more than to stay in the same position. That could be taken as a lack of drive and initiative. Instead, you can mention how you hope to take on more challenging projects as you continue to hone your marketing skills.
5. How do you stay current on the latest marketing tactics and trends?
Marketing is a dynamic field. Techniques and strategies change all the time, and trends will shape the entire industry. If you're not keeping up, you'll fall behind.
Interviewers use this question to learn more about what you do to stay current on what's going on in the industry. Companies want innovators who keep a pulse on changes.
The best way to answer this marketing interview question is to provide examples of how you keep pushing your professional knowledge. For most people in marketing, that includes reading industry publications or joining associations relevant to the field.
6. What do you know about our company's target market?
Here's a unique question that may catch you off guard. While you don't work for the company… yet, hiring managers expect you to do your homework. This question tests your preparation and interest in the job before you even get it!
They want you to talk about the company's target demographic and who you'd ultimately work to attract with your work.
Before your interview, research the organization. Take a look at its existing campaigns and learn about the segment they target most.
If you have experience working with a similar target for a past company, talk about it. Discuss what you know to show that you're ready for whatever challenge comes your way in the role.
This seemingly irrelevant question holds more weight than most realize. Many brush it off, assuming it's nothing more than an icebreaker. While interviewers might use it that way, your response also highlights many details about your potential.
The question tests your communication skills while learning more about your work-life balance. Marketing can be stressful, and employers want to know you have a life outside of work.
It's also a good opportunity for you to connect your outside interests to marketing whenever possible.
More importantly, they want to get a taste of how you communicate. It's a conversational question and an opportunity to show off your personality.
8. Tell me about the responsibilities you have at your current job.
Employers genuinely want to know what you do at your current job. This isn't a trick question! They want to learn about what you do now to see what you can contribute if given the role.
There's no single right or wrong answer. However, you should never stretch the truth. Exaggerating or outright lying is the wrong approach because hiring managers can easily verify the details you provide.
Be honest and use your current responsibilities to explain why you're ready for the role you're interviewing for.
9. Give me some feedback on a recent marketing campaign we've done.
Here's another example of why you must research the company before your interview! This is an interview question for marketing positions that easily trips up candidates. Contrary to how it sounds, it's not a request to gush about how well the company is doing.
You can certainly talk about what you like. However, the most important thing here is showing what value you add to the team. What would you do differently or contribute to the campaign to make it better?
Familiarize yourself with the company's most recent campaign. The interviewer may provide you with visual aids to see it during the meeting, but you want to have a great response ready.
Focus on what you like and what you would change. Walk the fine line between complimenting and providing constructive feedback.
10. Tell me about a challenge you had to overcome.
This question is about problem-solving.
Marketing is a unique field full of hurdles to overcome. Your job is to figure out how to attract more customers and resonate with the target audience.
Reflect on challenges you've faced at previous jobs. Keep it relevant to your industry. Tell a story of how you overcame those obstacles and tie everything back to how you'd use what you learned to succeed in the new position.
Every company has a distinct work environment, and employers want to know that you'll fit in. Some organizations thrive on teamwork, collaboration, and an open office full of life. Others maintain separate offices and quiet work.
Once again, researching the company matters. You can learn about a company's work culture by visiting its corporate site or connecting with current employees through LinkedIn.
See what environment the company offers and ensure it's a good fit. If it is, talk about why.
The most important thing to add is that you're flexible. Reassure the hiring manager that you can succeed in any environment and are adaptable enough to handle any work style.
12. Share what tools you frequently use to run successful marketing campaigns.
It doesn't matter what position you're trying to land. In marketing, there are several tools you can utilize to improve productivity and success. With this question, interviewers want to learn what tools you're familiar with most.
You can mention software titles and tools you used in previous jobs. However, the main thing you should emphasize is that you're proficient in the technology marketers use. There's a good chance that you'll have to learn new tools in this position, and focusing in on your adaptability can leave a positive impression.
13. Why do you want to leave your current role?
There's considerable value in learning why you're seeking new employment. It sheds light on what you value in a job and what job satisfaction looks like to you. It helps interviewers understand what keeps you engaged and what might trigger you to leave in the future.
Honesty is the best policy. However, you should avoid bad-mouthing any of your colleagues, managers, or work that you did. Keep it professional and focus on the job itself.
A common reason to seek new employment is career development. You can mention that you outgrew your old position and are looking for a new challenge.
14. What management style do you prefer?
Here's another marketing job interview question that revolves around your fit with the company.
Like work environments, businesses can employ various management styles. Some are more authoritative, while others are relaxed and allow you to work at your own pace.
Research the company to learn more about the management styles its leaders use. Like the question about preferred work environments, the best approach is to emphasize adaptability.
15. What sets you apart from other candidates?
Another way to phrase this question is "What makes you unique," or "What are your strongest skills."
The question forces you to examine your capabilities and identify what you bring to the table. It's about self-reflection while selling yourself to the interview.
Solid answers to this question typically detail your strongest assets. Discuss a mix of hard and soft skills you possess to show interviewers that you're a valuable candidate.
16. Share a professional accomplishment that you're proud of.
Here's another value-based interview question for marketing positions. It's an opportunity to do some self-bragging while showing that you have much to offer the employer. Your goal is to impress!
If you have any professional accomplishments, talk about them. You can also mention any awards earned by campaigns you contributed to.
If you don't have professional awards, you can discuss workplace achievements you're proud of. For example, taking the helm on a successful project is a major milestone. The same goes for successfully tackling new marketing channels.
When answering this question, format your answer using the STAR interview method to ensure it's concise and includes the results of your work.
17. Tell me a little about yourself.
Many interviewers will use this question as an icebreaker. It may even be the first question you answer.
So what are interviewers looking to learn? This question analyzes your communication skills. It also shows your confidence while shedding light on your goals and priorities. And most importantly, it summarizes your key qualifications for the job. Check out this article to see templates to help you answer this popular interview question.
The best way to answer is to keep things professional. You can mention some things you like to do outside of work, but try to link it back to the job.
18. Share a time when a campaign failed or underperformed. What did you learn?
Not every campaign will be a home run. Some fail to resonate with the target audience.
The best way to respond to a question like this is to be honest. Don't lie and say that you've never failed. Not only is that unrealistic, but it's a red flag that will make interviewers concerned about your honesty.
The best answers are those that address the lessons learned. Focus on how that experience changed your approach and what you started doing differently to ensure that it never happened again.
19. What are your strengths?
Here's another question that requires you to look inward and brag about yourself!
The point of this question is to provide information about your value. You want to talk about your unique strengths and how they benefit your work.
Focus on a few hard and soft skills. Explain why you believe they're your strongest assets and how they made a difference in your career.
20. What are your weaknesses?
You'll often hear this question directly after the one about your strengths.
The best approach is to strike a middle ground. You don't want to lie, but you don't want to bring up dealbreakers! Avoid anything that the interviewer could see as a red flag.
When you talk about your weaknesses, focus on what you're doing to improve them. For example, you could say you struggle with a specific marketing tool. But to combat that weakness, you're actively taking classes to learn how to use it to its full potential.
21. Share three skills you think all marketers should have if they want to be successful.
This marketing interview question serves multiple purposes. First, it's another chance to highlight your unique skills. However, it also highlights what you value in your work and how you approach success.
There are many skills you can mention. Some of the best are storytelling, communication, and proficiency in data analysis.
22. Tell me about a successful marketing campaign you were part of and what your responsibilities were.
Hiring managers want to hear more than just your failures! This question is similar to the one about a failed campaign. However, it focuses on your biggest successes.
With this question, interviewers want to learn about how you plan, execute, and evaluate a campaign. They want to hear about your contributions and what you did to make it successful.
Choose a campaign that you actively participated in. Projects you played a big part in are the best ones to discuss. Detail what you did, the levels of success it achieved, and what you learned from the experience to apply to future campaigns.
23. What's your approach to managing a product launch?
Product launches are stressful and complex. However, they're critical to an organization's success. Marketing plays a major role during product launches, and interviewers want to hear about your techniques to make them successful.
There are countless ways to answer this question. If you have personal experience with product launches, you can bring them up. Having hard proof of your work is always a great way to leave a positive impact.
Alternatively, you can consider current market trends and envision what you'd do during a launch. For example, releasing teasers leading up to the launch day and taking full advantage of social media are all good approaches.
Many interviewers will ask roundabout ways to understand your motivations. But sometimes, they just come out and ask you directly.
Interviewers want to learn about your motivations because it helps them gauge how you'd fit with the company. They want to see if your motivations and preferences align with the organization.
Draw on your research to guide your answer. You can also pull from things you learned during your interview. Understanding how this company operates allows you to develop a response that sticks.
Always tie your answer to the job.
25. How do you measure success?
Marketing interview questions like this help hiring managers understand what's important to them in a job. It highlights your motivations and overall enthusiasm for the job.
Avoid overly simplistic answers. Your job doesn't end because a campaign launches. There are plenty of things to do, such as evaluation and improvement.
The best responses lean into the ongoing nature of marketing. For example, you can say that success occurs when you've refined a campaign so much that it's self-sufficient and continues to generate leads for the company.
Show that you're committed to a campaign's success and won't stop until it meets company goals.
Conclusion
Being ready for these marketing job interview questions will give you a leg-up on the competition, so take some time to practice before the big day!

Hannah Morgan speaks and writes about job search and career strategies. She founded CareerSherpa.net to educate professionals on how to maneuver through today's job search process. Hannah was nominated as a LinkedIn Top Voice in Job Search and Careers and is a regular contributor to US News & World Report. She has been quoted by media outlets, including Forbes, USA Today, Money Magazine, Huffington Post, as well as many other publications. She is also author of The Infographic Resume and co-author of Social Networking for Business Success.