Can you use your social media savvy and love for social media to help your career?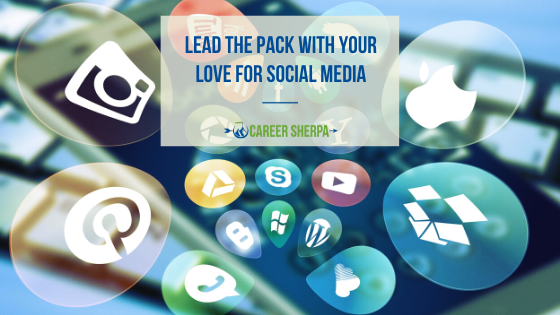 I write a lot about using social media in job search, but now I want to share some thoughts on how and why your social media skills can help you while employed.
The War For Talent Needs A Pro-Active Strategy
In case you haven't heard, companies are worried about losing disengaged employees and are complaining they can't find people to their job openings. 
This is where you and your love for social media come in.
Be A Solution
Maybe the following ideas will help you become a solution for your employer by stepping up to share your social media skills.
What I'm encouraging you to do is propose a social media recruitment strategy at your company.
Do You Eat, Breathe and Sleep Social Media?
Why not capitalize on your love for social media by turning it into a valuable asset? The opportunities are there.
According to a recent study and infographic by Offerpop, a social marketing platform, job postings involving social media have grown more than 1300% since 2010.
Now is the time to take initiative and rally your employer to embrace social media to help recruit, build loyal customers and create a memorable company brand.
And what's in it for you? The potential for greater visibility, advancement, a new career path and maybe even more money in your paycheck.
Power To The People
Social media delivers greater influence to small companies with small budgets. Creating company awareness no longer requires a dedicated marketing team and millions of dollars for television advertisements.
Instead, small companies have the same ability as Fortune 500 corporations to grow their reputation and corporate brand by empowering their employees to act as ambassadors and spokespeople. 
Social media is being used to answer questions, provide support and resolve issues. It is also a vehicle to share company announcements about new products and services and to distribute information.
If your company hasn't jumped on the social media bandwagon, this is where you and your love for social media come in.
Gather data to build a case for your company to embrace social media, chose leaders within your company who will likely support the ideas, and pitch it. They may ask you to help implement it.
Knowledge Transfer 
Training dollars dried up during the recession or are often nonexistent in smaller companies, but that doesn't mean your company can't pass along knowledge.
You could suggest facilitating a lunch and learn to talk about the various social networking platforms.
Be sure to include human resources or people responsible for establishing the social media policy for your company. Who knows where this may lead?
Not only will your fellow employees feel good about learning new skills, but organizing a series of lunch-and-learns may give you greater exposure, demonstrate your expertise or even lead to greater opportunities.
Culture Agent
In an attempt to compete in the war for talent, companies have begun encouraging their employees to share their work life on social networks.
Erin Osterhaus, who researches and reviews HR systems for Software Advice, a software review website, interviewed Anitra Collins, Twitter's recruiting programs officer, she learned that Twitter's employees are encouraged to share pictures and have, some featuring the company-sponsored yoga center and a Hack Week event showing off donuts and a mimosa bar. 
Sharing these photos and status updates gives a glimpse of what life is like at Twitter.
Your company may not have these perks, but it certainly has a unique culture. Sharing "a day in the life" updates across social networks is a great recruitment strategy and only requires asking employees to share.
Employee Referrals 
Employee referral hiring has proven successful. In an article on referrals for The New York Times, Larry Nash, director of experienced and executive recruiting at Ernst & Young, is quoted as saying,
Our analysis shows referred hires perform better, stay longer and are quicker to integrate into our teams.
Many companies have begun encouraging their employees to share job posts. The recruiting tools are in place to effortlessly share job postings and track referred applicants back to employees, making this an efficient win-win recruitment strategy.
Companies reward employees for referrals with bonuses or other perks. You can help your employer research and implement an employee referral program that may one day earn you a referral bonus.
Q&A
I had the opportunity to interview Erin Osterhaus after she wrote an article featuring Twitter's recruiting tips, How Twitter Uses Twitter to Recruit.
I had some questions for Erin based on reading her article, and here they are with her answers.
What if I am a small company with under 250 employees? Can I still reap the rewards of using Twitter to attract talent?
Definitely. In fact, there might even be some hidden advantages to being a small company and recruiting on Twitter. Software Advice is relatively small, yet we still encourage our employees to Tweet out job postings and company news.
However, unlike Twitter, we don't have a corporate recruiting profile on Twitter. Instead, our two full-time recruiters have individual accounts that they use to Tweet postings and respond to potential applicants.
We've found that this works better for us. Since we are a small company without the name recognition of a company like Twitter, allowing candidates to have a personal interaction with our recruiters keeps them interested–something larger companies don't have the time for.
Is frequency of tweets a factor to growing followers?
Yes. In my experience, growing your Twitter following has a direct correlation with how often you Tweet.
I would recommend Tweeting at least two to three times per day. There are great tools out there like Tweetdeck, that allow you to schedule multiple Tweets at once. I usually set aside an hour on Mondays to create the Tweets that I'll post throughout the week.
Do you think companies that are serious about using Twitter need to train their employees on best practices?
Recruiters, and HR in general should train employees to avoid social media catastrophes (like what happened at KitchenAid). You should always be aware of what's going on and develop a social media policy so employees are never confused about what is and isn't allowed.
What if a company doesn't have a great culture like Twitter's does? Are there other things a company could share if they don't have photos of a cool yoga studio or mimosa bar? (Or maybe this might inspire a company to add more perks?!)
Even if your company culture isn't as "great" as Twitter's, it still has one. You can share events that your company has participated in, conferences you've attended, or even cool projects you're working on.
If you're honest about your company culture and can more or less accurately portray the environment potential applicants will be working in, then you'll probably have more serious candidates apply anyway–ones who aren't merely after the free mimosas.
How are employees incentivized to share tweets?
A lot of companies are now using software solutions that allow employees to automatically post open positions to their social media profiles. The link each employee posts has a unique URL that identifies their profile as the source of any subsequent application. At Software Advice, we use such a system, and our employees are rewarded with a $1,000 bonus if a successful new hire comes from one of their social media profiles. It's a great way to encourage employees to get the word out.
Thank you Erin! I appreciate your thoughts on recruiting using Twitter! 
Adapted from original post on US News & World Report On Careers.

Hannah Morgan speaks and writes about job search and career strategies. She founded CareerSherpa.net to educate professionals on how to maneuver through today's job search process. Hannah was nominated as a LinkedIn Top Voice in Job Search and Careers and is a regular contributor to US News & World Report. She has been quoted by media outlets, including Forbes, USA Today, Money Magazine, Huffington Post, as well as many other publications. She is also author of The Infographic Resume and co-author of Social Networking for Business Success.