During job search, introverts can tap into their many strengths to become strong networkers and great at job interviews.
Learn what strengths introverts possess and how to make the most of them during job search.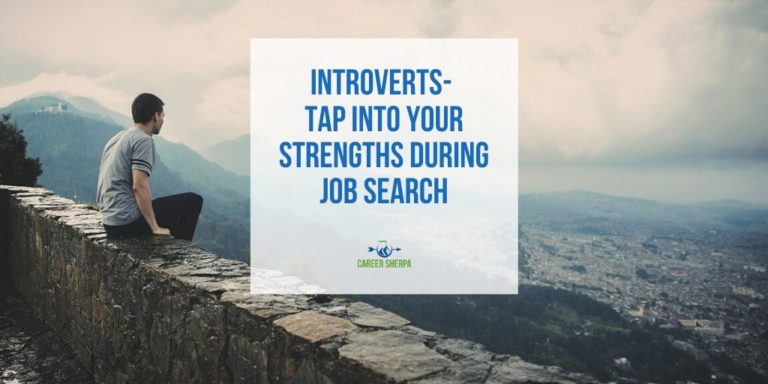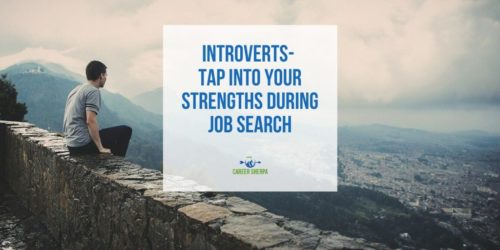 What Are the Strengths of Introverts?
These are some of the noteworthy characteristics of introverts!
Prefer to think before they act.
Need time to formulate ideas in their heads before talking about them.
Prefer depth over breadth; this is true of relationships and information. An introvert prefers fewer deep and meaningful relationships over hundreds of contacts. Introverts also tend to dive deep into topics they are interested in.
Creative (either in solving problems or in the arts)
Often good at thinking up strategies
Make good innovators
Humble
Take calculated risks (based on fact-finding)
Remain calm under pressure
And most importantly, introverts regain energy by being alone.
Let's Translate This Into Skills
Not all introverts are the same, but many share these skills:
Good listening skills
Analytical skills
Problem-solving skills
Strong concentration abilities
One-on-one communication
Introverts Are NOT Shy
You are not shy or anti-social, but that is how you are often perceived by people who first meet you. You can fix that! And actually, you HAVE to fix that during job search.
We live in a society that expects outgoing, gregarious types. But this doesn't mean you have to put on a fake, over-the-top persona. All you have to do is…
Acknowledge and accept the fact that you may be perceived as shy or anti-social or less than approachable.
It sounds obvious, but some people don't realize this is how they come across. Own it and take preventative measures. These are the simple and immediate fixes you can implement today:
Smile! When you first meet someone or walk into a room.
Introduce yourself first! Don't hang against the wall waiting for a familiar face or for someone to reach out to you.
Learn the art and science of small talk! Having conversational currency helps. Here are 10 tips to help you come across as interested and interesting.
Stop Making Excuses! Sure this is difficult, uncomfortable, yucky, and all that, but, self development is part of life. Start stepping outside your comfort zone.
My Secrets for Overcoming the Fear of Networking
I am an introvert. I've been born with and developed many other personality flaws and strengths and they make me the quirky, unique, sometimes lovable person I am today. Are you an introvert too?
Meet People One-on-One
The thought of networking in a big crowd is scary, repulsive, intimidating and many other less-than-positive descriptors to an introvert. It isn't as though they can't network—they can—they're just more comfortable meeting individuals one at a time. And because introverts are good listeners, they come across as likable.
The secret to maximizing your listening skills is not to worry about what you will say next.
Before meeting with someone, construct a list of questions you want to ask.
Feel free to write these questions down and refer to them if you need to. A list of questions will help you feel more confident.
Repeat, You Are Not Shy
Introverts tend to dislike small talk and this often leads to the perception that they're shy or unfriendly.
Shoot down this misconception by developing a repertoire of questions you can use to make small talk.
When you use these questions, you won't feel the pressure of not knowing what to say and you can move on to building rapport.
Having questions ready to go is particularly important when you're meeting someone for the first time. A little sleuthing on social media might also provide some details that make it easier to engage in small talk.
Share Your Ideas
Introverts are strong at ideation, that is, the creative process of generating, developing and communicating new ideas. They just need time to think.
In a job interview situation, you may not have as much time to process your ideas and answers and formulate a confident response.
With a little planning, an introvert can anticipate likely scenarios he or she can prepare for in advance.
And it's absolutely alright to ask for time to respond during a job interview. You may even want to explain that you need a moment to formulate your answer before you speak.
Avoid Back-to-Back Scheduling
When possible, build time into your day to recharge. That means scheduling a job interview or meeting and allowing yourself time after the event to be alone and recharge.
Be sure you ask how much time to allocate for an interview. It will help you gauge how much energy you will need to store up.
Think On Your Feet
There will be times when you are asked an unexpected question or put in an unanticipated situation.
The more practice and experience you have interviewing and networking, the more comfortable you will be in crafting your response.
You can and should roll play interview scenarios and craft accomplishment stories to answer questions.
The Phone Is Your Friend
Introverts prefer to text or email rather than speak on the phone.
But you can take advantage of the fact that you're masked behind the phone. You can have your notes, script and research in front of you to reference without notice.
Remember to smile while you talk and add more inflection to your voice than you may normally do in person. You want to make sure the caller can hear your interest and enthusiasm.
If caught off guard by a phone call, be sure to ask for a minute so you can gather your materials.
Tap Into the Power of Your Passion
Introverts can be passionate and when given the opportunity to speak around a topic of interest, they even exude confidence.
Look and listen for opportunities to share your interests during a job interview and when networking.
Better yet, plan ways to gently steer the conversation toward these areas and ask questions. Undoubtedly, you will have an opportunity to share your accomplishments.
Seek First To Understand
Exploring the employer's needs and expected performance outcomes is another strength of introverts.
Again, it is important to conduct research on the company so you can formulate thoughts and translate them into questions.
All conversations (networking and job interviews) should be a mutual exchange of information and fact-finding.
Tap into your introverted tendency to seek answers and develop creative solutions.
Mind Over Matter
Lisa Petrilli, author of "The Introvert's Guide to Success In Business and Leadership," writes about how introverts can network. 
In one post, she writes about her experience as an introvert at a conference. Petrilli suggests overcoming the dreaded "they're just not into me" message by extending yourself.
She also learned that, to varying degrees, most people are not that comfortable networking. When she made the effort to introduce herself to someone, she found in almost every instance, she was warmly received.
Rather than try to change who I am, I've reached a time in my life where I am OK with some of these things. (The truth- some still puzzle and annoy me.) I wish I had figured this out sooner! But maybe it was the passing of time and developing a greater sense of self awareness that led me where I am today.
Originally appeared onUS News & World Report On Careers

Hannah Morgan speaks and writes about job search and career strategies. She founded CareerSherpa.net to educate professionals on how to maneuver through today's job search process. Hannah was nominated as a LinkedIn Top Voice in Job Search and Careers and is a regular contributor to US News & World Report. She has been quoted by media outlets, including Forbes, USA Today, Money Magazine, Huffington Post, as well as many other publications. She is also author of The Infographic Resume and co-author of Social Networking for Business Success.