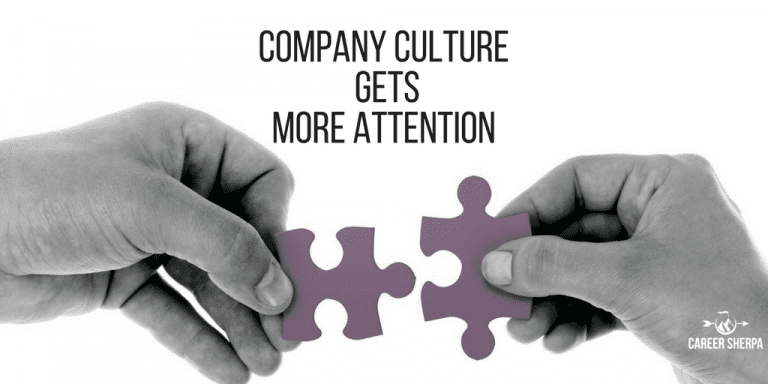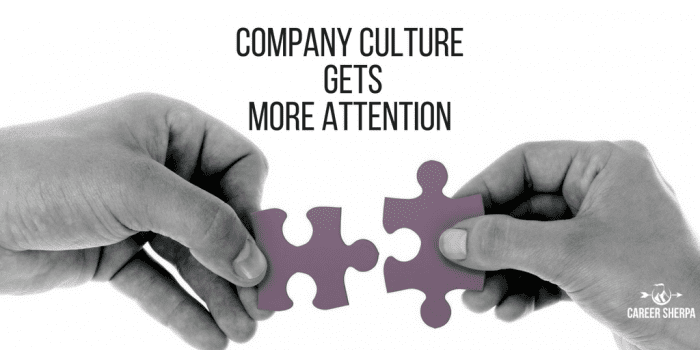 Once you find a job you are interested in, you research things like salary and benefits. But what you really want to know is whether you'll fit in with the company culture.
This is when job seekers start to get discouraged. Where can you find out about a company's culture?
The good news is that there are employers who are listening to what job seekers want. Some companies have begun taking steps to provide you with more information about life as an employee. (Glassdoor is always a good option too!)
As you know, finding the right job requires a lot of effort. Finally, employers are doing more to help you find the information you are really looking for!
Cultural Fit Is Most Important To You
Workers of all ages want to know more about what it is like to work for a new company. According to Harvard Business Review's analysis of a Gallup survey of 1,700 U.S. workers, employees ranked opportunities to learn and grow and quality of manager/management as the top considerations for taking a new job.
And Employers Have Finally Begun to Listen
Employers are attempting to connect with candidates in new and nontraditional ways, such as storytelling videos. "Rather than telling candidates what it's like to work there, companies are showing them by finding new ways to share the employee experience," wrote recruiting and talent strategies expert, Lars Schmidt, in a recent Forbes article.
In Schmidt's article, he highlights videos by the consulting firm, KPMG and senior home care company, Nurse Next Door, for their ability to take recruiting to the next level by incorporating the concept of storytelling. These videos go beyond "a day in the life" of an employee and instead address the bigger impact the company and role have on society.  Here's one example:
Examples of Companies Doing More
Kimberly-Clark, known for consumer products like Kleenex, launched an online quiz to help prospective employees learn what kind of thinkers they are and what types of jobs they'd best fit. Candidates also learn about the culture and values of the company and the diversity of jobs. The "Welcome Original Thinkers" quiz takes you through nine quick questions to assess the type of thinker you are and then shows a listing of jobs you may be interested in. For example, are you "The Dreamer," "The Analyzer" or one of the other six types of thinkers? You can also view the profile of a featured employee with the same thinker type. Kimberly-Clark's campaign is designed to create a useful experience, especially for new graduates or early careerists looking for new jobs. This initiative is also designed to increase its brand recognition (and reputation). (I wrote about "Welcome Original Thinkers" here)
LinkedIn Is Helping, Too!
LinkedIn announced it will be rolling out new paid features for employers' career pages. Their announcement states: "[a]ccording to the 2016 Talent Trends Report, the number one roadblock to applying to a job is not knowing what it's like to work at the company. And 60% percent of candidates say that, first and foremost, they want to know about the company culture and values."
FYI: LinkedIn data finds that when candidates view LinkedIn Career Pages, they're 2.8x more likely to respond to an InMail and 1.3X more likely to apply to an open job
Employers who pay for enhanced career pages can create a new tab called "Life." The Life tab can include photos and articles written by employees about life at the company. Even more good news is that job postings will have a section called "Meet the team" which allows you to view the profiles of employees similar to you, including their education, previous companies and skills. Learn more using LinkedIn's newest features here.
This Is What Job Seekers Need To Know (and do)
If you are in the market for a new job, don't search the job boards just yet. Take a few minutes and figure out what you want out of your next job. If you say rewarding work is important to you, then define what that means to you and what a company would need to show to prove its culture and values. For example, do you value a company that offers training or do you want time to support community activities?
Once you know what proof you are looking for, it will be easier for you to identify a company that is doing the right types of things. Now you are ready to investigate the company's career page and LinkedIn company profile. The information provided can help you assess the culture and learn more about employees who work there.
Now you are ready to investigate the company's career page, LinkedIn company profile and Glassdoor reviews. You should be able to find information to help you assess the culture. You can also learn more about employees who work there.
Don't Forget To Tap Into Social
And if you still want to learn more, see which social networks the company lists on their career page or website. TThen go look at those profiles. Note what information is being shared and, by all means, take action by liking or commenting on their status updates. A huge advantage of social media over email is the potential to engage in conversation (real-time) with people (you don't know) who work for a company you are interested in.
You can learn more about networking via social media here.
Ask Open-Ended Questions
The best way to get good answers is to ask open-ended questions. Here's a sample so you understand what I mean.
Instead of asking "does your company have centralized or decentralized decision-making," rephrase the question to: "when requisitions need to be signed, what is the process" and then, "How long does that typically take?"
Don't ask "are there opportunities for advancement?"  Instead, ask the employer the same type of "situational questions" they are asking you in interviews…"tell me about a time when one of your employees was recognized for an accomplishment."
This post originally appeared on US News & World Report On Careers

Hannah Morgan speaks and writes about job search and career strategies. She founded CareerSherpa.net to educate professionals on how to maneuver through today's job search process. Hannah was nominated as a LinkedIn Top Voice in Job Search and Careers and is a regular contributor to US News & World Report. She has been quoted by media outlets, including Forbes, USA Today, Money Magazine, Huffington Post, as well as many other publications. She is also author of The Infographic Resume and co-author of Social Networking for Business Success.