I had the honor of meeting author/speaker Andrew Harrison this week.  In order for me to prepare to meet with him, I acquired a copy of his book (that's a funny story, but I won't go there).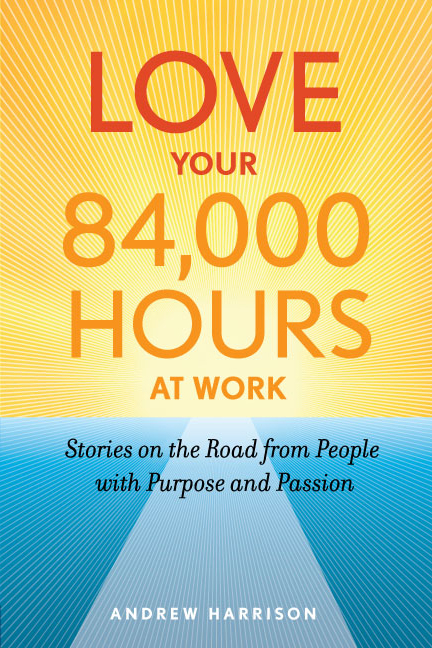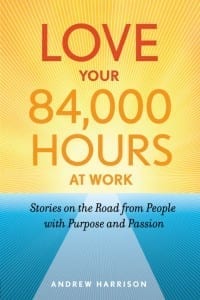 Andrew's book, "Love Your 84,000 Hours at Work" is a series of interviews he conducted with people who truly love what they do.  Andrew decided to leave his six-figure job in his quest to find his passion.  His friends, co-workers, boss and family all thought he was a bit crazy (and so did he, at first).  Once Andrew began his adventure, he began to realize his passion.  By the way, Andrew calculated that he would spend 84,000 hours on the job over the course of his life.  It was this astounding number of hours spent doing stuff he didn't love which helped motivate him to leave his secure job and find his true calling.
What I enjoy most about his book is that it indirectly answers a lot of questions and helps quell the potential fears.  It gives permission to those who need it, to follow their passion- to do what they really love.  So who would benefit from reading this:  parents of college students and high school students, college students, Boomers', any one in transition, those ready to embark on a change.
Andrew's book isn't a "how to" book per se.  He interviews people about the work they are doing now and how they got there.  So many of the stories are just amazing!  One of my favorites is the aerospace engineer who becomes a Maintenance Manager for an apartment complex!  There are so many other really great examples of people who followed their dream, stumbled upon their dream, or settled for their dream!
Sometimes we start upon a path and we feel like we can't leave it.  Either we've committed to a major in college, tried to adhere to the expectations of those we love, or for some other reason get stuck in a job we no longer or never loved. What "Love Your 84,000 Hours" proves is that it is never too late or too early to pursue what you really want.
Thank you, Andrew, for documenting these amazing stories and thank you to Jennifer Sertl for connecting us!

Hannah Morgan speaks and writes about job search and career strategies. She founded CareerSherpa.net to educate professionals on how to maneuver through today's job search process. Hannah was nominated as a LinkedIn Top Voice in Job Search and Careers and is a regular contributor to US News & World Report. She has been quoted by media outlets, including Forbes, USA Today, Money Magazine, Huffington Post, as well as many other publications. She is also author of The Infographic Resume and co-author of Social Networking for Business Success.